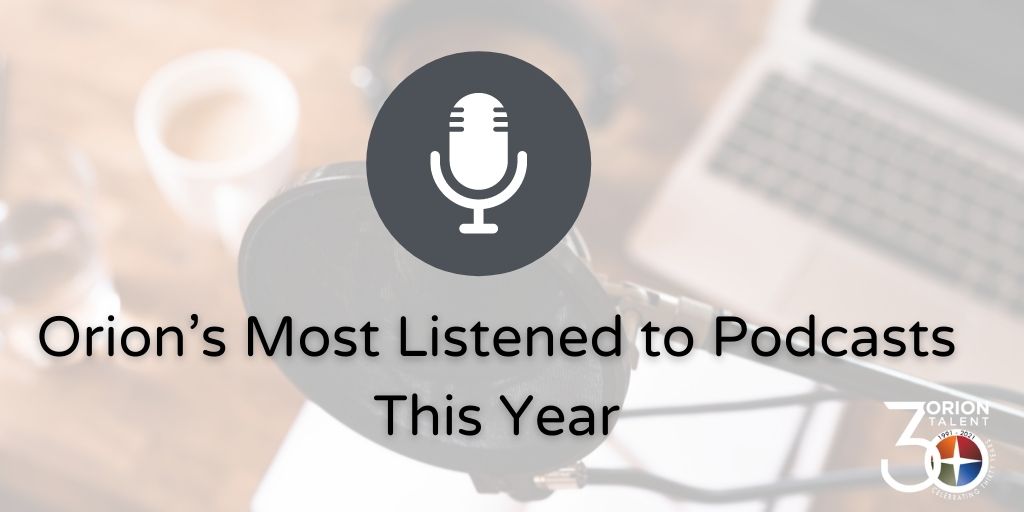 Orion's From the Battlefield to the Boardroom podcast is dedicated to supporting military job seekers throughout the transition process and beyond, by providing valuable insight and guidance from other Veterans and business leaders. Whether you're planning your military transition or have already landed your dream job, our podcast covers resume assistance, interview tips, financial resources, relocation advice, and everything in between.
If you haven't had a chance to check out the podcast yet, now is the time to catch up on our most popular shows so far this year!
#10 - 5 Things To Keep in Mind When You Begin a Civilian Career - Episode 137
If you're getting ready to transition out of the military or are about to start your first civilian job, you don't want to miss this episode of the podcast. You may be aware that veterans leave their civilian jobs within the first year at a higher rate than nearly every other demographic. While there are many contributing factors, today's guest is sharing his research backed insight with us.
Our guest Cody Brockelmeyer, a Marine Corps Officer, completed his doctorate last year with a focus on business and human resources. For his dissertation topic, he spoke with a group of veterans about their military to civilian career journey to uncover some of the factors that contribute to higher turnover within the veteran community. Cody shares his research, personal experiences, and conversations with veterans from all ranks and branches of service to provide us with some key takeaways that are sure to help all transitioning service members.
#9 - Launch an "Essential" Career with ForgeNow - Episode 141
Orion has partnered ForgeNow, an organization that provides professional training for HVAC, Medical Coding, and Electrical Wiring. ForgeNow's training programs are built with input from top employers, structured for both the business and employee to have a successful long-term partnership. Co-founders Rob Holmes and Marvin Key join the podcast to discuss ForgeNow's training programs and why you should consider a career in these trades.
#8 - Become the CEO of Your Life ft. Navy Veteran / Entrepreneur - Episode 138
Have you ever had the desire to build your own business but haven't taken the first step yet? David Pereira, a Navy Veteran and Purple Heart Recipient, joins the podcast to talk about how his passion for entrepreneurship led him to opening a personal training facility, Fenix Englewood, and creating the Beyond Fitness program. As a well-trained fitness professional, David offers valuable insight on his experience as a business owner and life coach.
#7 - Veteran Career Readiness with Mike Abrams, Founder of FourBlock - Episode 135
Orion has recently partnered with FourBlock, a nation-wide community of veterans and employers dedicated to transforming the veteran transition process. The organization was founded by Mike Abrams, a Marine Corps veteran, who was inspired to support transitioning veterans find their purpose and have a positive impact in their communities. FourBlock has helped more than 2,500 veterans find meaningful careers with more than 500 sought after companies across the United States. Mike discusses his motivation to founding FourBlock, the Career Readiness Program, and his advice for transitioning service members.
#6 - 5 Tips for Maximizing Your Job Search During COVID - Episode 136
If you've been in the process of looking for a job in the past year, or if you're beginning your job search this year, you've probably experienced some challenges in getting yourself out there when almost everything has gone virtual. While that can certainly add some hurdles to your job search, there are a lot of ways you can pursue your next opportunity and stand out even in the current COVID environment. Amy West, an Orion Recruiter and Navy Veteran, joins the show to discuss how to maximize your job search in 2021.
#5 - Discover the Power Within You ft. Navy Veteran/CEO, Joe Evangelisti - Episode 146
Joe Evangelisti is a Navy Veteran, CEO, coach, podcast host, real estate investor, and the list goes on. Since leaving his career in the Navy, Joe has built an 8-figure empire for himself through his various business ventures. As one of the most sought-after coaches in the world, Joe leverages his experience to help other entrepreneurs and business owners reach their full potential. Joe joins the show to discuss his entrepreneurial journey, and how anyone can become the most efficient version of themselves by focusing on outcomes rather than to-do lists.
#4 - How to Maximize Your Military-to-Civilian Career Transition - Episode 140
Whether you're steadfast in what you want your post military career path to look like or you're still weighing your options, talking to a Recruiter who has been in your shoes can help you prepare for your next step. Morgan Causie, a Marine Corps Veteran and Orion Recruiter, joins the show to discuss her military background and give practical advice for transitioning service members. As a former skeptic of military recruiting firms, Morgan discusses how her perspective has changed over time, and shares her experience helping veterans find rewarding careers since joining the Orion team.
#3 - Launch a Career with America's Innovation Agency - Episode 144
Raj Chakraborty, Army Veteran, was hired as a Patent Examiner with the USPTO nearly 8 years ago and has continued to progress in his career. He recently joined the podcast to discuss his experience working with the USPTO and why other veterans should consider a career as a Patent Examiner.
#2 - Founder/CEO of Veteran Owned & Operated Franchise - Episode 142
Orion is proud to partner with JDog Brands to provide exclusive franchise opportunities for honorably discharged Veterans and Military family members. Jerry Flanagan, Army Veteran turned Founder and CEO of JDog, started the company 10 years ago with the goal of helping Veterans experience business ownership by running their own franchise and employing fellow Veterans. Jerry joins the podcast to discuss his journey as an entrepreneur and how his business has grown over the past 10 years.
#1 - Rewarding Career Opportunities with Orion Talent - Episode 147
As Orion Talent continues to experience growth, we are seeking outstanding men and women to join our team. We are looking for individuals that are highly motivated, driven, energetic, and have a passion for helping industry-experienced candidates and veterans find the right career.
Katie Mychalowych, Navy Veteran and Orion Recruiter, joins the show to discuss her background and role at Orion Talent, as well as career opportunities within our growing team.
What topic would you like to hear more about? Send us an email at podcast@oriontalent.com and let us know!

RSS Feed
Subscribe to Orion's Blog