Orion Talent Recognized for Fourth Year by the U.S. Department of Labor as a HIRE Vets Gold Medallion Recipient
Wednesday, November 9, 2022
Nov. 9, 2022 (Cary, NC) - U.S. Secretary of Labor Martin J. Walsh recognized Orion Talent, a provider of military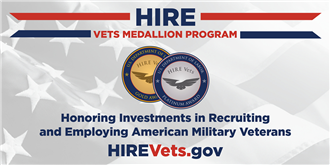 hiring and talent optimization solutions, during a live ceremony today as a Gold Medallion recipient of the 2022 Honoring Investments in Recruiting and Employing American Military Veterans (HIRE Vets) Medallion Program Award.
"It is an honor to once again be recognized as a Gold Medallion recipient of the HIRE Vets program. Orion Talent's military DNA informs all that we do, and the veterans on our team make invaluable contributions daily. I am so glad they chose to bring their legacy of service to Orion," states Orion Talent CEO Sarah Peiker.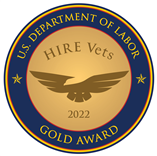 This is the fourth year that Orion Talent has received this prestigious recognition for meeting rigorous employment and veteran integration assistance criteria. The HIRE Vets Medallion Program is the only federal award program that recognizes employers who successfully recruit, hire, and retain veterans.
Orion Talent joins an impressive list of companies from 49 states, plus the District of Columbia, who have shown a commitment to hiring veterans while also ensuring that they have a long-term career and growth plan that uses the diverse skills they acquired through their military service.

About Orion Talent
Headquartered in Cary, North Carolina, Orion Talent helps companies fill one to 100,000 roles with the right people and the right solution, powered by a diversity-rich network of highly sought-after candidates. Orion's design-led solutions include RPO, Professional Search, Military Search, Direct Sourcing & Contingent Workforce Solutions, and HirePurpose® Diversity Sourcing & Talent Attraction. Visit www.oriontalent.com to learn more.
About the HIRE Vets Medallion Program
The HIRE Vets Medallion Award is earned by businesses that demonstrate unparalleled commitment to attracting, hiring and retaining veterans. The 2023 HIRE Vets Medallion Award application period will open to employers on Jan. 31, 2023. For more information about the program and the application process, visit HIREVets.gov. There are different awards for large employers (500-plus employees), medium employers (51-499 employees), and small employers (50 or fewer employees). Additionally, there are two award tiers: platinum and gold.