Orion Talent Achieves Enterprise Ranking on HRO Today's 2023 Baker's Dozen List
Thursday, September 21, 2023
Cary, NC (Sept 21, 2022) – Orion Talent, a leading Recruitment Process Outsourcing (RPO) and Talent Solutions firm, is thrilled to announce its recognition as an Overall Enterprise RPO Leader on HRO Today's prestigious 2023 Baker's Dozen Customer Satisfaction Ratings: RPO list. This achievement marks Orion Talent's highest ranking to date, underscoring the company's commitment to delivering top-notch talent solutions.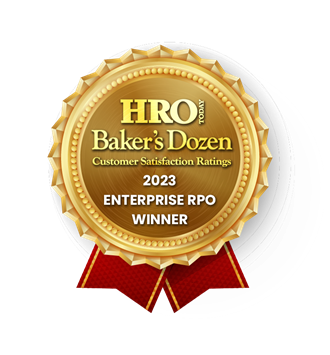 HRO Today, a trusted authority in the human resources industry, compiles the Baker's Dozen list annually, identifying top RPO firms based on comprehensive client survey feedback. The evaluation criteria encompass the breadth of service, deal size, and the quality of service provided.
Sarah Peiker, CEO of Orion Talent, expressed her gratitude for the recognition, stating, "We are deeply honored to be included in HRO Today's 2023 Baker's Dozen Rankings as a 2023 Enterprise RPO Winner. This accomplishment is a testament to our entire team's hard work and dedication. It reflects our commitment to providing exceptional recruitment solutions to our clients and showcases our ability to consistently deliver high-quality services. We are proud to achieve our highest-ever ranking and look forward to continuing to exceed our clients' expectations."
Orion Talent has consistently ranked on the HRO Today Baker's Dozen list for the last ten years. In 2022, Orion ranked as the #1 Mid-Market RPO Provider. In 2023, Orion ranked on the Overall Enterprise RPO Leaders, Enterprise Breadth of Service Leaders, Enterprise RPO Size of Deal Leaders, and Enterprise RPO Quality of Service Leaders lists.
For a comprehensive view of HRO Today's 2023 Baker's Dozen Rankings, click here.
About Orion Talent
Headquartered in Cary, North Carolina, Orion Talent is dedicated to helping companies fill roles ranging from 1 to 100,000 with the right people and the right solutions. Boasting a diverse network of highly sought-after candidates, including a substantial database of military and veteran talent, Orion Talent is rooted in military expertise and committed to revolutionizing the recruitment experience. The company offers a wide range of services, including Recruitment Process Outsourcing, Project Hiring, Military Search, HirePurpose® Diversity Sourcing and Military Sourcing, and HireSkills® Workforce Development. Visit https://www.oriontalent.com/ to learn more.