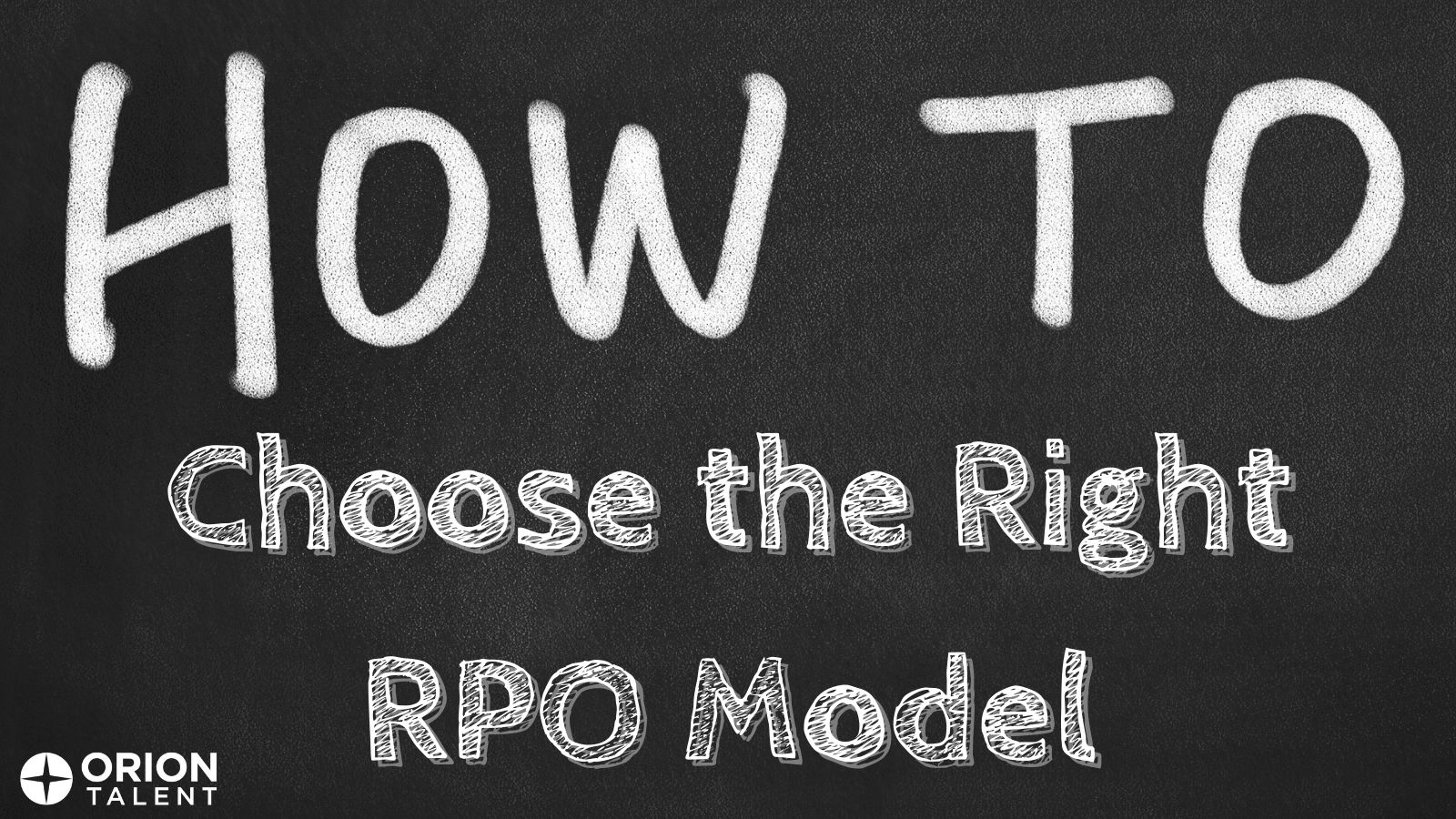 Maybe you have been there. Your team is tasked with hiring in a highly competitive job market with a non-existent employer brand. Or maybe your recruiting team is simply outpaced by demand brought on by surge hiring. Or maybe you don't have a recruiting team at all! All of these obstacles lead to increased time to hire, increased turnover, decreased hiring manager satisfaction, and increased cost per hire. Recruitment Process Outsourcing (RPO) can help.
In RPO, businesses outsource some or all of their recruitment process to an outside provider, enabling them to focus on their core business functions. And, depending on the scale of your recruiting needs, there are various RPO models that will offer just the right amount of engagement to take your recruitment initiatives to the next level.
How is a RPO team structured?
Recruitment Process Outsourcing engagements are led by the Executive Oversight and Management team, which includes leadership from the RPO provider - titles may include Vice President of Client Success, Vice President of Talent Solutions, or Vice President of Talent Acquisition / Recruiting. At the Delivery, Account, and Team Management level are the Director and Manager. The RPO provider's Recruiters are the face of the RPO engagement for the client's Hiring Managers and Candidates. Handling scheduling, reporting, research, reporting, marketing, and implementation are conducted behind the scenes by Recruitment Operations Administrators and Shared Services.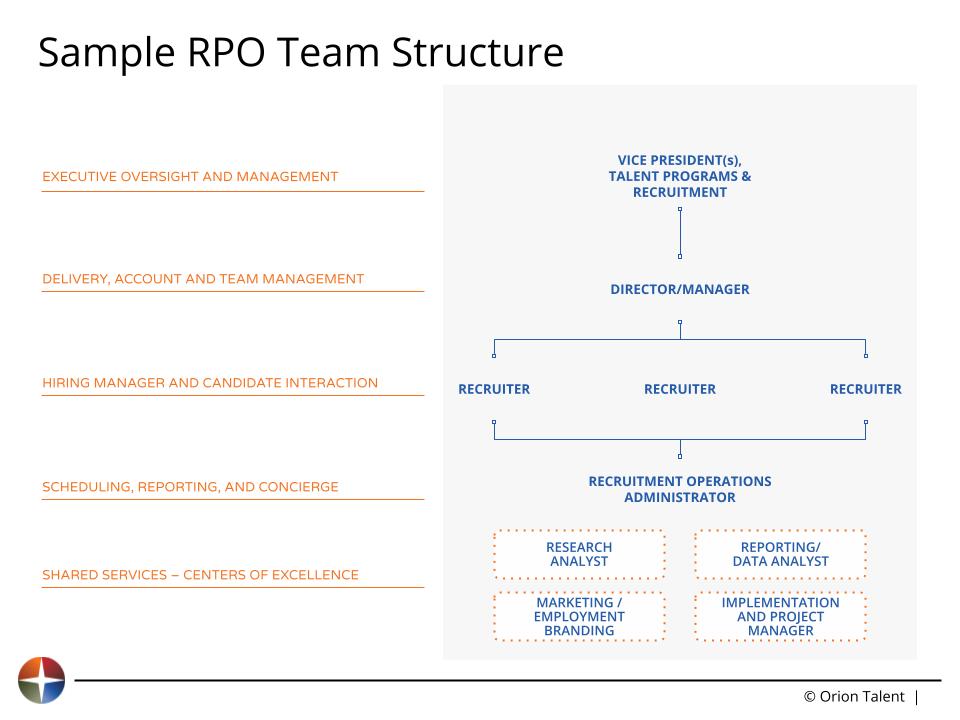 Who does an RPO team coordinate with from a business?
The RPO Provider's team will have connection points with various members of the company. At the leadership level, the company's Chief Human Resources Officer (CHRO) or Sr. VP of HR / TA will likely interact with the leadership team from the RPO Provider. HR and TA Directors and Managers will work with the RPO Provider's management team. The management and oversight team will determine appropriate metrics and key performance indicators (KPIs), which will drive the performance of the engagement.
Recruiters and Recruiting Managers will typically interact directly with the Hiring Managers from the business on a daily and weekly basis. The Hiring Manager will work with the recruiters on the specific positions to be filled, candidate pipeline, interviews, and the selection process. Reporting occurs weekly, monthly, and quarterly to measure performance and allow for adjustments to be made.
If there is an active marketing and employment branding component within the program, the provider's Marketing team will work with members of the company's Marketing, Corporate Communications, or Web teams, as appropriate.
What are the different models of RPO?
Enterprise RPO
With Enterprise RPO (sometimes also called Full Cycle or End to End), an RPO team becomes an extension of your team to effectively and efficiently manage each element of your TA strategy, from requisition to onboarding. This is a full-service offering that will transform your talent acquisition and recruitment process. Learn more about Full Cycle, End to End, & Enterprise RPO.
How is Enterprise RPO priced?
In Enterprise RPO, all your many hiring costs are rolled into a single cost, so you know what expenses are coming down the pipeline every month. All services are built into the scope of the RPO, so companies have a set fee for budgets. For this type of RPO, the fee is typically based on a monthly Management Fee Model. This can be based on an agreed-upon number of positions and change depending on the agreement or escalation factors such a need to scale for more hires.
Contingent RPO
Contingent RPO is a hybrid recruiting model that applies the power of RPO to contingent hiring needs. A dedicated team of experienced recruiters builds a unique talent pipeline of contingent labor for your company based on your specific needs, allowing you to focus long-term hiring strategies.
Global RPO
Not technically a service line, Global RPO is more indicative of breadth of service. Global RPO is responsible for openings worldwide as opposed to within a specific region. The benefits of RPO are especially applicable when dealing with a global candidate base and companies with operations in many parts of the world.
Project RPO
In Project RPO or Initiative-Based RPO, providers partner with you to deliver talent acquisition projects that will occur within a specific period of time. You define the hiring objectives, and they help achieve them on-time, on-budget. These projects often have defined goals within a specific scope and timeline.
How is Project RPO priced?
Like Blended RPO, Project RPO is often priced off of a Cost per Hire or Cost Per Slate model.
Which RPO Model is right for you?
If you don't have your own HR team and want to outsource all functions of your recruiting and hiring, choose Enterprise RPO because this option will create and manage your TA strategy, from the smallest detail to largest priority.
If you are ramping up hiring for a new product line or new facility, choose Project RPO because it can help you meet defined goals within a specific scope, budget, and timeline.
If you are looking for the value of RPO, but also need to ramp up hiring quickly to fill high-volume or seasonal non-permanent roles, consider Contingent RPO.
If you want to test drive RPO, choose Project RPO because you can try out the services for specific initiatives over a specified period of time and then determine if the results are worth a more long-term engagement.
If your company is experiencing aggressive growth but has no standardized recruiting processes, choose Enterprise RPO because it can help you scale and centralize your recruiting processes.
If you need to support a business unit, specific location, or critical position, choose Project RPO because they will work within your Human Resources department on only the desired unit, location, or position, freeing up your team to focus on other priorities.
How is Full Cycle / End to End RPO different from Enterprise RPO?
Nearly identical to Enterprise RPO, Full Cycle / End to End RPO could apply to an RPO engagement covering only North American requisitions in a situation where another provider is simultaneously engaged for global requisitions.
How is Initiative-Based RPO different from Project RPO?
Essentially the same in scope, Project RPO may span a longer timeframe than Initiative-Based.
Choosing the Right RPO Model
As you can see, there are many ways in which RPO can be leveraged to improve or transform a company's recruiting processes. From Enterprise to Contingent to Project, RPO can be a flexible, scalable solution that offers cost savings of more than 60% to 75% cost savings over traditional staffing firms. If you are seeking innovative talent acquisition solutions for your organization, division, or a large project, visit us online to learn more about Recruitment Process Outsourcing (RPO) Services from Orion Talent.
Learn More About RPO:

RSS Feed
Subscribe to Orion's Blog