What is RPO In Recruiting and what does RPO mean?
Outsourced recruiting, known as Recruitment Process Outsourcing (RPO), is an overall business strategy in which sourcing, recruiting, and hiring (in whole or part) is outsourced to an expert to positively impact productivity and profitability. And, as this recruiting method gains in popularity, we think it a great time to share four reasons to utilize RPO through Orion Talent.
1. Best Fit
RPOs encourage sourcing from ALL resources to find great talent. They source candidates on their own, through employee referral programs, and the company career site to help you find the BEST FIT candidate for your open positions.
That means that an RPO is not only managing the recruiting function to find top talent from any available resource, but they are also helping you to build your employer brand.
2. Candidate Ownership
RPOs don't "own" the candidates they present. You own your own candidates, whether the RPO sourced them directly or they came into your pipeline through a company website or employee referral.
3. Beyond Placements
RPO manages the entire recruiting function. A true RPO takes care of the people, process, technology, and strategy of recruiting. That means doing everything from writing job descriptions and candidate screening to improving hiring manager satisfaction and employee branding. RPOs view their relationships with clients as a long-term, strategic partnership with built-in accountability to ensure a consistent talent pipeline.
4. Expense
RPOs typically charge a monthly management fee to manage the entire hiring function, along with some transactional fees to fill individual positions. When all is said and done, the total cost of an RPO ends up being 60% to 75% less than what some agencies charge, plus you get the added advantage of freeing up the internal team to accomplish other tasks.
Whether it be through Enterprise, Project, or Blended RPO, you can enjoy all the benefits of RPO with Orion Talent's RPO Solutions. We can help elevate your recruiting department while we manage the people, process, technology platform, and strategy to boost your hiring performance. Learn more about Orion Talent's RPO Solutions here and determine if RPO is right for your organization.
Watch our 2-minute video to learn about Recruitment Process Outsourcing (RPO)
To more fully answer the question "What is RPO?", check out this video:
Is Recruitment Process Outsourcing (RPO) right for your organization?
This "What is RPO" infographic can help you learn more about an RPO solution and determine if it's a good option for your business.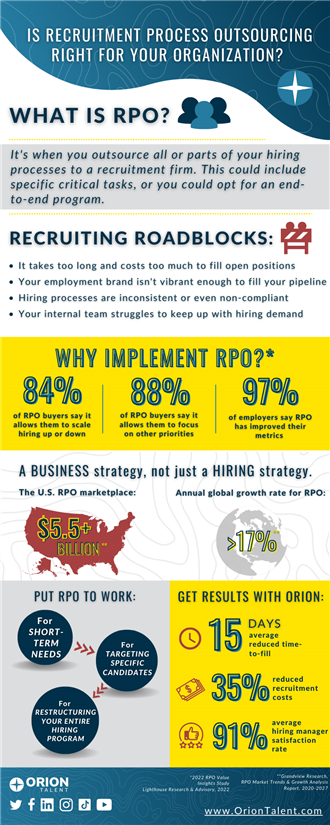 You can also take this short interactive quiz that allows you to input your hiring goals and recruiting practices to identify whether RPO is right for you.
Why Use Orion Talent RPO Solutions?
As you can see, Recruitment Process Outsourcing (RPO) is an overall business strategy that helps you tackle time, productivity, and profitability obstacles. And Orion Talent is the award-winning RPO provider with which to partner. We offer consultative relationships and expert guidance, along with industry-leading technology. Our team will seamlessly integrate with yours to produce results.
Get started with Orion Talent RPO solutions today.
Learn More About RPO:

RSS Feed
Subscribe to Orion's Blog