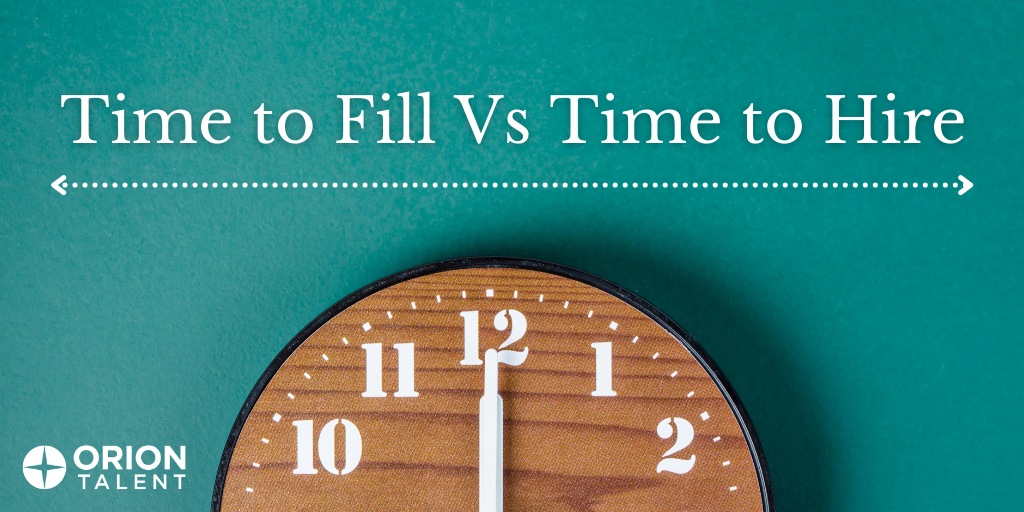 There are many metrics that help Talent Acquisition professionals, Hiring Managers, and Human Resources departments gain insight into the effectiveness of their recruiting efforts. They need to examine not only each step of the process but how it affects the job candidates involved in that process.
Two important metrics are Time to Fill and Time to Hire. Often conflated, they are two separate measures that reveal how long a requisition is open and how long it takes from the time a candidate enters the pipeline to when they have accepted an offer, respectively. If you aren't tracking them, you need to start.
What Is "Time to Fill?"
Time-to-fill measures recruiting effectiveness by looking at the average amount of time it takes to fill a position from the job opening to an accepted offer. High time-to-fill negatively affects your company. It leads to frustrated Hiring Managers, overworked and less productive employees, and skyrocketing recruiting costs.
You can learn more about the negative effects of high time-to-fill, and the improvements possible through RPO in this infographic.
When your Time to Fill is high, it often helps to drill down even further. Look at micro time spans like Time to Interview, Time to Screening and Time to Background Check, to determine where the holdup is.
Time to fill Formula
To determine your Time to Fill metric, add up how long it took each open job during a given period of time to be filled from the requisition's opening. This is calculated by calendar days, including weekends and holidays. Then divide by the number of roles. Don't include perpetually open positions as this will skew your metric. According to the Society for Human Resource Management (SHRM), an average time-to-fill is 36 days.
What Is "Time to Hire?"
Often confused with Time to Fill, Time to Hire is a different metric entirely that measures the efficiency of your hiring process once a candidate enters the job pipeline. It can be calculated as the number of days it takes from when you first engage a candidate to when they are hired across all your open positions over a given period of time, divided by that number of positions.
Relationship Between Time-to-hire and Time-to-fill
Time to Fill measures your hiring process before a candidate even sees the position. Unlike Time to Fill, Time to Hire helps measure candidate experience and identifies bottlenecks in your recruiting process. In a nutshell, Time to fill measures your hiring process, and Time to hire measures how quickly you identify the best candidate. With both metrics, efficiency is key.
How Recruiters Can Reduce Time to Fill
Reducing Time to Fill takes proper alignment, efficient sourcing, a streamlined process, and a balanced workload.
Alignment
To achieve alignment, hiring managers and recruiters should be on the same page about what open positions require, when they need to be filled, and the type of candidate needed.
Sourcing
Having a strong pipeline and ATS full of top-notch candidates ensures strong job sourcing. This constant flow of qualified candidates, decreasing Time to Fill and Time to Hire. Don't forget to consider passive candidates or those that made it to the final stages for other positions.
Another effective sourcing initiative is a referral program. You can offer cash for referrals and crowdsource by reminding your employees of current openings and asking for recommendations.
Streamline
To streamline the hiring process, you need to organize, centralize, and automate portions of the recruiting and onboarding functions.
Workload
Finally, you need a fully functional workforce with a balanced workload. Sourcing RPO can help with all of these goals and reduce your Time to Fill by 30% on average.
Other Important Metrics
Time to Fill and Time, while clearly important talent metrics, are not the only ones you should be tracking.

Other essential metrics include:
Time to Productivity
Time to Productivity is a subjective metric because it relies on other indicators. Decide what indicators are important to determining productivity, measure how many days until those indicators are achieved, and you have Time to Productivity.
Cost to Fill
Cost to fill calculates the costs that go into recruiting and hiring a new employee, including both external and internal costs.
Cost to Fill ($) = (Total External Costs + Total Internal Costs) / Total Number of Hires
SHRM calculates the average Cost per Hire at $4,425. You can calculate your costs here using our Cost Per Hire Calculator.
Candidate Net Promoter Score
Candidate Net Promoter Score reveals how candidates feel about your recruitment process and employment brand overall. CNPS ranges from -100 to +100 and can be found using a candidate's response on a 0–10 scale to the question "How likely is it that you would recommend [brand] as a place to interview to a friend or colleague?".
0–6 are called Detractors
7–8 are called Passives
9–10 are called Promoters
Subtract Detractors from Promoters, and you will arrive at your CNPS.
Offer Acceptance Rate
Companies should aim for an Offer Acceptance Rate over 90%. This essential metric can be quickly calculated with the following formula:
OAR=# of Offers Accepted/Number of offers
Interview to Hire Ratio
This process metric is calculated as the number of interviews you conduct before a hire is made.
Quality of Hire
Since quality is subjective, this one can be hard to measure, but this formula will help:
QOH = (Indicator 1 + Indicator 2)/N (where N is the number of indicators you use)
Indicators could include customer service score, profit contribution, rate of salary increase, or interview to performance relationship.
You can learn more about these metrics and more here.
Put These Metrics to Work for Your Company
If you aren't measuring it, you aren't improving it. Quantifying Time to Fill and Time to Hire can give you insight into your recruitment process and candidate experience. These metrics are just a couple of the many metrics talent acquisition professionals, HR teams, and Hiring Managers should be tracking. By identifying bottlenecks, you can eliminate candidate attrition, increase productivity, and hire the best talent in a streamlined, efficient way.
Orion Talent can help with the people, process, technology platform, and strategy you needed to start achieving this. Learn more about our Recruitment Process Outsourcing solutions and how they can help improve your metrics.

RSS Feed
Subscribe to Orion's Blog