What is RPO? What can it do for your business? When does it make sense to engage an RPO provider? These are excellent questions to ask when exploring how recruitment process outsourcing works.
Recruitment Process Outsourcing (RPO) is when a business outsources all or parts of its hiring processes to a recruitment firm, whether in targeted support or an end-to-end solution. The demand for RPO is skyrocketing with an expected compound annual growth rate (CAGR) of 18.5% from 2020 to 2027. And the reason behind this is simple.
RPO is an effective business strategy that helps businesses overcome time, productivity, and profitability obstacles. It not only lowers costs, but it creates flexibility, scalability, seamless compliance, and global reach.
How does Recruitment Process Outsourcing work?
Consistency is key with RPO, and it is this consistency through documented practices that give companies the edge they need to recruit top talent. This is not to say RPO is not customized, though. It is! No matter how you engage with RPO, you will find there are six consistent areas of your business that RPO will impact.
The Six Impact Areas of Recruiting Process Outsourcing
For deeper insight into how RPO can positively impact your business, you need to look at six specific areas, as outlined in Our latest e-book, What You Need to Know Before You RPO: A Near Beginner's Guide to Recruitment Process Outsourcing.
These areas include:
Change Management - RPO can help redefine the talent acquisition function from a cost center to change driver.
Cost Containment - RPO introduces both process consistency and price predictability.
Implementation - A targeted recruiting and sourcing strategy may actually lower the quantity of applicants, but it almost certainly will boost the quality.
Employment Brand - Put your best foot forward with an employment brand that welcomes applicants from the get-go.
Technology Adoption - RPO providers are experts in recruiting and HR technology, so you don't have to be.
Data Analytics - To develop relevant and proactive sourcing strategies, RPO recruiters rely on accurate data on labor market demographics, skills, availability, and pay rates.
Recruitment Process Outsourcing Impact Chart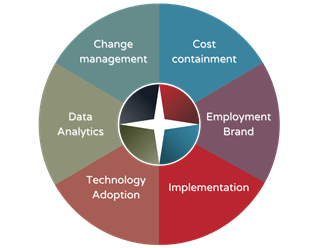 Why Businesses Outsource their Recruitment Process?
Many businesses outsource their recruiting because they lack the time and bandwidth necessary to focus on the sourcing and recruiting process. By utilizing RPO, they can focus on core business functions, while their RPO partners improve recruiting effectiveness, cut costs, reduce turnover, and enable growth.
Our latest e-book, What You Need to Know Before You RPO: A Near Beginner's Guide to Recruitment Process Outsourcing, provides in-depth insight into what you can expect from an RPO engagement, across multiple stages and stakeholder arenas. Whether you are exploring your options, building a business case, or selecting an RPO provider, this e-book will help you decide if you're ready to take the next step. Download it today!
Ready for a RPO Solution today? Learn about Orion Talent's Talent Solution RPO services here.
Learn More About RPO:

RSS Feed
Subscribe to Orion's Blog