Orion Talent Announces 2021 ClearlyRated Best of RPO Award Win
Tuesday, February 2, 2021
February 2, 2021 -- Orion Talent, a leading and award winning RPO firm announced today that they have won the Best of RPO Award for providing superior service to their clients during COVID-19. Presented in partnership with Indeed, ClearlyRated's Best of RPO® Award winners have proven to be industry leaders in service quality based entirely on ratings provided by their clients.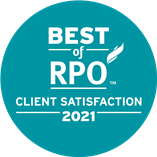 This is Orion Talent's second consecutive year as a Best of RPO winner. Orion's 2021 Net Promoter® Score is 13 times greater than the industry average, and 70% of clients provided a satisfaction score of either a 9 or 10 out of 10. Read more about this award here, or contact us today to learn more about Orion's RPO Solutions.
About Orion Talent
Orion Talent is a customer-centric company focused on helping people discover meaningful careers and businesses grow by finding, delivering, and engaging the best talent around the world. We do this by providing best-in-class military hiring and talent solutions which include RPO, Military Talent Solutions, Candidate Search, Talent Attraction, and Total Talent Solutions. Our robust set of solutions can be customized to meet the organization's unique recruiting challenges to help it fill positions faster with higher quality candidates, reduce recruiting costs, increase hiring efficiencies and allow the company to focus on what its business does best. Learn more at www.oriontalent.com.
About ClearlyRated
Rooted in satisfaction research for professional service firms, ClearlyRated utilizes a Net Promoter® Score survey program to help professional service firms measure their service experience, build online reputation, and differentiate on service quality. Learn more at https://www.clearlyrated.com/solutions/.
About Best of RPO™
ClearlyRated's Best of RPO® Award program, presented in partnership with Indeed and supported by RPOA, recognizes RPOs that have demonstrated exceptional service quality based exclusively on ratings provided by their clients. The award program helps service leaders differentiate in a crowded marketplace, and provides prospective clients with a credible and transparent symbol of quality as they vet RPO firms. Winners are featured on ClearlyRated.com—an online business directory that helps buyers of professional services find service leaders and vet prospective firms with the help of validated client ratings and testimonials.