Orion Talent Recognized for Third Year by the U.S. Department of Labor as a HIRE Vets Gold Medallion Recipient
Wednesday, November 10, 2021
Nov. 10, 2021 (Cary, NC) - The U.S. Department of Labor recognized Orion Talent, a provider of military hiring and talent optimization solutions, as a Gold Medallion recipient of the 2021 HIRE Vets Medallion Program Award. The live stream ceremony held today included remarks from Secretary of Labor Martin J. Walsh, Principal Deputy Assistant Secretary Lisa Peterson, and Senior Enlisted Advisor to the Chairman of the Joint Chiefs of Staff Command Sgt. Maj. John Troxell.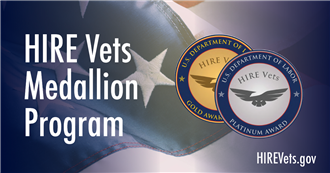 The Honoring Investments in Recruiting and Employing American Military Veterans Act (HIRE Vets Act) Medallion Program is the only federal award program that recognizes employers who successfully recruit, hire, and retain veterans. This is the third year that Orion Talent has received this prestigious recognition for showing a commitment to hiring veterans, as well as ensuring that they have a long-term career and growth plan that uses the diverse skills they acquired through their military service.
In conjunction with receiving the HIRE Vets award and observance of Veterans Day tomorrow, Orion Talent is also pleased to announce the release of our latest ebook. Military Solutions for the Business of Work: Unexpected Lessons in Getting the Job Done & Getting Ahead shares seven military-inspired workplace lessons provided by four Orion Talent leaders who served in the armed forces and is available for download here.
"I am excited to celebrate our third year as a Gold Medallion recipient of the 2021 HIRE Vets Medallion at the same time as we observe this Veterans Day," says Sarah Peiker, Orion Talent CEO. "The military veterans we proudly employ bring an invaluable skill set to our team that helps set us apart. Their dedication, integrity, and commitment shine through in all they do, and Orion Talent is honored to count them among our ranks."
About Orion Talent
Headquartered in Cary, North Carolina, Orion Talent is a customer-centric company focused on helping people discover meaningful careers and businesses grow by finding, delivering, and engaging the best talent around the world. We do this by providing best-in-class military hiring and talent solutions which include RPO, Military Talent Solutions, Candidate Search, Talent Attraction, and Total Talent Solutions. Learn more at www.oriontalent.com.
About the HIRE Vets Medallion Program
The HIRE Vets Medallion Award is earned by businesses that demonstrate unparalleled commitment to attracting, hiring, and retaining veterans. The 2022 HIRE Vets Medallion Award application period will open to employers on Jan. 31, 2022. For more information about the program and the application process, visit HIREVets.gov.