Orion Talent Earns Top Spot on RPO Baker's Dozen for Mid-Size Providers
Tuesday, September 13, 2022
Orion Talent, a leader in recruitment process outsourcing (RPO), has earned #1 Mid-Size RPO provider on HRO Today's 2022 Baker's Dozen Rankings. HRO Today Magazine provides the broadest and deepest reach into the human resources industry and publishes the Baker's Dozen list identifying the industry's top RPO firms.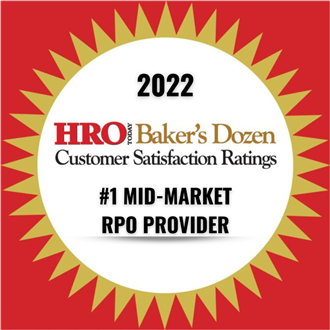 HRO Today Magazine publishes the Baker's Dozen list annually based on results of client survey feedback rating breadth of service, deal size, and quality of service.
Orion Talent has consistently been included in the Baker's Dozen, including four years as #1 on the Mid-Market Provider list and two years on the Enterprise list. This year, we are proud to rank #1 for Overall Midsize Deal RPO Leaders; #2 for Breadth of Service Leaders, and #2 for Quality of Service Leaders.
"Orion Talent strives to create a premium experience for our RPO clients, and I am so thrilled to see that our clients agree that we are doing just this," says Steve McAlear, SVP National Sales at Orion Talent, "Built on our industry expertise and our military DNA, our award-winning RPO solutions are elevating our clients' recruiting experience and blazing new trails in the outsourced recruiting space."
See the full HRO Today's 2022 Baker's Dozen Rankings here.

About Orion Talent
Headquartered in Cary, North Carolina, Orion Talent helps companies fill one to 100,000 roles with the right people and the right solution, powered by a diversity-rich network of highly sought-after candidates. Orion's design-led solutions include RPO, Professional Search, Military Search, Direct Sourcing & Contingent Workforce Solutions, and HirePurpose® Diversity Sourcing & Talent Attraction. Visit www.oriontalent.com to learn more.