Orion Talent CEO Sarah Peiker Wins Stevie® Award in 2023 Stevie Awards for Women in Business
Friday, November 17, 2023
Women Around the World Recognized at Event in New York
[Cary, NC] – November 11, 2023 – Orion Talent CEO Sarah Peiker has been named the winner of a Bronze Stevie® Award in the Achievement in Diversity & Inclusion category in the 20th annual Stevie Awards for Women in Business.

The Stevie Awards for Women in Business honor the achievements of women executives, entrepreneurs, employees, and the companies they run– worldwide. The Stevie Awards have been hailed as the world's premier business award.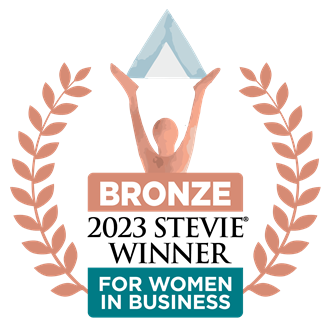 "I am elated to be recognized as a 2023 Stevie® Winner for Women in Business," says Orion CEO Sarah Peiker, "At Orion Talent, we are steadfast in our commitment to pushing boundaries of excellence, particularly in the realm of Diversity, Equity, and Inclusion. This accolade not only honors our collective efforts but also reaffirms our dedication to making a positive impact within our industry. I am sincerely grateful for the hard work and support of the entire Orion team, and I am excited about the continued progress and success that lies ahead for us."
More than 1,600 entries were submitted this year for consideration in more than 100 categories, including Executive of the Year, Entrepreneur of the Year, Company of the Year, Startup of the Year, Women Helping Women, and Women Run Workplace of the Year. Orion Talent received a Bronze Stevie® Award in the Achievement in Diversity & Inclusion category. Gold, Silver, and Bronze Stevie Award winners are determined by the average scores of more than 200 business professionals around the world, working on six juries. See a full list of 2023 Stevie Award Winners here.
Maggie Miller, president of the Stevie Awards, said, "In its 20th year, the Stevie Awards for Women in Business received an outstanding body of nominations from women in organizations of all types, in 26 nations. We are gratified by how meaningful it is to women to win a Stevie Award, and how impactful it can be on the futures of their careers and their organizations. We congratulate all of this year's Grand, Gold, Silver, and Bronze Stevie Award winners for their achievements."
About Orion Talent
Headquartered in Cary, North Carolina, Orion Talent helps companies fill one to 100,000 roles with the right people and the right solution, powered by a diversity-rich network of highly sought-after candidates. Orion's design-led solutions include RPO, Military Hiring, HirePurpose® Diversity Sourcing & Talent Attraction, and HireSkills® Workforce Planning & Development. For more information, visit https://www.oriontalent.com/.
About the Stevie Awards
Stevie Awards are conferred in eight programs: the Asia-Pacific Stevie Awards, the German Stevie Awards, the Middle East & North Africa Stevie Awards, The American Business Awards®, The International Business Awards®, the Stevie Awards for Great Employers, the Stevie Awards for Women in Business, and the Stevie Awards for Sales & Customer Service. A ninth program, the Stevie Awards for Technology Excellence, will debut in 2024. Stevie Awards competitions receive more than 12,000 entries each year from organizations in more than 70 nations. Honoring organizations of all types and sizes and the people behind them, the Stevies recognize outstanding performances in the workplace worldwide. Learn more about the Stevie Awards at http://www.StevieAwards.com.