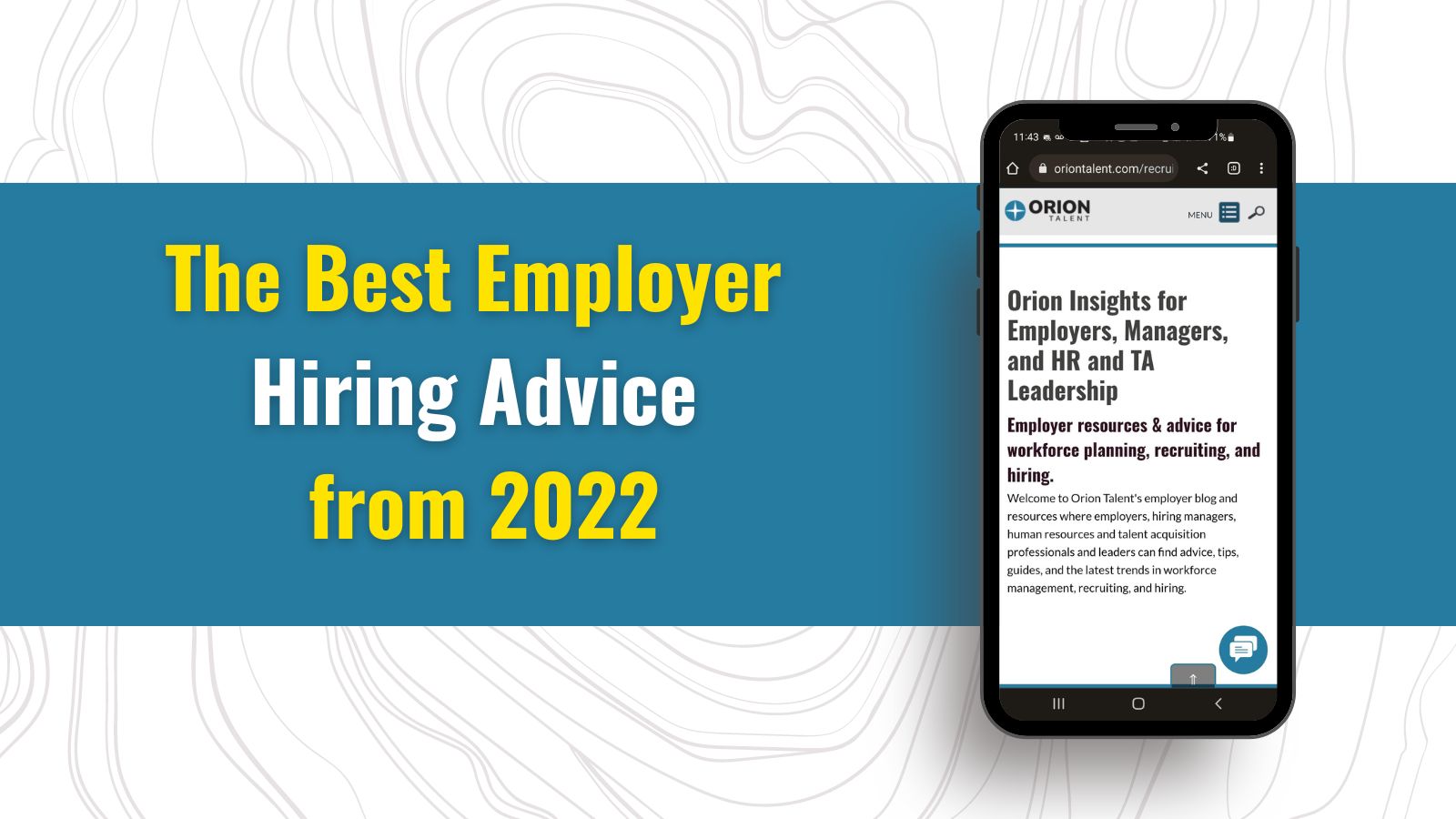 We blinked, and 2022 is almost over. It has been a turbulent year filled with the Great Resignation, growing skill gaps, Quiet Quitting, a renewed focus on diversity, and other unique talent challenges. And these themes are appropriately reflected in our top ten Orion Insights blog posts from 2022. Read on for our best hiring advice from 2022, all of which can be leveraged in 2023:
Agility in the Workplace: Creating a Strategy that Works
In this article, we investigate how remote work, flexible hours, employee well-being, and an erratic market have made workplace agility an increasingly interesting concept to businesses looking to stand out and gain a competitive edge.
The Uphill Upskilling Struggle: How HR Executives & Talent Experts Are Approaching Skill Gaps in 2022
This guest post by Cory Kruse, SVP, Strategy and Solutions, Orion Talent, recaps Orion's January 2022 HR Executive Roundtable. Learn what's working and what needs to change around upskilling to advance employee competencies and put a dent in skill gaps.
What is Quiet Quitting? Is it real?
Quiet quitting took 2022 by storm, and this article explores its origins, definition, and ramifications. It also provides insight into how you can incentivize employees to go above and beyond in the current job market without risking burnout or unfair expectations.
Meaningful Diversity Recruiting Metrics for Success
Recruiting metrics are essential to measuring how successful recruiting initiatives are, and this is particularly true for DEI programs. This article discusses how these metrics can give you a granular look at the culture you are creating.
Diversity Recruiting Strategies for Enterprise Organizations
In 2022, many companies moved beyond perfunctory DEI toward true inclusion efforts. This article explores the importance of reviewing and renewing diversity recruiting strategies to ensure you are bringing in the best and the brightest who can help create long-term value.
The Future of the Semiconductor Industry
The semiconductor industry was a hot topic in 2022, and this blog post takes a look at the skilled talent shortage, legislation that promises to address this national security crisis, where the industry is headed, and where American chip makers should be looking for new talent.
Military Veterans: An Untapped Source of Semiconductor Talent
This article also focuses on the skills gap in semiconductor but with an eye for the talent veterans can bring to the industry. In it, you'll find tips on how to build a strong pipeline of technical talent that will allow the industry to begin the process of reshoring and revitalizing the industry.
Veteran Hiring Strategies that Get Results
Orion Talent CEO Sarah Peiker sat down with Mark Feffer for an episode of the HCM Technology Report PeopleTech podcast in early 2022. This article looks at their conversation focused on recruiting and retaining veterans, as well as the many strengths they bring to the job market.
Driving Business Success with Military Hiring
Sarah Peiker also joined Meghan M. Biro, Founder of Talent Culture, for a #WorkTrends podcast episode, titled Diversity, Inclusion & Business Success with Military Hiring. Their discussion, covered in this article, centered on the growing talent shortage and the increasing prioritization of diversity and inclusion, both of which can benefit from the hiring of veterans.
Five Retention Strategies for Veteran Employees
This blog post explores how to structure a well-thought-out veteran onboarding and retention plan that will help veteran thrive. In it, you'll find five actionable steps to increase veteran retention and job satisfaction within your company.
We hope you enjoy these talent insights and will follow Orion Insights throughout 2023 for advice, tips, guides, and the latest trends in workforce management, recruiting, and hiring. Here's to a happy, healthy, and prosperous New Year!

RSS Feed
Subscribe to Orion's Blog