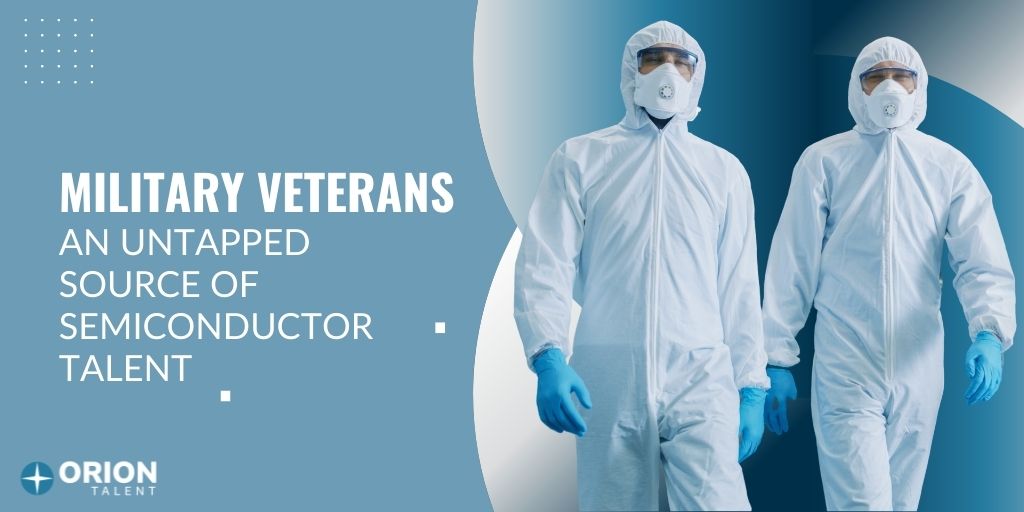 The Semiconductor Talent Shortage
The talent shortage is hitting industries across the board hard. The Great Resignation, a lack of technical school graduates, and low unemployment are particularly high hurdles for skilled manufacturing companies such as those in the semiconductor industry. To meet the capacity needs for only critical semiconductor applications, the U.S. needs to add about 5.5 percent of the global production. Rising to this challenge requires the U.S. to increase its workforce by about 50%. This is especially difficult at a time when semiconductor companies are competing with companies across the tech landscape for top STEM talent.
The Semiconductor Talent Shortage: Chip Companies Are Struggling to Find Good Candidates
In our article, The Future of the Semiconductor Industry, we discuss the jaw-dropping need to increase the American semiconductor workforce by 50% just to power only critical semiconductor applications. This translates to about 18 to 20 fabs and about 70-90,000 total fab jobs, including Preventative Maintenance (PM) Technician, Technical Specialist, and Field Service Engineer.
The Global Chip Shortage & The Push for US Manufacturing
The semiconductor shortage extends beyond talent and to the chips themselves. With COVID-19 came a quick contraction of the market and ongoing supply chain disruptions followed by a re-expansion that the industry could not support. Technologies like AI, 5G, the IoT, EV, and cloud services promise to increase the shortage without the talent pool to increase production.

The federal government is taking action through various pieces of legislation, including the Bi-Partisan Infrastructure Bill, the National Defense Authorization Act (NDAA), including CHIPS for America Act, and the America COMPETES Act, all of which are aimed, at least in part, at supplying critical applications and the recruiting efforts needed to staff these fabs. You can learn more about each of these pieces of legislation here.
Military Veterans: An Untapped Source of Talent for the Semiconductor Industry
Hiring Veterans for the Semiconductor Industry
Orion Talent CEO Sarah Peiker recently explained to HRO Today, "Organizations reap numerous benefits when they hire military talent. Vets are highly qualified and bring extensive training, technical skills, and life experience to the table. They're problem solvers who thrive in challenging and stressful situations. And the diverse range of backgrounds and experiences veterans bring to the table offer countless benefits to the workplace. This is exactly what employers need in today's competitive hiring climate and present an ideal solution to labor shortages."

Companies like Lam, Qorvo, and Samsung, to name a few in the semiconductor industry, have discovered this potential. Veterans' aptitude is such that smart businesses are leveraging a two-pronged approach to their hiring - recruiting military technical talent today and building bench strength by upskilling military talent for tomorrow.
Open Your Fab Today
Veterans with military occupations like Electronics Repair, Nuclear Machinist Mate, Nuclear Electronics Technician, or Low Voltage Electrician's Mate, among many others, possess state-of-the-art technical training in electronic, mechanical, and electrical systems, as well as proven leadership skills, making them an excellent fit for the industry. Unaffected by NDAs and non-competes, veterans can hit the fab floor running and make an immediate impact on your operations.

Chris Casanave, Director of Recruiting Operations, is a veteran and industry expert here at Orion. She explains, "Military Veterans excel in high tech manufacturing environments. They possess great attention to detail, are highly disciplined, know how to follow standard operating procedures, and operate well in fast-paced environments - all which are vital in semiconductor manufacturing. They are used to thinking quickly on their feet and troubleshooting issues, often in high-pressure situations. Other benefits semiconductor companies experience when hiring veterans is that many of them love the compressed work week common in the industry. Military veterans are accustomed to working in 24-hour operating environments, so it is a natural transition."
Fill Your Pipeline for Tomorrow
While not all veterans are trained in semiconductor-transferable skills in the military (i.e. Combat Arms), they are prime candidates for upskilling. Department of Defense SkillBridge is a program that offers skills training and internships. According to the Department of Defense, "Each year approximately 200,000 members of the U.S. Armed Forces, stationed in over 140 military installations in the U.S. and overseas, will leave active duty and re-enter the civilian workforce or pursue higher education." SkillBridge is a unique opportunity for employers to access these men and women while meeting their specific workforce needs through veteran upskilling. Additionally, there is no cost to the program, because the service member's salary is paid for up to 180 days.
This program is a win-win. Employers provide transitioning service members with workplace-relevant knowledge and the advanced skills necessary to best perform the job, gaining a competitive edge despite the growing skills gap. Veterans gain valuable civilian job experience and a pathway to a career, all while still in the military.
As with many government programs, there is a learning curve to successfully utilize SkillBridge. With more than 1300+ programs listed on DoD website, some companies looking to stand out from the crowd and eliminate many common challenges like time and manpower may prefer to partner with consulting firms that can bridge this gap such as HireSkills™ Consulting from Orion Talent.
HireSkills enables employers to leverage workforce partnership SMEs who will collaborate through every step of the process to create a training and onboarding program that meets Department of Defense requirements to become an Authorized SkillBridge Provider. By taking much of the administration and planning burden off clients, these types of partnerships provide time and cost savings.
"The workforce simply does not have enough workers and skilled candidates to fill the existing and projected semiconductor job openings. In order to address the skills gap, employers need a nationwide talent solution to recruit from nontraditional labor pools," advises Laura Schmiegel, SVP, Strategic Partnerships, Orion Talent, "Demand for continued innovation requires semiconductor companies to think outside the box. Military veterans are looking for careers and have a proven retention record when paired with an excellent preparation program, making military hiring an excellent option."
Many veteran-upskilling programs are anecdotally seeing retention rates between 70% - 90%. A proud participant in SkillBridge since 2021, Orion Talent is experiencing a 100% retention rate at one year.
Time is of the Essence
The word is out. Hiring veterans is the right choice. But this makes recruiting these talented men and women much more competitive as industries from pharma to manufacturing to energy realize their value. Accessing this military talent before they hit the market, either for jobs available today or to build bench strength, enables semiconductor companies to close the skills gap and begin the process of reshoring and revitalizing the industry.

RSS Feed
Subscribe to Orion's Blog