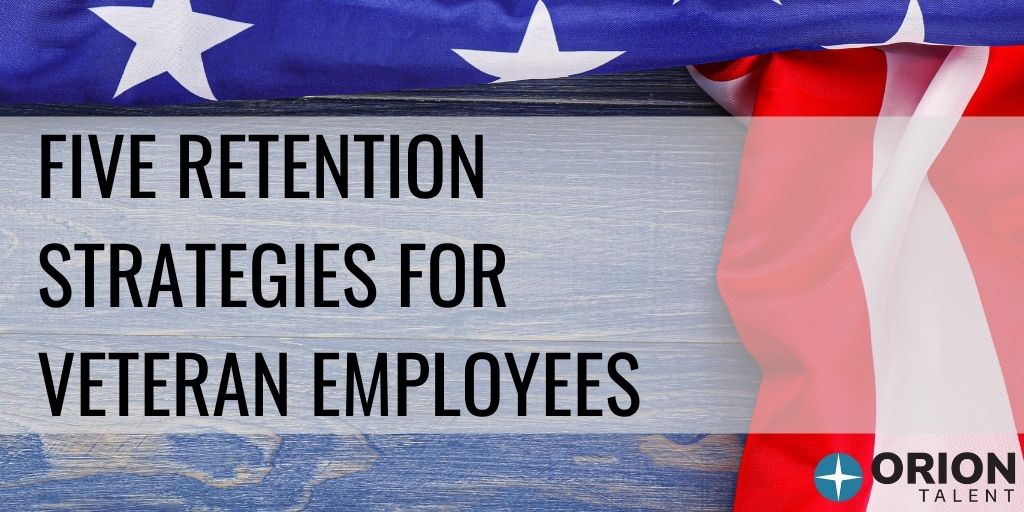 Nearly 50% of Veterans leave their first post-military position within a year. Lack of support, an undefined career path, feeling uninspired, or skills misalignment may be to blame. According to a recent Talent Culture article by Orion Talent CEO Sarah Peiker, "Ways to Help Veteran Employees Thrive," these challenges can be addressed and overcome through a well-planned Veteran onboarding and retention plan.
Help Military Veterans Thrive with These Five Strategies
Here are 5 actionable steps Sarah says you can take to increase veteran retention and job satisfaction within your company:
1. Mentorships
Creating a Veteran mentorship program is an excellent way to connect incoming military Vets with a seasoned Vet on staff who can serve as their resource, guide, and advocate in their new role.
2. Employee Resource Groups
Veteran Employee Resource Groups (ERG) or Veteran Affinity Groups increase employee engagement and job satisfaction.
3. Career Pathing
Veterans highly value a clear career path with career progression clearly laid out and goals and requirements concretely defined.
4. Upskilling
Continuous development and ongoing education is a powerful retention tool offering tailored preparation for future roles.
5. DEI Initiatives
The Veteran population represents a 43% diverse workforce and should be an integral part of your company's DEI initiative.
Small Steps Make a Big Difference
There's no need to take on all five retention strategies at once. "Choose one, and make it amazing! Then move on to the next retention strategy. Your veteran employees will be proud to call your company home," concludes Sarah.
Getting Started
As you consider ways to support your Veteran hires, make sure to read Sarah's full article "Ways to Help Veteran Employees Thrive" for more inspiration. Check out Orion's Military Talent Solutions to discover how we can help your business build pipelines of military talent to close the skills gap.

RSS Feed
Subscribe to Orion's Blog