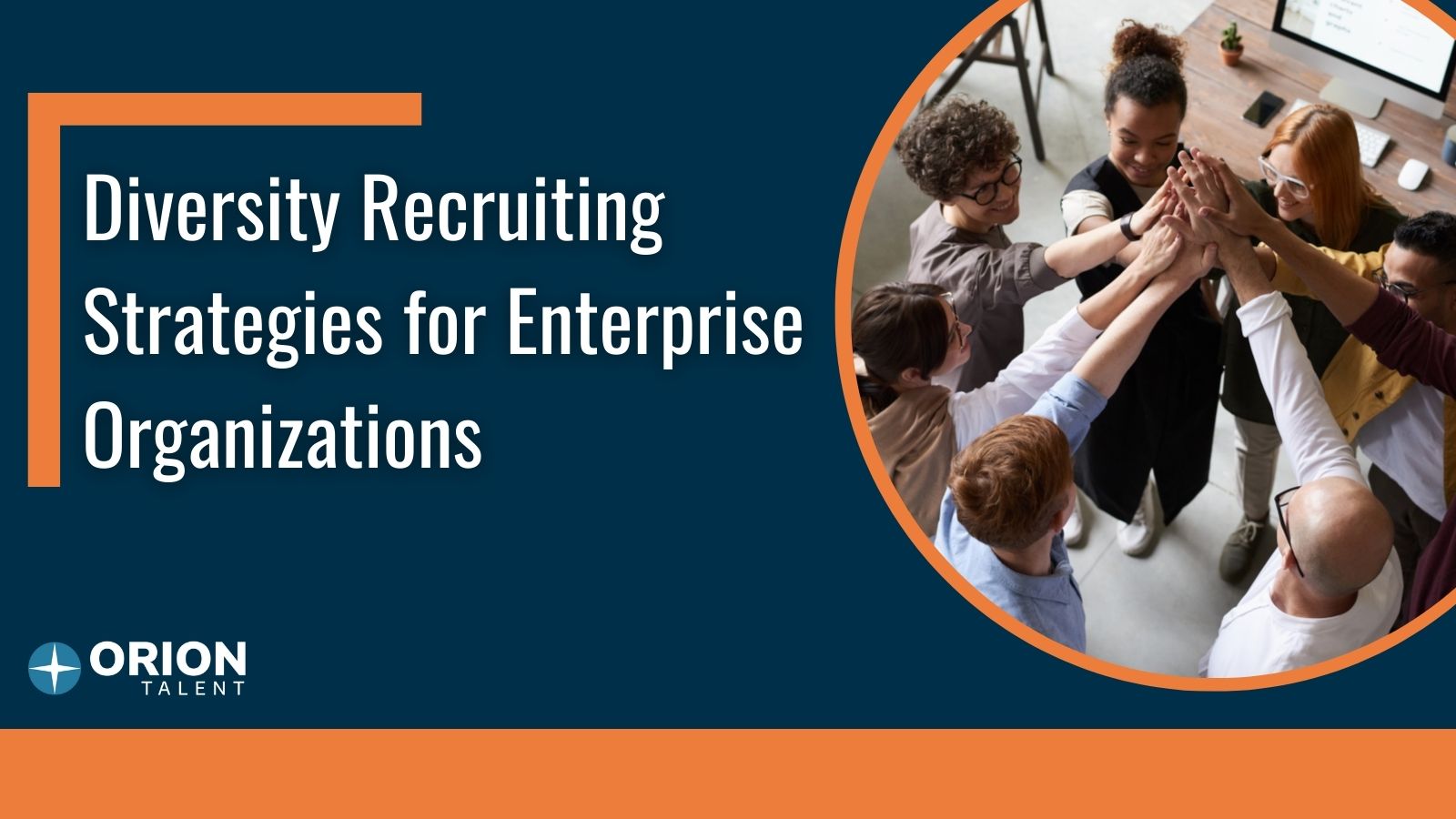 More companies than ever are seeking diverse job seekers, including those who are racially and ethnically diverse, women, people with disabilities, individuals from the LGBTQIA+ community, and members of other underrepresented groups. Their diversity hiring strategies are also extending to less obvious examples of diversity, including neuro(a)typicality, mental health, life experience, and religion.
These companies understand that by fostering diversity and inclusion, they are creating better experiences for employees at all levels, improving employee satisfaction and retention. In a recent article, we discussed some of the revealing statistics the impact that diversity, equity & equality can have on a business. One eye-opening statistic is that diverse companies are 33% more likely to have greater financial returns than their less-diverse industry peers.
For many companies, there has never been a better time to review and renew your diversity recruiting strategies to ensure you are bringing in the best and the brightest who can help create long-term value.
What is a Diversity Recruitment Strategy?
Diversity recruitment strategies are part of a larger diversity and inclusion strategy and establish the goals, accountabilities, action items and metrics pertaining to hiring practices that are designed to facilitate equality and inclusion for everyone. This inclusive recruitment includes the attraction, engagement, assessment and hiring of diverse talent, including, but not limited to, minorities, women, people with disabilities, individuals from the LGBTQIA+ community, and members of other underrepresented groups.
Diversity recruitment is merit-based, designed to be free of biases toward or against individuals or groups of people. It should also be constantly evolving as you work to build a workforce that reflects your customer base and the communities where you operate. This inclusive recruitment also benefits the means companies can innovate in new ways and improve retention.
Diversity & Inclusion Recruitment Strategy: Best Practices & Expert Tips for Attracting Diverse Talent
To deliver measurable results on your Diversity Recruiting Strategy, you need access to diverse talent. Building a pipeline of diverse candidates is best achieved by:
Consider where you're advertising
Choose niche publications, events, speaking opportunities that will allow you to showcase your company's opportunities for diverse talent. Don't wait for talent to show up on LinkedIn or Indeed. Research niche job sites that may have the type of candidate for which you are seeking. You may also consider working with larger non-traditional networks.
Make it Programmatic
You can optimize the effectiveness of job postings by partnering with a company that can programmatically distribute your positions to a network of curated partners that meet your diversity goals. This is an effective diversity outreach and recruitment strategy that increases efficiency and drives appropriate candidates directly into your recruiting funnel.
Leverage an ongoing nurture program
Keep in touch with the talent in your pipeline with content designed to pique their interest in future careers and offer other free career insights. Sharing content around DEI initiatives, progress, and internal allies who will speak to your company's commitments. And, don't forget the passive candidates!
Audit your job postings
Take a look at what you're posting, too. By auditing your postings to include languages that speak to a broader range of candidates, you'll better appeal to talent from different backgrounds. Use gender-neutral language and always avoid exclusionary language.
Consider the military
As Orion Talent CEO Sarah Peiker points out in her article, Ways to Help Veteran Employees Thrive, the veteran population represents a 43% diverse workforce and should be an integral part of a company's DEI initiative. By looking for talent within the military, you are accessing candidates that come from a wide variety of backgrounds.
Focus on your employment branding
You should only work on this step if you can authentically include it as part of your Employer Branding. If so, make sure the content on online footprint, social media presence, and throughout the candidate experience represents your team's commitment to diversity, equity and inclusion.
Make it actionable and quantitative
It's important to select diversity recruitment strategy metrics that will highlight progress or areas that need attention. These metrics should focus on representation, recruitment, promotion, and pay.
Learn more about DEI with Orion Talent's Diversity, Equity & Inclusion Webinar Series and Unconcious Bias Webinar, and our Diversity Job Alerts.
Getting Started with a Diversity Recruitment Strategy
The value in creating a Diversity Recruitment Strategy is two-fold. Not only are you attracting a truly diverse team, but your strategy will contribute positively to your employer brand. As you can see, we have listed seven higher-level tactics to employ in your strategy. Start with these as the scaffold of your plan. From there, you can expand on a more granular level and even target specific groups in which your company is lacking representation. Stay tuned for more on these nitty-gritty tactics.
If you are working on any of these steps and would like expert insight into how to attract qualified candidates, exceed your high volume, talent community and DEI goals, and build an inclusive culture, contact Orion Talent today!
Sign up for More Diversity Insights

RSS Feed
Subscribe to Orion's Blog