Orion Talent Hires RPO and Talent Acquisition Industry Veteran Sarah Peiker as CEO
Tuesday, October 19, 2021
Peiker Will Amplify Orion's Focus on Military and Diverse Talent to Bridge Skills Gap and Deliver Talent at Scale
Cary, NC – October 19, 2021 − Orion Talent, a leading talent solutions provider, announced today it has appointed Sarah Peiker as Chief Executive Officer (CEO). Building on Orion's strong reputation in military and diversity hiring, Peiker will amplify the company's Recruitment Process Outsourcing (RPO) offering to deliver talent even more quickly on a global level. Mike Starich, CEO of Orion since 2015, will transition to Senior Advisor to the CEO.
"Orion is an industry leader in RPO and military hiring solutions, and Sarah has a strong vision for accelerating its position as THE source for delivering veteran talent at scale," said Lorin Wolfe, Partner, L2 Capital, a private equity firm invested in Orion Talent. "We couldn't be more thrilled to have Sarah build and lead the team at Orion."
Peiker joins Orion from ManpowerGroup Talent Solutions where she led the company's RPO Practice and held senior leadership roles within the company's North American and EMEA RPO Practices.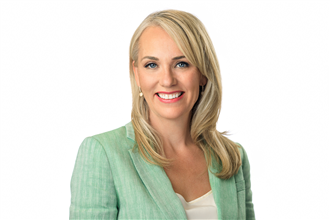 "Orion is innately different due to its focus on military talent solutions. I'm excited about the prospect of elevating the company's ability to help veterans bridge the gap between the military and civilian worlds and deliver that talent to companies at scale," said Peiker. "Companies are screaming for talent, and Orion is poised to meet the accelerated demand for RPO with technology-driven, veteran- and diversity-focused hiring solutions. This is an exciting time to join Orion, and I look forward to building on the success the company has seen under Mike's leadership."
Orion has a strategic focus on ensuring veterans have access to the upskilling or reskilling that is necessary for them to be placed not only in the jobs that exist now, but also prepared for the jobs of the future. A critical component of Peiker's vision is to launch veteran-specific talent pools that are tailored to the specific hiring needs of employers and aligned with the hard and soft skills that are unique to veterans. Orion's deep understanding of its clients' hiring needs will ensure these talent pools are highly customized.
Under the direction of outgoing CEO Mike Starich, Orion has grown from offering only military direct hire services to a broad array of solutions addressing the needs of its clients including RPO, Military Hiring Solutions, Professional Search, Contingent Workforce Solutions, and Talent Attraction & Diversity Outreach Solutions. Throughout his tenure as CEO, the company experienced strategic growth through multiple acquisitions (Novotus, Accolo, and Hirepurpose), invested internally to grow and develop its Professional Search and Contingent Workforce Solutions, and outpaced revenue and performance targets.
"Sarah's deep expertise in global RPO and talent acquisition paired with Orion's proven record in military and RPO solutions will enable Orion to achieve exceptional things in the future. This is the perfect time for her to become Orion's next CEO and I look forward to what the company will accomplish under her leadership," said Starich.
For more information on business areas and industries served, visit Orion Talent.
About Orion Talent
Headquartered in Cary, North Carolina, Orion Talent is a customer-centric company focused on helping people discover meaningful careers and businesses grow by finding, delivering, and engaging the best talent around the world. We do this by providing best-in-class military hiring and talent solutions which include RPO, Military Talent Solutions, Candidate Search, Talent Attraction, and Total Talent Solutions. Visit www.oriontalent.com to learn more.
Media Contact:
Jess Chipkin
jchipkin@clearedgemarketing.com
630.263.9153