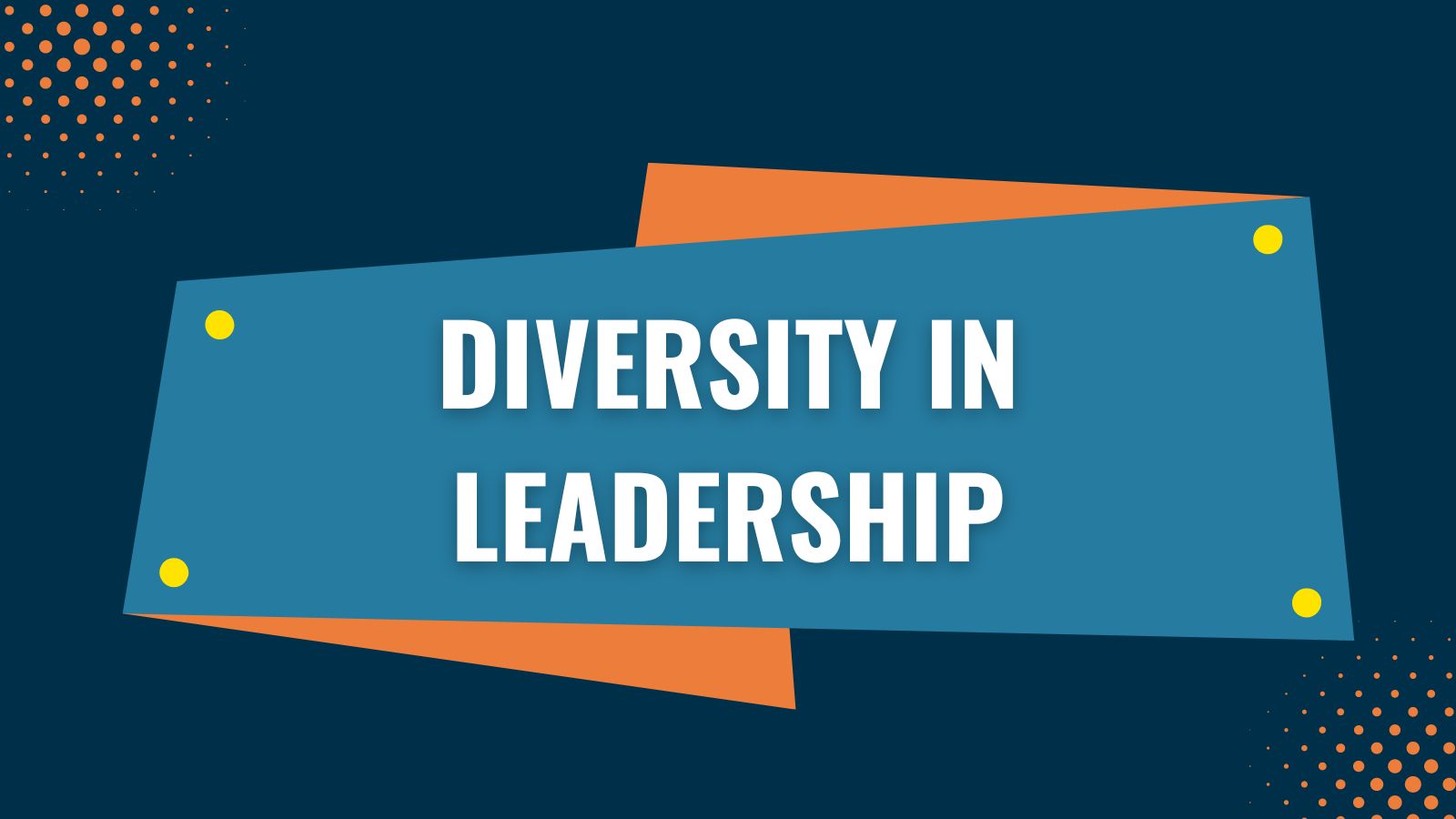 Companies with diverse senior level leadership teams are 35% more likely to outperform less-diverse competitors; their teams are more innovative with greater creativity, problem-solving, performance, and productivity. Diversity in leadership is an important goal for your organization because it allows them to reflect the diversity of both your customer base and geographical demographics. Having a diverse leadership team demonstrates that your organization is committed to inclusivity and open to different ideas. It is not only important for organizations, but it's also a vital step toward creating an equitable and inclusive society.
What is diversity in leadership?
When you think of diversity, race or ethnicity may come to mind. Yet workplace diversity includes so many other factors, including, but certainly not limited to sex/gender, culture, religion, age, disability, socioeconomic status, neurodiversity, education, and more. Each employee brings a unique amount of diversity to the table through their life experiences and opinions. Diversity in leadership is when an organization utilizes a wide range of individuals in company, team, or project leadership positions. Leadership and diversity go hand-in-hand, making your business more effective and successful while also fostering a sense of belonging within your workplace.
If you're not sure where to begin, HirePurpose Diversity Sourcing and Talent Attraction is a great place to learn more about adding diversity to your organizational structure. Regardless of where you're at in your DEI journey, here's some background information into the importance of workplace diversity, what it looked like in the past, and what diverse leadership could look like in your business.
The Importance of Workplace Diversity
Workplace diversity is an important factor for any organization to consider. In addition to creating a more well-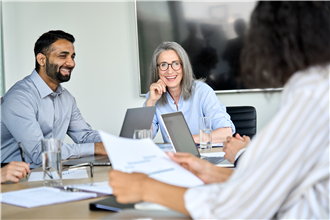 rounded and productive work environment, having a diverse workforce allows organizations to better understand the wants and needs of their customers and better serve their communities. Organizations with diverse workforces tend to be more successful in the long run.
Leadership Demographics Tend To Be Homogenous
According to a survey by Mercer, 85% of US-based executives and 83% of senior managers are white. In addition, 77% of executives and 71% of senior managers are male. However, initiatives are being taken across many industries to create more diverse representation across all levels of business, including leadership roles.
There's unprecedented awareness of the value of having diverse perspectives in leadership roles, and companies are taking steps to make their leadership teams more representative of the people they serve. Mentorship programs, leadership training, and recruiting initiatives focusing on bringing in and/or fostering diverse leadership development are a few ways companies are achieving this goal.
What Does Diverse Leadership Look Like?
Diverse leadership is so much more than merely having a CEO or Advisory Board Member of a certain ethnic background. Diverse leadership looks like a team of individuals from varied backgrounds, experiences, and perspectives working collaboratively toward a common goal. It looks like having leaders who come from different ethnicities, genders, ages, socio-economic backgrounds, educational backgrounds, and more. The more perspectives considered, the wider the range of ideas and solutions. The goal is to create an environment where everyone feels included, heard, respected, and valued.
How Diversity in Leadership Benefits Your Organization
Leadership through diversity can benefit your organization in a variety of ways. Having diverse perspectives in decision-making leads to more innovative solutions, better customer service, and greater employee engagement. Here are a few more reasons why your organization should incorporate more diversity in leadership and management roles:
A greater breadth and depth of experience and perspective. When you bring together individuals from different backgrounds, cultures, and perspectives, your leadership team will have multiple ideas, approaches, and solutions to business challenges that would not have existed otherwise.
A higher chance of positive changes that facilitate diversity and equity within the company. Companies that have more diverse leadership have greater success creating an inclusive and equitable work environment. In addition, by having more diverse leadership, your company will be able to more accurately understand the needs of your diverse employee base and create changes tailored to those needs.
Diverse companies have a higher chance of attracting and retaining top talent. Diversity in the workplace is an important factor in attracting and retaining talent. Companies that demonstrate commitment to diversity and inclusion show that they value the unique perspectives, backgrounds, and experiences of everyone in the organization. This helps create a work culture that's welcoming and inclusive for all, which draws more talent. Creating an authentically diverse work culture could give your company a competitive edge.
A stronger, more inclusive company culture. A diverse range of voices ensures that everyone's needs and concerns are heard and respected. Having a diverse leadership team creates a more positive work environment where employees feel respected and valued while also sending a positive message that the company values and embraces diversity.
Higher levels of innovation. Diversity in leadership leads to higher levels of innovation by bringing together different perspectives and ideas that can help challenge the status quo and create new solutions. In fact, companies with above-average diversity at the management level generate 19% higher innovation revenues (revenue from enhanced or new products or services from the last 3 years) than companies with below-average diversity.
How to Cultivate Diversity in Leadership
If you're like most business owners, you would love to cultivate diversity in leadership positions within your organization. But where should you even begin? Here are a few ideas to get you started:
Establish clear diversity goals. Start by defining exactly what diversity means to your organization (gender, race, ethnicity, sexual orientation, disability, age, etc). Next, decide which goals will make your workplace more diverse and equitable. It's important to be very specific and actionable. Do you want to increase the representation of minority groups in leadership roles? Should you develop recruiting strategies that encourage diversity hiring? Be sure to consider how you will monitor progress toward achieving your goal and the timeline for implementing changes.
Consult with experts in DEI recruitment. There's no reason to do it all alone. DEI Recruitment experts can provide you with the insight and strategies to make your diversity goals a reality. They are trained to help you spot biases in your recruitment process, help you comply with laws and regulations, and can assist you in attracting a diverse pool of candidates.
Retool your hiring practices. Consider expanding your recruitment efforts beyond your current sources. You might connect with community organizations that serve diverse populations or work with job boards specializing in diversity candidates. During the interview process, try to have diverse interviewers on your panel.
Explore new channels for finding diverse talent. Similar to the above, consider reaching out to organizations and groups specializing in connecting employers to diverse talent. Some of these include Latinx in Technology, Out in Tech, and Women Who Code. Social media is a great way to reach out to diversity candidates too. Also, be sure to attend job and career fairs.
Take measures to reduce the impact of unconscious bias in the hiring process. One way to reduce the impact of unconscious bias in the hiring process is to implement blind recruitment. This is the process of removing any information from a job candidate's application that could reveal their identity (including name, age, gender, or ethnicity). This helps to ensure that candidates are selected for their skills and abilities rather than any background or personal information.
Provide diversity education and training for employees. Providing diversity education and training for your employees fosters an inclusive, respectful work culture. When employees understand the importance of diversity, they are more likely to communicate and collaborate more effectively with people from different backgrounds. Diversity education can help people overcome their personal biases, even if they didn't know these biases exist. Diversity education and training are beneficial for both your organization and your employees.
Next Steps, Increased Organizational Diversity
Building strategic DE&I objectives that foster diverse and inclusive leadership goals is not just the right thing to do, it's also great for business. Diverse companies are 33% more likely to have greater financial returns than their less-diverse counterparts and corporations that embrace gender diversity on their executive teams are more competitive, 21% more likely to experience above-average profitability, and 27% more likely to outperform their peers on longer-term value creation.
You've learned about the importance of diversity in leadership positions, how it benefits your organization, and ways to cultivate diversity in leadership. Continue your learning journey with our Diversity, Equity, & Inclusion Webinar Series or check out the HirePurpose page to learn more about diverse talent attraction, diversity hiring, and building a diverse workforce. You should be well on your way to creating a more diverse and effective leadership board.

RSS Feed
Subscribe to Orion's Blog