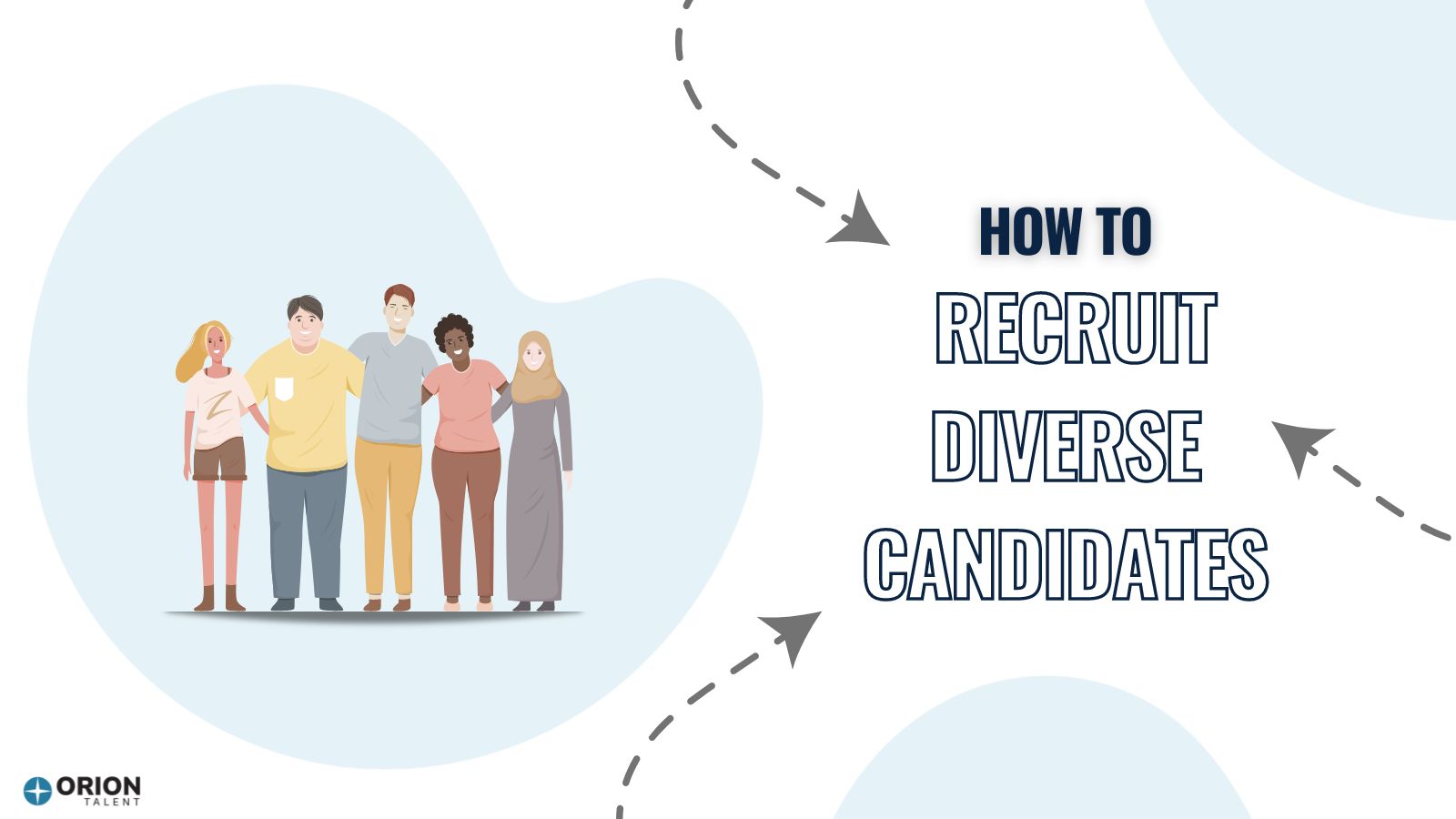 For companies looking to go beyond a "check-the-box" approach to DEI, recruiting a wide range of talented candidates is a smart way to build diversity from within. Creating this diverse candidate pool means sourcing with an eye for merit with special care taken to ensure there are reduced biases related to age, race, gender, religion, sexual orientation, and other characteristics that are unrelated to job performance.
By recruiting and retaining diverse talent, companies are able to surpass their diversity outreach goals and get connected with talented candidates from diverse backgrounds, including military, women, BIPOC, LGBTQ+ members, and People with Diverse Abilities. They build an authentic culture that speaks to future candidates. Diverse workforces also see an increase in innovation and profitability. When executed with thoughtful consideration, you can meet diverse candidates where they are spending time, and present your opportunities in inclusive ways.
Read on for actionable tips and best practices for recruiting diverse talent.
Explore Candidates and Sources That Might be Outside of Your Usual Comfort Zone as Part of Your Diversity Hiring Strategy.
It is time to go beyond Indeed and LinkedIn and go to where your desired candidates are. Consider the following to reach the diverse workforce you want to build:
Diversity job fairs
Local organizations that serve a specific population
Industry-specific organizations & professional associations
Diverse colleges and their alumni networks
Professional conferences
Non-traditional publications
Craft Your Job Descriptions to be Appealing to Diversity Candidates.
Create concise job postings.
Job descriptions full of a long list of required hard skills can put off many candidates. If they don't possess every skill on the list, they likely won't apply. This is especially true for women. Instead, write your job description around the soft skills the positions require. Unlike hard skills, soft skills cannot be taught and are a great predictor of success in a role.
Avoid gendered language.
Words carry meaning in different ways to different people. For instance, using words like competitive or decisive is often associated with male traits. Consider neutral language, including titles and job responsibilities. (i.e. Use "You will be responsible for…" instead of "He will be responsible for…"). Gender Decoder is a great place to check your posting for gendered language.
Avoid corporate jargon.
Unnecessary jargon can confuse candidates. According to Forbes, this type of language prevents job seekers from applying because they don't understand it, particularly in the 16-24 age group and those from foreign or disadvantaged backgrounds. By using concise language, you build rapport with your candidates who appreciate clarity.
Make sure to include a statement about your company's DEI commitment.
Going beyond the usual disclaimer at the bottom of a job posting is optimal. You can mention any important initiatives, Employee Resource Groups, flexible benefits, or even accommodations that are available for various groups during the interview process.
Consider a "day in the life" posting.
This is an excellent way to clearly communicate what is expected in the position without an exhaustive list of requirements and responsibilities. It can paint a picture of what life will be like at your company, enabling the candidate to see themselves there. Videos can also be used quite successfully to convey this message.
Discuss the position's growth and development.
Many diversity candidates today are looking for meaning, so clearly displaying your investment new employees is a great idea. Mention available mentorships, development programs, and professional growth options. Go beyond the usual benefits and really consider what your candidates would like in a position.
Use a Well-Structured and Standardized Interview Process that Creates a Level Playing Field.
Begin the interview process by looking at blind resumes.
By removing the name, graduation years, and even school, you reduce the chance of unintended bias occurring. There is technology that can help, but you can start small by asking an intern or contractor to manually redact the info - whatever it takes to level the playing field.
Hold blind interviews.
By holding an online chat, using an emailed competency-based questionnaire, or providing a form, you remove gender, race, ethnicity, religion, etc., from the first stages of the interview process. Toggl Hire offers a short 5-10 minute skills-based quiz, allowing candidates to display their practical knowledge and aptitude.
Review your interview process.
Take the time to look at what is working and what isn't. Ask for input from your hiring managers and candidates. From there, work to improve the process.
Implement Diverse Interview Panels.
Hire diverse recruiters.
Candidates apply to jobs in which they can envision themselves. Part of that is seeing themselves among the members of recruiting and interview teams. Visible diversity clearly communicates that DEI is a priority for your company.
Mix up your interview panelists.
Don't just include your hiring team, but instead consider a team-based approach that includes the people with whom the new employee will be working.
Get blind interview feedback.
Ask each interviewer to provide their feedback immediately after the interview in a digital format, separately from one another. This will help avoid confirmation or affinity bias.
Ask the candidate for feedback.
Simply asking how they felt about the process goes a long way to show your commitment to diversity and inclusion, and that they will be a valued member of your team.
Illustrate Policies that Appeal to Diversity Candidates
Job postings that go beyond a traditional list of benefits are another excellent way to attract a wide range of candidates. Describe the policies you have in place that encourage diversity, equity, and inclusion. These may include:
Diverse religious holidays
Sponsored community events
Flexible and remote work.
Work With External Recruiters Who Specialize in Diversity Sourcing
If you're not sure where to start or could use a little help building a diverse workforce, be sure to check out Orion Talent's HirePurpose™ Diversity Sourcing and Talent Attraction Solution. We connect industry-leading companies with diverse job seekers desiring an inclusive workplace while helping our clients build a culture where all employees can bring their authentic selves to work each day.
Get More DEI Insights from Orion Talent

RSS Feed
Subscribe to Orion's Blog