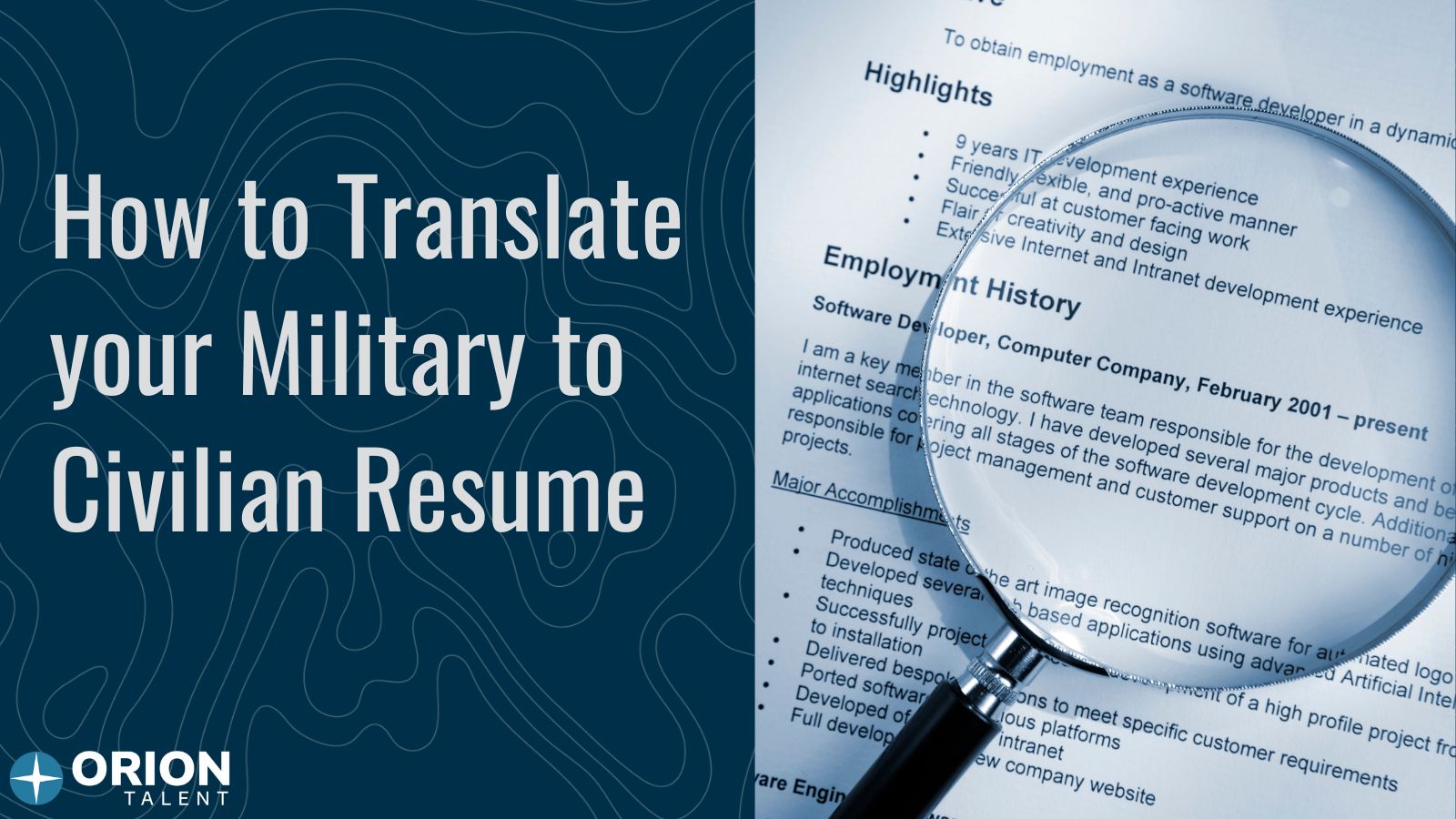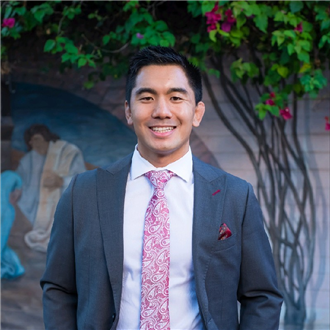 Today's blog post is by Jericho Urmenita, an Orion Talent Recruiter, USMC Veteran, and USNA graduate. In today's post, Jericho outlines the best practices for translating your military to civilian resume. Check out Jericho's other blog posts on Military LinkedIn Profiles 101: How to Build Your Profile to be Discovered by Military Recruiting Firms, Civilian Salary Guide for Junior Military Officers, Most Common Civilian Jobs for Junior Military Officers by MOS, PMP Certification, and How to Succeed in Business Consulting.
I recently worked with a candidate to translate a resume where he had used lines directly from his evaluations, or "evals," as his resume bullet points. While eval billet accomplishments are a good place to start, they cannot be directly transposed over to a resume in most cases. There are some key words you need to make sure you change. For this post, I have compiled a few of the most common wordings and phrases that I see on military resumes and how to shift them for best effects. This is your handy conversion guide for military jargon.
Enemy, Combatants, Forces, Targets…
These must be reworded to convey obstacles or challenges. "Threat" may be used if nothing else can be done, as in cases where your point is directly related to an opposing force. For example, "mitigated the threat" instead of "neutralized the target." In today's more collaborative business world, it is unsavory to refer to anyone as the enemy and seeing it on a resume is off putting.
Close with and destroy, Seize the objective, Precision strike, Lethality…
It's best to leave out anything so aggressive and certainly do not say anything about destruction or lethality in a resume. Reword these to convey mission accomplishment or goals achieved. "Took the initiative," or "capitalized on the opportunity," are great places to start.
DESRON, MAGTF, 1MEF, 3/5, 1/75, C Co…
It hurts because we all have unit pride, but these abbreviations and acronyms don't really matter. They are confusing to a hiring manager because they can't tell if its people, equipment, or a place. It's best to use your unit's full name once in the section title if you must, then use group, company, section or unit from there to refer to them. Do not say "business unit" though, because that's not what it was either.
Minimizing acronyms also applies to common military nouns as well. For example, they don't need to know Ammunition Supply Point is an ASP or that you are the CHENG. Just write those out.
Forward reconnaissance, Over the horizon, Area Denial, Counterinsurgency…
Military specific tactical operations must be translated to something more relatable or at least explained to make sure they add value. Forward reconnaissance could simply be "gathered hard to collect data for higher leadership," for example. You'll have to get creative with these to pull it off, and if you can't, don't be afraid to leave it out. Remember, unless you are in civilian law enforcement, there is no place in the civilian world where putting rounds on target is a needed skill. If you are unable to translate it, then chances are it's too specific to the military for you to use it on a resume.
Commanded, Ordered…
Remove the verbs. Keep the nouns, if needed. Commanding people is not a thing in the civilian sector and using those words will make you look like "that" military guy who thinks they are still in. Use "directed" as the strongest possibility. "Commander" is fine, if it was a title like Company Commander.
Economy of Force, Mass against the objective, Exploit the gap…
This is a gray area. Higher level strategic terms such as these are actually being used to describe actions in business these days. You've seen it; OIF era Navy SEALs and the like forming companies and advising Fortune 500s on leadership. Because of this, it may be permissible to use on a resume as it has seen some exposure already. However, this is generally reserved for higher level roles where your decisions can make or break revenue. Those going after Plant Manager, Director, or other similar level roles may use these effectively. For Supervisors and Mid-Managers, it is unlikely these will be of use to you.
Responsible for $XXX worth of equipment…
An extremely common bullet point. This one is useful, but you must understand the difference in how the military world and civilian world evaluates money. While the military uses dollar values to evaluate your level of leadership, the civilian world generally does not. They measure dollar values of projects or revenue generating accounts, or in other words, how much money you can make for them. Very rarely will a hiring manager ask you how much equipment you managed not to break or lose during your time in the military (let's be honest, that's what that number is). If a position description says "must have experience managing project values of $1M-$2M", that is not referring to all your equipment. It would have to be something you installed or built then turned over. The value of equipment is useful, but only for roles where you'll be in charge of equipment again, i.e. a Fleet Manager.
Additional military to civilian resume resources
Remember, just like in the military, communication is a two way street with the onus of the message primarily on the sender. Make sure you are speaking on the right frequency so your message is heard!
Orion Talent has many resources for you to help translate your wealth of experience to the civilian world. Check out our transition resources guide for assistance with more resume preparation, including sample resumes, types of resumes, and more.

RSS Feed
Subscribe to Orion's Blog