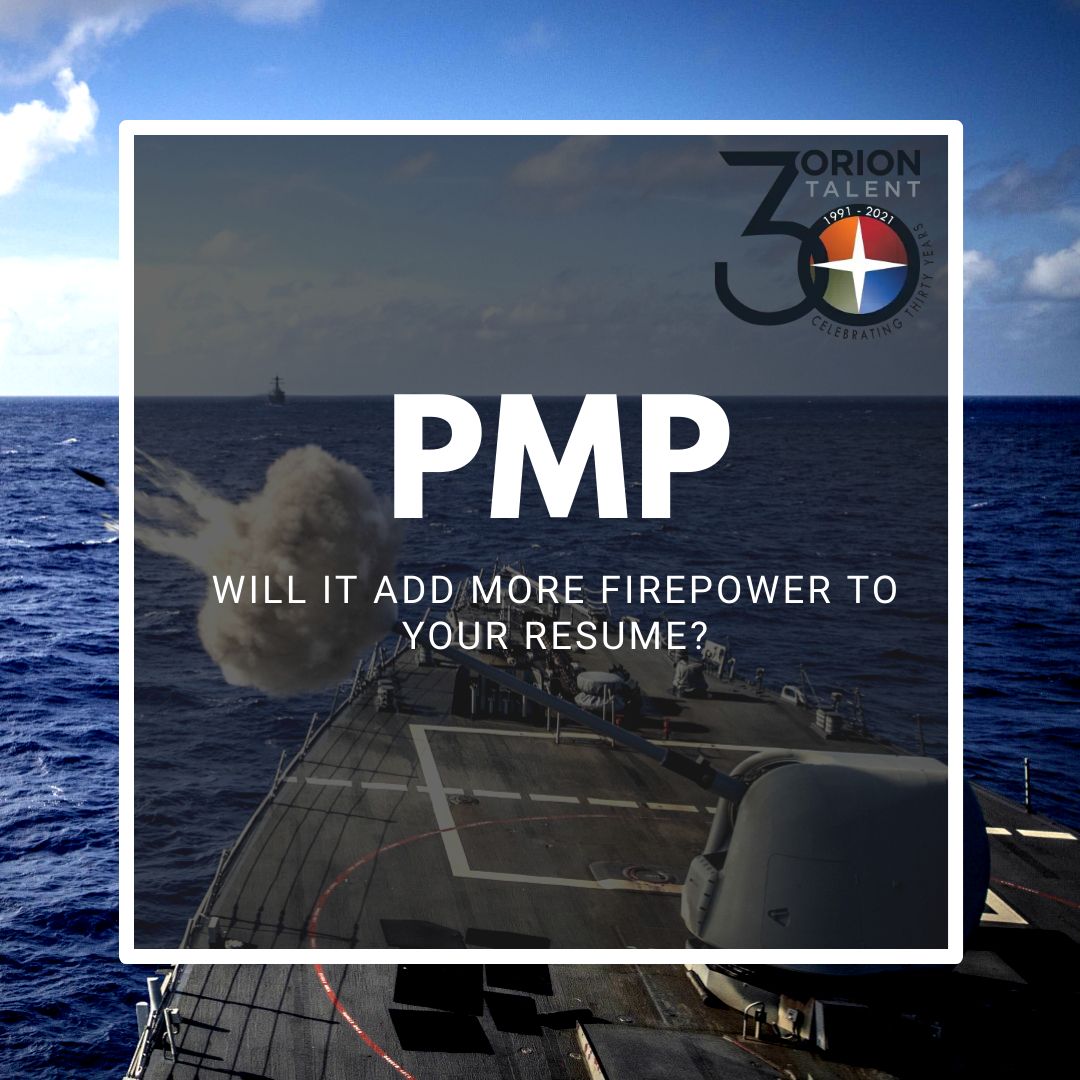 Today's blog post is by Jericho Urmenita, an Orion Talent Recruiter, USMC Veteran and USNA graduate. Jericho breaks down the PMP certification and gives insight into whether it will add more weight to your resume.
What Is PMP Certification?
The PMP is indeed a tough nut to crack due to the generally ambiguous descriptions of its purpose that are commonly available. Cornell University offers their online PMP certification and examination for students to "learn how to scope projects effectively, improve time budgeting and resource allocation, and get the project done on time and within budget." This certainly sounds appealing and, without proper perspective, does sound like it could be applied anywhere. However, while many of its concepts are somewhat applicable to general operations, it is important to remember that the PMP is designed for defined start-defined finish type work with particular emphasis in keeping things in budget. This means that the project will be initiated by you with the customer, and at the end of the project, handed back over to the customer. Think building a building or installing capital equipment where once it's complete, you move on to the next project.
General basic requirements to get certified through the Project Management Institute (PMI):
A four-year degree

36 months leading projects

35 hours of project management education/training or CAPM® Certification
While I have seen military candidates leverage some of their skills from the military (Corps of Engineers or Combat Engineers usually), those that get the most value out of obtaining their PMP certification will have been in the industry for a few years before getting their cert.
In most cases the PMP will not be accepted without some other reasonable compelling experience in project management. Straight out of the military, this could mean Corps of Engineers, SeaBees, or perhaps a SWO that has significant experience leading a major ship system installation while in drydock.
Where can I use my PMP?
The all-important question, If I do get it, where can I use it? Some of our hiring data sheds some light on that question. Out of 74 jobs Orion Talent has filled over the years requiring or preferring a PMP:
34 were construction industry related (Project Manager or similar)

22 were manufacturing industry related (Commissioning Engineer or similar)
And the remainder consisted of other jobs including:
Contract Manager

Support Engineer

Client Manager

Field/Project Engineer
This means that over 50% of our companies that have hired asking for a PMP were from the construction industry. If you want to use your PMP, you will very likely be involved in building some sort of structure or physical system.
So, what if I want to go for one of these Project Manager jobs?
These are the typical Requirements for one of our Project Manager positions:
Bachelor's Degree in Engineering discipline.

5+ years project management experience in construction or mechanical/electrical systems installation.

PMP is preferred but not required.
Again, certain MOSs may see flexibility in these requirements but the experience that a hiring manager typically wants to see tends to be construction or installation focused.
But what if I don't have industry experience or the degree but still want to leverage my PMP?
You may still be able to use that PMP for more entry-level Project Engineer jobs that could certainly lead to a full Project Manager promotion down the road. Hensel Phelps is one such partner of ours where you could see success going that route. One of my best success stories is hiring a Navy NFO with a Bachelor's Degree in Chinese into a Project Engineer role. No doubt he has earned his stripes in the industry over the past couple of years and may well be ready to become a Project Manager soon.
Where will my PMP not come into play?
These are a few positions that candidates commonly ask about to try and use their PMP and the unfortunate truth is they will not be able to use it for these roles:
General Operations Manager

Manufacturing Manager or other manufacturing leadership

Maintenance Manager

Pure Engineering roles
So, where is the disconnect?
One reason is that people tend to compartmentalize the information they see online. Again, if isolated by itself without proper context, certain buzzwords like "budgeting", "scheduling" and "resource management" certainly sound like they would be useful anywhere. Indeed, these are skills that would be useful for most trades but remember that most of them can be learned through other means and Hiring Managers know that fact. They will typically not pay you more for a certification when the generalized skills you learned may be gained elsewhere. There is a very important differentiation to make here. Some of the skills you learn through your PMP may well be applicable in many venues but the PMP Certification, counted on the whole for it's specialized nature, is only applicable in a fairly tight window of professions.
Another reason is the appealing pay potential. According to the PMI, the average pay difference between a non-PMP certified Project Manager and a PMP certified Project Manager is $92K vs. $115K, respectively. However, these are current Project Managers and we must understand where a true Project Manager is at in their career. It is not usually an entry level position, contrary to a general misconception that is circulated, and the PMP is not a golden ticket into the pay band. It is an enhancement to a set of already existing skills. For example, one of our Hiring Managers, who is a Project Manager with a large general contracting company, had 25 years of construction industry experience before becoming a full-fledged Project Manager:
Project/Operations Manager (Current)

Superintendent (6 Years)

Field Foreman (5 Years)

Foreman (14 years)
Their level of pay, therefore, is reflective of years of experience before becoming a Project Manager and is not necessarily based on that title alone. In general, my observation is that it takes about 5-10 years of industry experience before someone becomes a Project Manager on the civilian side. Again, military candidates coming from a construction background usually see the greatest success landing Project Manager roles because of those years of translatable industry experience.
Should I get a PMP?
At the end of the day, you must understand what you are trying to accomplish. I say understand because I believe that is a necessary step beyond knowing. People know they want to get into shape but many times don't understand that it could take months to years on a plan, a change in diet, a coach or support group or all of the above to get the result they are trying to accomplish. My best advice is to find a person who has gone down the path you are trying to walk and ask them how they got there. If they got there without a PMP or have a PMP but are doing work that you are not interested in, then chances are, you won't need one. Remember that anything that comes on paper (your degree, that PMP, a Six Sigma Certificate etc.) is like currency. Make sure that job you want takes the currency that you want to get.
If you're still unsure about obtaining a PMP certification, or would like to discuss how a PMP certification can benefit you, register on our site to speak with a Recruiter.

RSS Feed
Subscribe to Orion's Blog