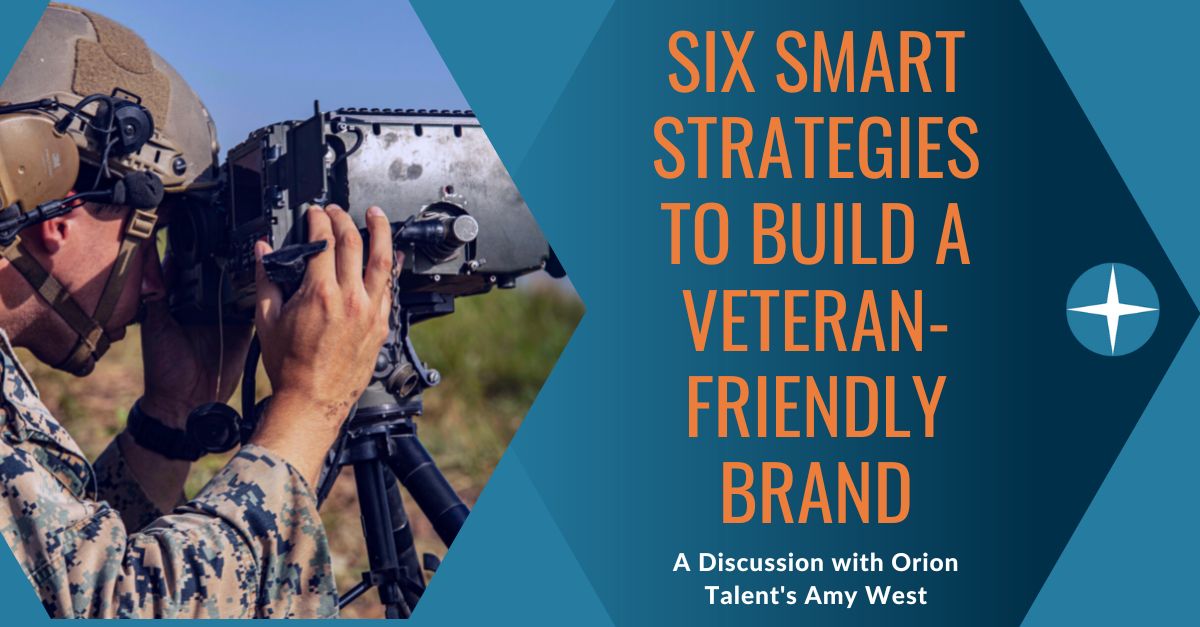 If you're looking for hard-working, disciplined employees, look no further than America's armed services! With 200,000 service members transitioning out of the military annually, on top of the existing veteran population of 17.4 million, this talented workforce cannot be ignored. Veterans are leaders who understand the importance of teamwork, perform well under pressure, respect procedures, and bring a plethora of transferable skills to your company.
In order to get these Veterans in the door, you need to prove to them that you're an authentically great place for Veterans to work. In July 2022, Orion Talent's Recruiting Team Leader Amy West presented a webinar in partnership with the HRO Today Association discussing how companies can stand out from the crowd when it comes to military hiring. She discussed how to market your company to prospective job seekers transitioning from active duty by taking simple steps to make your careers website more veteran friendly.
Six Smart Strategies to Building a Veteran-Friendly Brand
Here are the top six sections you should include on your veteran-friendly website:
1. Awards and Recognition: A great way to showcase your company's efforts to recruit, employ, and retain veterans is to strive for prestigious awards such as the HIRE Vets Medallion Award, which is the only federal-level award that recognizes a company or organization's commitment to hiring, retention, and professional development. The VETS Indexes Employer Awards are great awards recognizing the nation's top veteran employers. Earning these awards signifies to veterans that your company is committed to supporting the military community.
2. Veteran Spotlights: When candidates search your job site, they want to see others who look like or have similar experiences as themselves. Highlighting veterans already working at your company is one way to create an inclusive environment. Hertz does this well. On their diversity page, visitors can see veteran photos and short biographies and read about what they like about working at Hertz. Veteran Spotlights illustrate the success other vets have found at your company—photos, video, or text are all options.
3. Military-Friendly HR Policies: To learn more about the workplace rights for veterans and preferences for which veterans, reservists, and National Guard members may be entitled, be sure to research the Uniformed Services Employment and Reemployment Rights Act (USERRA). Be sure to clearly include your company's military-friendly HR policies on your website.
4. Career Translator: Some service members struggle with translating their military service into civilian job requirements. Help them out by mastering this yourself; other veterans on your team are a phenomenal resource here. Then, use language in your job postings that speaks directly to their experience.
In this Call to Order podcast discussion Patrick Bowman, former Marine Corps Officer and Director of Operations at Pinnacle Data Systems, discusses experiences military veterans possess that are a good fit for corporate America and how to ask the right questions when hiring military veterans. Great ideas here!
5. Training Programs and Career Paths: The transition from military service to civilian employment can be stressful, but there are great programs to help bridge the gap. Leadership Development Programs or DOD SkillBridge are excellent training options that not only help veterans bridge the skills gap, but also creates dynamic employees. Orion's HireSkills program helps match transitioning servicemembers with SkillBridge internships.
6. Employee Resource Groups: Create Veteran Affinity Groups or Veteran Mentorship Programs in your workplace to build connection between veterans and offer support and guidance to new hires. The Department of Veterans Affairs points out that veteran and military affinity groups improve veteran recruitment efforts, increase comradery, provide resources and knowledge, and increase veteran morale and retention. AmerisourceBergen and CoreCivic are two companies excelling in this department.
Next Steps
These six steps will help your hiring website stand out to veterans, showcasing ways in which you understand and value their role in your workplace. Want to learn more? Check out these resources as you continue your learning journey:
WEBINAR | How to Leverage Military Success for Workplace Victory (oriontalent.com)
Military Veterans: An Untapped Source of Semiconductor Talent | Orion Talent
Tackling the Skills Gap by Redefining Veteran Hiring | Orion Talent
Veteran Hiring Strategies that Get Results | Orion Talent
Military Hiring - Diversity, Inclusion & Business Success - TalentCulture
Why Corporate America Wants to Hire Junior Military Officers - RecruitingDaily
Military to Civilian: Top Transferable Military Skills - RecruitingDaily
Ways to Help Veteran Employees Thrive- TalentCulture

RSS Feed
Subscribe to Orion's Blog