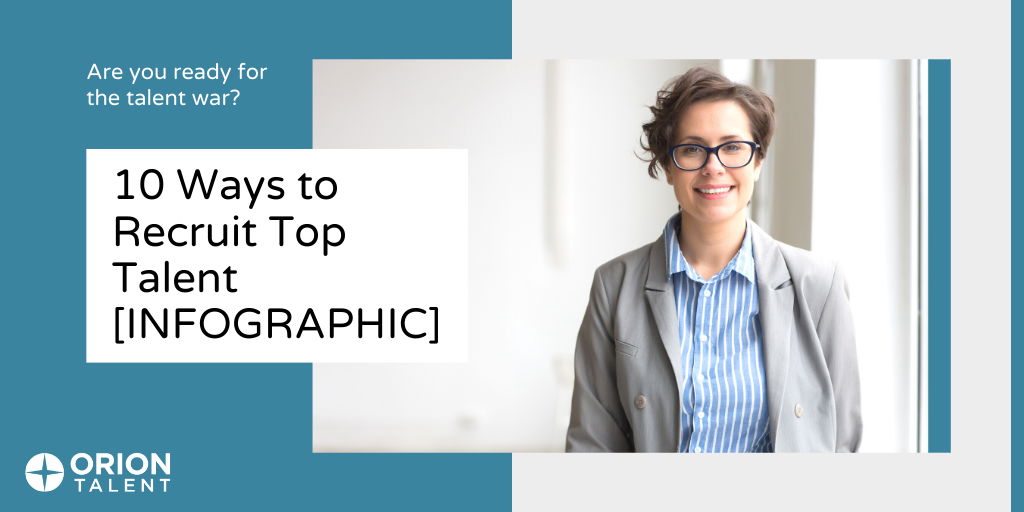 The Looming Talent Shortage
The talent shortage is coming. For many industries, it is already here. According to CEOWORLD Magazine, we can expect an "exodus surge as the COVID-19 virus begins to recede and the economy, along with job prospects, heats up." The article goes on to predict a shortfall of five million workers over the next several years.
In what will become an increasingly more competitive talent market, it is more important than ever to implement best practices to secure the talent you need. To help with this, Orion Talent has developed ten strategies companies must use to turn an ineffective, fragmented, and stale recruiting program into an aligned, proactive, and diversified one.
Best Practices
Tips include:
Being proactive
Creating an Employee Value Proposition
Diversifying your sourcing channels
Training everyone involved
Download the Infographic
Armed with all ten tips in our latest infographic, you will be ready to attract and employ the best talent available. Following these strategies can serve as a blueprint for recruiting success and help you gain the upper hand in snagging top talent. Download all ten tips now, and then contact us for expert guidance on implementing them.
Learn More
Want more resources to get you started with each tip? We have organized a few quick links by topic below to help:
EVP
TA Trendsetters: HR's Role in Productivity and Branding, with Katy Theroux of NCI Building Systems
Tips for a Strong Employer Branding Strategy
Guide to Employer Branding and Recruitment
Talent Acquisition Models
Recruitment Process Outsourcing | RPO Services
TA Trendsetters: Efficiency & Engagement in Talent Acquisition, with Malaika Kattke, Human Resources Director, Corporate and Field Operations at QAD
Candidate Pools
TA Trendsetters: The Business Case for Military Hiring, with Mary Collins of S&C Electric Company
WATCH THE VIDEO - Build a More Diverse Candidate Pipeline with Military Talent | An Orion Talent Webinar
New Technology
TA Trendsetters: Look Out! Disruption and the Future Ahead, with David Pollard of PredictiveHR

RSS Feed
Subscribe to Orion's Blog