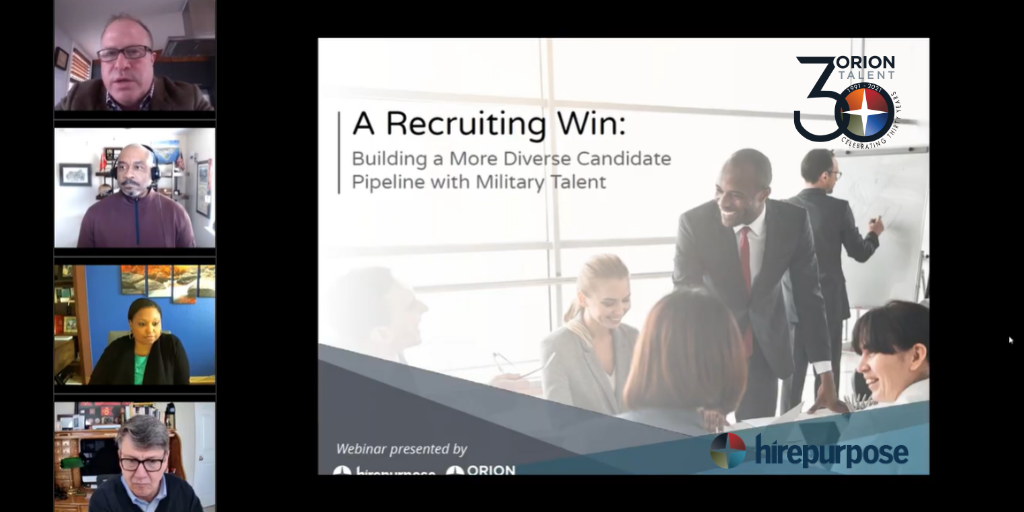 Last week, Orion Talent and HIrepurpose hosted our second virtual summit, Build a More Diverse Candidate Pipeline with Military Talent, featuring David Lee, Director of Military Community Initiatives of CVS, M.K. Palmore, VP Field Chief Security Officer (Americas) of Palo Alto Networks, and Christianna Casanave, Director of National Accounts and Talent Programs at Orion Talent. Moderated by Hirepurpose Co-Founder Steve Amsden, the hour-long webinar featured the panelists' proven diversity recruitment strategies.
While 2020 was a year that cemented diversity challenges in the minds of many business leaders, 2021 brings an opportunity to build workforce programs and pipelines that can better meet diversity, inclusion, and equity ambitions. To increase diversity from the start—at the recruitment and hiring level—businesses need to rethink their talent sources, including the U.S. military.
Our panelists discussed how their companies and clients have approached recruiting from this diverse hiring pool. Topics included:
- How to expand and diversify your candidate pools via veteran and military talent;
- How will diversity recruitment look different in 2021 than in other years;
- Case studies, including lessons learned; and
- many others
David, M.K., and Chris presented powerful insight into how to transform the recruiting and talent lessons of 2020 into tomorrow's workforce successes. Ultimately, diversity, inclusion, equality should be a priority in your talent acquisition process. This requires C-suite buy-in and should be baked into your metrics.
Watch the video.
Check out the full free webinar here to learn how talent acquisition leaders can diversify their candidate pools via veteran and military talent recruitment. And visit Orion Talent online to learn more about our Military Talent Solutions.

RSS Feed
Subscribe to Orion's Blog