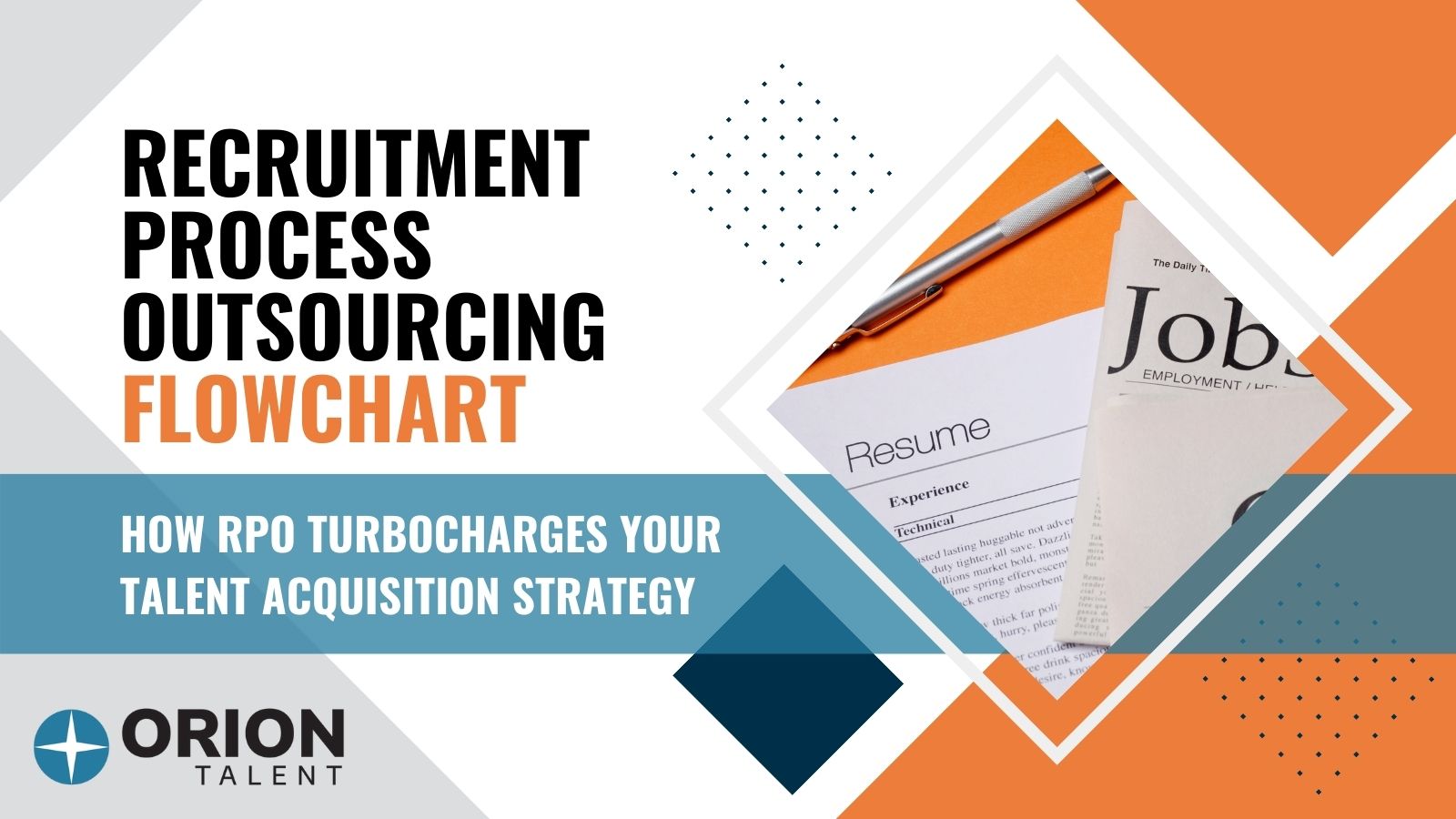 Recruitment Process Flowchart: How Recruiting Works
Finding the right talent at the right time is vital to business success. Unfilled jobs impact productivity and revenue, straining existing employees with increased workloads, resulting in knowledge gaps or skills shortages in your workforce, and potentially reducing sales or leading to poor customer service experiences due to understaffing. A sluggish recruitment process, or - worse- a lack of a talent management strategy, affects every aspect of your business.
In addition, hiring the wrong candidate is a costly mistake that will hurt your bottom line. A Harvard Business Review study reported that 80% of employee turnover can be attributed to bad hiring decisions, with 45% of bad hires attributed to a lack of process. Of 2,700 employers surveyed, 41% estimated that a bad hire cost them $25,000 and 25% said a bad hire cost them $50,000 or more. The U.S. Department of Labor estimates that the cost of a bad hire is up to 30% of an employee's earnings. That's a steep cost.
According to a study by The Josh Bersin Company, 75% of companies struggle to recruit effectively. Many organizations are stuck in the past, relying on dated job postings, advertising, and interviewing techniques. In order to be competitive, businesses need to modernize their approach. Investing in Recruitment Process Outsourcing (RPO) is an ideal solution. RPO is a business process outsourcing solution where an organization transfers all or part of its recruitment processes to an external provider. Employers outsource recruiting to gain the expertise, resources, and scalability they require to effectively meet their hiring needs and also to reduce recruitment costs. An end-to-end RPO solution manages every element of your talent acquisition strategy, from requisition to onboarding.
What does this mean for you? Not only do RPO providers have access to a broad candidate base, but their expert recruiters are skilled at finding the right talent for your open jobs. They'll work closely with you to understand your hiring needs and attract and identify suitable candidates. Once candidates are identified, they'll manage the interview process and serve as an intermediary between hiring managers and candidates throughout the offer process. RPO is a great way to improve recruiting effectiveness and meet your business goals.
A Visual Summary of the Benefits of RPO
In order to meet tomorrow's workforce challenges, you need to build your talent pipeline today. Successfully sourcing, recruiting, and retaining the right employees is easier said than done. Partnering with an RPO provider who intimately understands your organization's culture and values is a great way to meet your goals.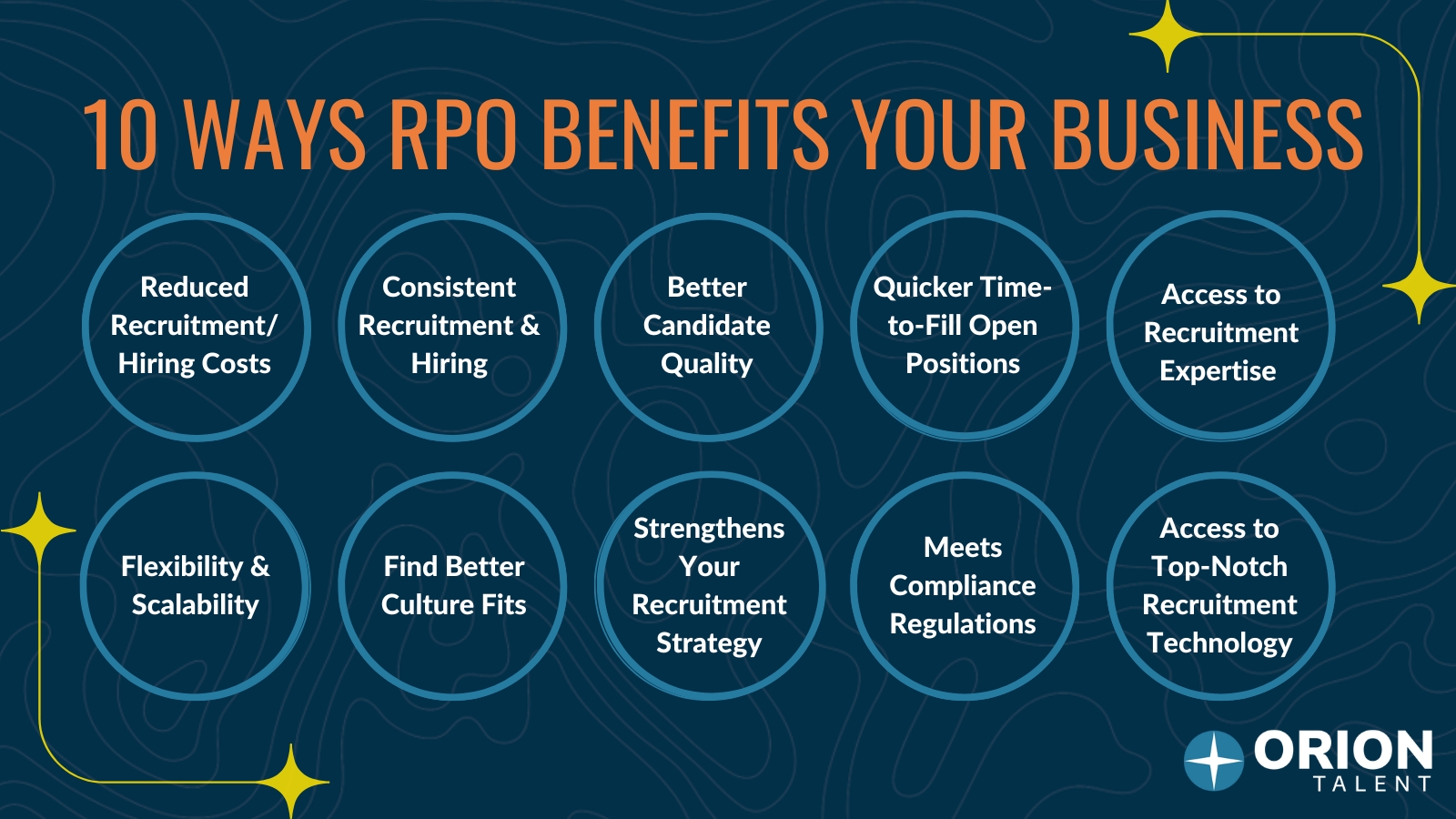 RPO providers invest time, energy, and resources into building extensive talent pools from which they can source and screen candidates. This is an invaluable resource- you'll have access to far more diverse candidates than you would by posting your job locally. Filling vacancies quickly with the right talent will save you time and money, increasing productivity and reducing time-to-hire. RPO recruiters are experienced in screening and recommending candidates to hiring managers. It's in their best interest to make the right fit. Better quality candidates who are a good culture fit for your organization are more likely to stick around, decreasing your attrition rate.
Flexibility and scalability are major benefits too. No matter the economic fluctuations, RPO providers have the structures in place to scale up or down to accommodate your hiring needs. In addition, their access to state-of-the-art technology means you don't have to worry about staying on top of tech trends. That's their specialty. Lastly, RPO providers carefully track every step of the recruitment process, guaranteeing detailed reporting and analytics for meeting compliance regulations. Altogether, these benefits save you valuable time, effort, and resources, freeing up hours in your day to focus on running your business.
Recruitment Process Flowchart: Visualizing the Hiring Process
Continuing to evolve as labor markets shift, talent expectations change, and business requirements grow, RPO providers manage the tools, technology, and processes necessary to recruit employees with one goal in mind: optimizing your talent solution to solve your business challenges.
The Recruitment Process Step by Step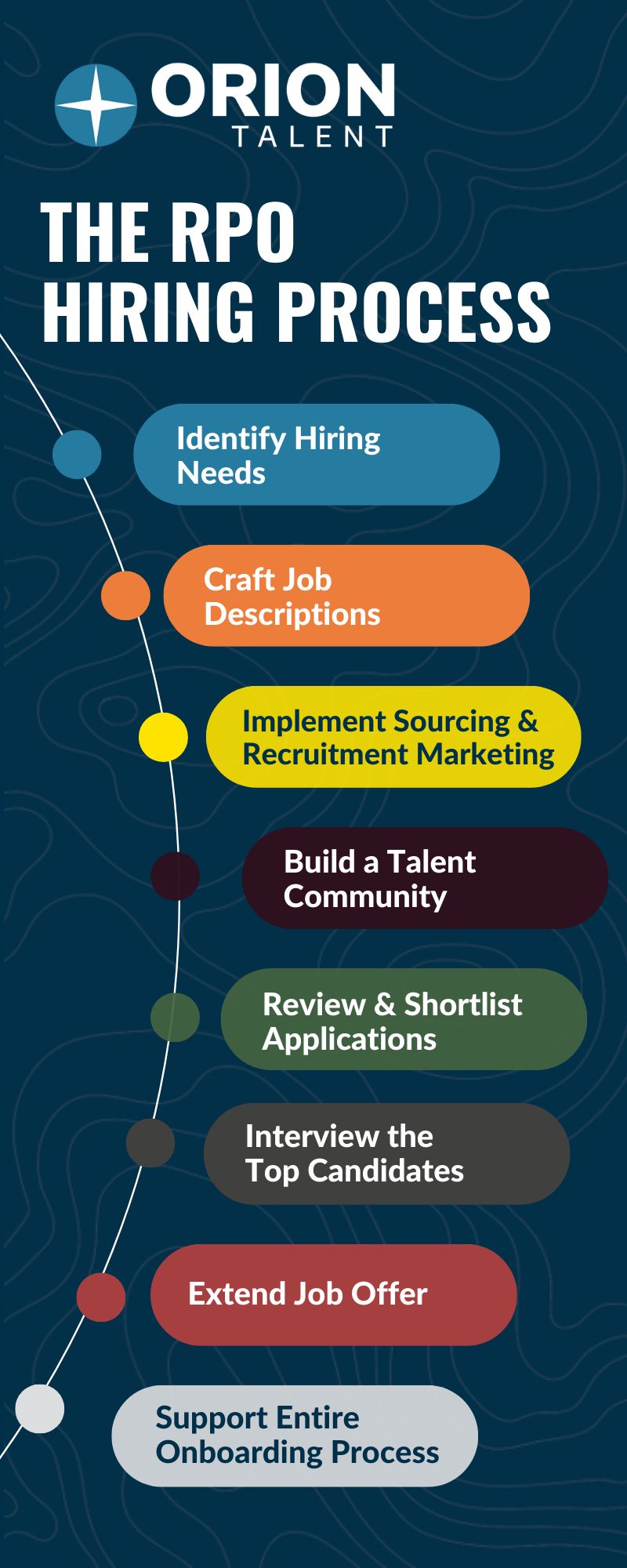 Let's break these steps down one-by-one and explore exactly how an RPO provider accomplishes this goal.
Identify your organization's skills gaps and current hiring needs.
The first step your RPO provider will take is to identify your existing skills gaps and analyze your current and future talent needs. Is your workforce equipped to help your company meet its goals? It's time to visualize the link between your strategic priorities and talent needs, then plan to invest in your current workforce to retain and bring in new talent.
It's time to solidify your strategy - what specific steps do you need to take to fill gaps within your organization? Work together with stakeholders to decide priorities and set specific goals and timelines. Looking ahead, it's important to research workforce trends and build out scenarios regarding where your business could be in the future. Consider both internal and external factors. Are there any skills or competency gaps that would inhibit your business' success in the face of these challenges? As you work toward your talent goals, be sure to measure your progress and keep your eyes and ears open to market shifts. As part of your talent management strategy, your RPO provider can help you conduct a baseline assessment of current resources and strategize the best actions to take to meet your future workforce requirements.
Craft descriptions for job openings.
Start by creating detailed job descriptions for your open jobs. Your RPO recruiter will work on this with you. You'll need to brainstorm which candidate criteria are required for the position, and which traits and skills are desirable though not required.
According to the Society for Human Resource Management, job descriptions are great communication tools that tell prospective employees exactly what tasks they will be expected to perform and help identify particular skills or abilities necessary for success. A well-crafted job description helps applicants determine whether a position may be a good fit, helping eliminate candidates who don't meet your needs.
Implement sourcing and recruitment marketing strategies.
You must analyze your talent needs and market dynamics in order to develop a targeted sourcing strategy. At Orion Talent, we generate an applicant pipeline with custom solutions that include competitor and pay scale research, passive candidate identification, and active talent attraction sourcing. In order to source the best candidates for your open positions, your RPO recruiter will advertise your jobs in places where well-matched candidates are likely to find them. As industry experts, your team knows their target audience and how to best reach them.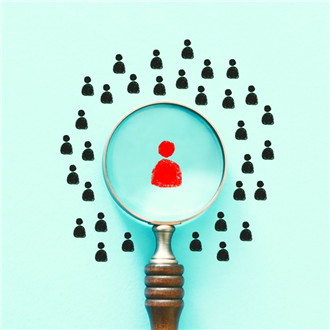 When asked where we go to find the best candidates or what sources we utilize at Orion Talent, our response is always the same - everywhere! We develop a sourcing strategy unique to each client by conducting a careful evaluation of the types of candidates needed, the timeline required to develop the candidate pool, geographic constraints, and additional factors to be considered. Our recruiting team screens all applicants and presents you with a slate of pre-qualified applicants who are a good fit for your positions.
In addition, we believe in the importance of showcasing your employer brand and connecting with your target talent pool via compelling local and digital advertising. We promote your unique value proposition and highlight your company culture, benefits, and growth opportunities while working diligently to ensure candidates have a positive and engaging experience throughout the recruitment journey. This includes personalized and timely communication, employer-branded content, and a seamless application process.
Build a talent community.
A talent community is an ongoing approach to candidate engagement that takes time to build but offers companies a sustainable talent pool in the long run. Fostering long-term relationships is important even beyond your immediate hiring needs.
In order to create a talent community, you'll need to hyper-personalize what you're looking for in a candidate: educational background, skills, experience, interest, etc. Candidates may enter your talent community via a link on your landing page. Your RPO recruiter will cultivate this passive talent pool through compelling content, important company updates, and other marketing materials over a long period of time. This is an excellent way to fill your roles in the future and ideal for companies that need a specific skill set and require a steady pipeline of talent.
At Orion Talent, years of work have gone into building a powerful talent community of over 2M job seekers. This allows us to streamline the hiring process, reduce time-to-fill and cost-to-hire, and provide a competitive edge as we can quickly tap into our talent community to identify candidates who are an ideal fit for your organization. Growing a strong talent community is part of our commitment to long-term success. We strive to establish strong connections between your organization and top-tier talent that aligns with your current and future needs, supporting your business growth objectives.
Review and shortlist incoming job applications.
At this point, your recruiter will have received a collection of applications and will review them to determine the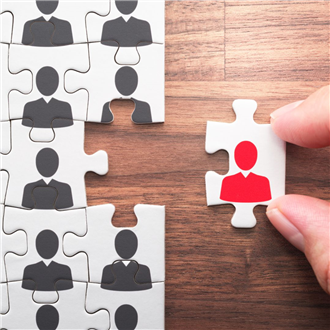 best candidates to shortlist. Shortlisting is the process of identifying which candidates from an applicant pool best meet the required and desired criteria, such as education, work experience, skills, knowledge, competencies, and personality traits. Your recruiter may use a shortlisting scorecard and/or Applicant Tracking System (ATS) software to compare candidates and how they meet your requirements.
Shortlisting is an important step between sourcing & screening and interviewing candidates. Statistically, 75% of applicants are unqualified and 88% are not strong. It may be time-consuming, but the effort is worth it, as this is how your recruiter determines which applicants are the best fit for your organization.
Interview top candidates for the role.
Now that the candidate shortlist has been created, it's time to get to know select candidates better to determine if they're a good fit and recommend a hiring manager interview. This is also called sourcer screening; the recruiter interviews the best candidates for the position. They'll likely perform an initial phone or virtual meeting to better gauge candidates before recommending them to the hiring manager. Your RPO recruiter will explain why they selected this candidate and why they are a good fit for this company and role.
It's time for the final shortlisted candidates to be interviewed by your organization. Exactly how this works depends on you. A hiring manager- usually the direct supervisor of the candidate should they be hired- is often the first to interview after the recruiter. This may be the extent of the interview process, or the process may require several rounds of interviews, panel interviews, or individual interviews with multiple stakeholders depending on your organization. It's important to have a standardized interview process in place. Not only do they improve efficiency and communication, but they also allow faster decision-making, reduce opportunities for unconscious bias, and create a positive candidate experience.
How involved your recruiter is in this process depends on both your RPO organization and your company policy. Sometimes, recruiters will participate in the interview process. They'll serve as an intermediary between the candidate and the company at all times, keeping the recruitment process running smoothly. Your RPO recruiter will also evaluate hiring manager feedback, contact candidate references, and provide continuous feedback to your organization.
Extend a job offer to the top candidate.
After a successful interview process, the hiring manager, HR team, or a combination of stakeholders must decide on the ideal candidate for the role. Making an official job offer is the final stage of the recruitment and selection process.
During the time between signing paperwork and onboarding, your RPO recruiter will stay actively in touch with the candidate until they start their new role. This reduces the risk that the candidate will change their mind and ghost the employer.
We support the entire onboarding process.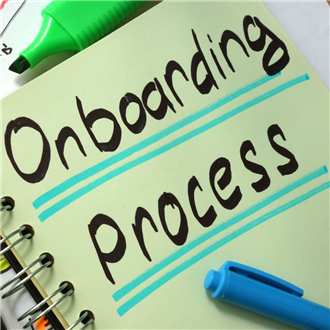 Some RPO providers move on once a candidate has accepted a job offer. Orion Talent is different. We offer comprehensive support throughout the entire onboarding process, helping to create a seamless transition for new hires. Our goal is to maintain open and frequent communication to increase the number of new hires who start on Day 1, create a positive first impression, and accelerate integration into your organization. This sets the foundation for long-term success and employee retention while also maximizing new hire engagement and productivity.
What's Your Talent Strategy?
How is your company preparing for the hiring challenges of tomorrow? If it's taking too long to fill open positions, your recruiting team is smaller than ideal for your current requisition volume, or your team lacks the technology or tools to find the quality or quantity of candidates you need, Recruitment Process Outsourcing (RPO) could be the ideal solution.
Elevate your recruiting with Orion Talent's RPO Solutions. Our tenured, industry-experienced recruiting team can manage all aspects of your recruitment process, utilizing the ideal blend of automated and live touchpoints throughout our best-in-class technology platform GuideOn™. Orion's RPO services improve your most important recruiting metrics, like reducing time-to-fill by 30%, reducing recruiting costs by 35%, and increasing employee retention by 20%. We create a premium-level experience for every customer we serve. We hope you found this hiring process flowchart useful. Reach out today to learn how we can revitalize your recruitment process.

RSS Feed
Subscribe to Orion's Blog