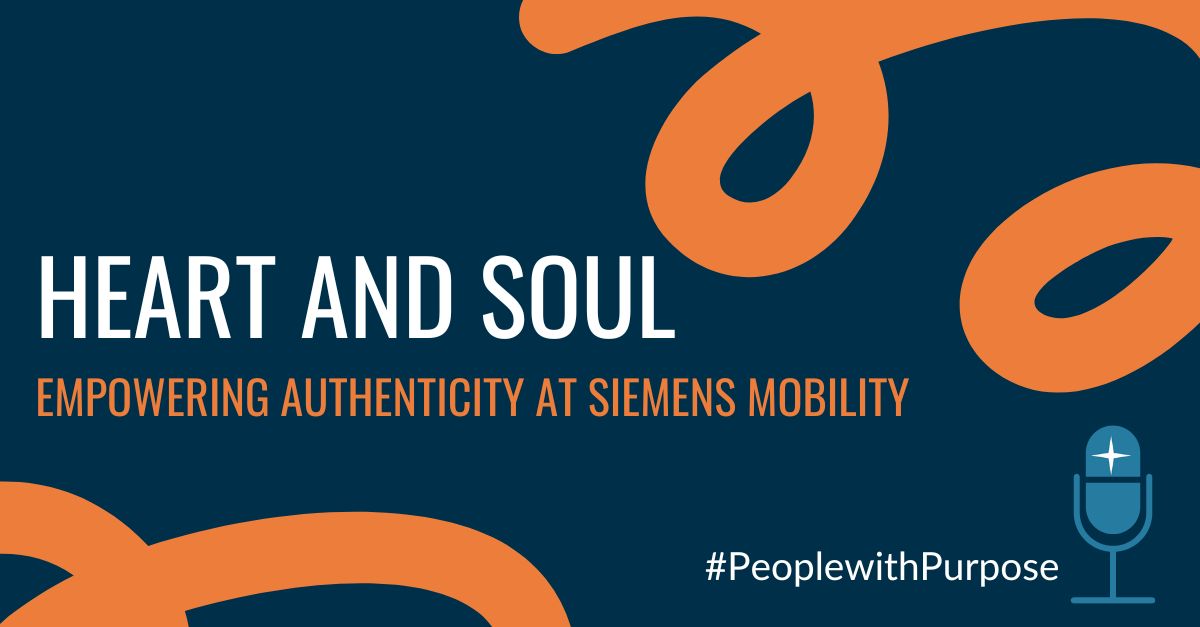 Siemens Mobility is a company that walks the walk when it comes to building a purposeful workplace. In episode 6 of Orion Talent's #PeoplewithPurpose podcast, Steve Amsden is joined by Tami Wolownik, Head of People & Organization, North America, and Jessica Shaiegan, Head of Strategic Procurement for Rail Infrastructure Business Unit & Mobility Division Functional Excellence. A leading provider of sustainable and efficient transport solutions for more than 160 years, Siemens Mobility strives to provide seamless, sustainable, reliable, and secure transport solutions for rail and road. In addition to excellent rail equipment, they're devoted to creating a workplace employees love to call home.
Why Diversity, Inclusion, and Belonging Matter
It's no secret that people who feel free to be themselves in the workplace perform better, are less likely to leave, and help companies become an employer of choice. "I think it makes sense from a business perspective because we need to create that culture where people bring their authentic self to work. When they're authentic, they're not distracted by trying to maintain a facade that isn't who they really are. Because when you're distracted trying to maintain that facade you're not focused, you're probably not giving 100%. A lot of energy is going into being careful about what you're disclosing and what you're not disclosing," says Tami, "We don't want that. We want people to be fully present, as they are, at work because we have great challenges, great focuses that we want people to be able to dive into and you can only do that when you're being authentic."
Steve agrees, adding "If you drive more diverse talent, you have cultures that they feel supported, they stay longer. It's a retention issue."
Having great people on a team is what truly matters. "My team is actually very diverse. I'm very proud of that. It happened over time," Jessica says, "For me, it's really about doing the best for the business. Siemens is all about empowerment. When you look at diverse teams, yes it's about employee engagement and yes, it's about being a great place to work; but frankly you cannot bring the best products to market unless you have great people. Great people have to not only be great, but they have to be great every day at work. They can't be great every day at work if they can't be comfortable and confident to be themselves."
"If we limit the population of people we go after, then we're not getting the best talent. We're not getting the best ideas. Diversity helps us challenge each other," she adds, "It makes us better. In today's market, we are not going to be able to bring the best solutions to our customers if we don't embrace diversity and really allow people to bring their true selves to work. It's a big part of success."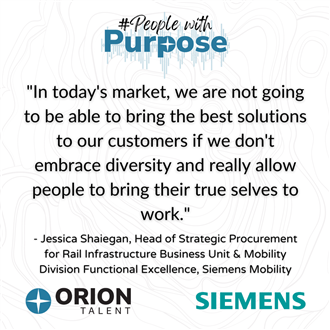 Purposeful Work and Talent Wars
Siemens Mobility is a company dedicated to building trains and everything related to trains– the people working here have a passion for everything rail. Pioneering transportation and a culture of empowerment, trust, and innovation make this an exciting place to work.
"With college grads right now, they want to see their work having purpose," Tami says in the podcast, "We do have purpose. We are impacting cities. We are solving solutions and focusing on sustainability and equity topics in what we're doing. And not just college grads- everyone wants purpose."
Some ways Siemens Mobility has made themselves a more inclusive work environment in touch with their workforce include employee resource groups and Growth Talks. They did away with their end-of-year performance reviews and replaced them with personal, one-on-one Growth Talks where teams align expectations, talk about barriers to performance, discuss health and well being, and truly consider what employees need in order to grow. This has been a powerful cultural change.
Steve points out the value in this. "I think at the end of the day, anyone that gets stagnant is going to start looking the other way. It's important that it's front of mind with everything you're trying to do."
Logistics as an Accessible Career Path
While it may sound complicated, there are so many career options in the logistics fields and countless roles you can learn if you're willing. You don't have to have a supply chain degree to be in logistics.
Jessica appreciates the support she's experienced as a working mom, being able to flex and manage her responsibilities and work remotely. She stresses the importance of flexibility and remote options when it comes to hiring talented, diverse talent. "As women, we tend to be caregivers of our children, our grandchildren, of elderly loved ones. We get involved in our communities and ours schools. It's very hard for us to move," she says, "If every time a job opens and you have to move, you're really limiting in some ways the diverse population that can take those roles. For Siemens to give me this opportunity to sit where I am with my deep roots and allow me to manage this team that's really far away from me is a testament to what that company will do."
Finding a Career with Purpose
Jessica is impressed with new college grads who are authentically themselves in the workplace, wearing whatever makes them happy and expressing their true selves. She encourages others to follow their suit, "Don't code switch. Don't dress differently. Push the company to accept who you are, and, if they can't, find one that will."
Tami encourages young grads to step out of their comfort zone and try new experiences. Don't do it just to try to impress someone or fit their mold, but because you may gain incredible experiences from it and never know how it will impact your path. She's thankful for the moments in her career where she stepped off the beaten track– it's made her a better leader.
Listen to #PeoplewithPurpose
Listen to "Heart and Soul- Empowering Authenticity at Siemens Mobility" for personal and professional examples of what it means to be a woman in the logistics industry and how those experiences reveal the heart and soul of Siemens Mobility. If you're a new listener, check out previous episodes of #PeoplewithPurpose for exceptional interviews with industry leaders, recruiting experts, and talent acquisition trailblazers who are changing the DEI landscape.

RSS Feed
Subscribe to Orion's Blog