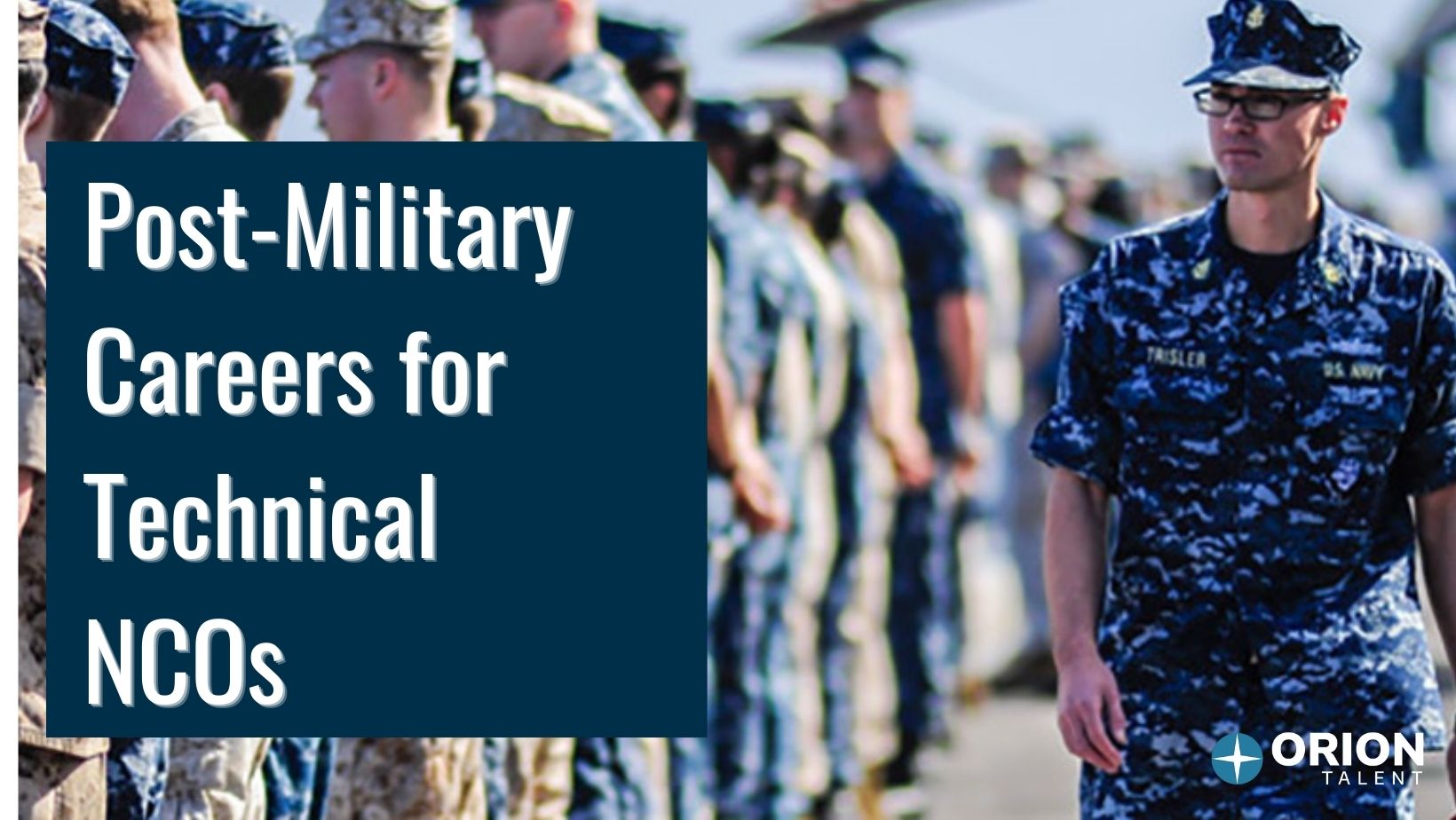 You've earned your position of authority through the enlisted ranks, and now you're ready to separate from the military and are looking for a civilian career that recognizes your intrinsic leadership abilities and technical know-how.
How do you make sure that your skill sets match with a civilian career? Read on to discover the best career fields for Technical NCOs to consider, recent placements, and how working with Orion will set you up for career success in the civilian world.
Career Fields to Consider for Technical NCOs
The top career fields below are the perfect fit for transitioning Technical NCOs:
Management/Operations
Technical NCOs of any occupational specialty make great civilian managers, because they know all about wrangling troops, dealing with complex personnel issues, and finding common ground with people from a wide range of backgrounds and abilities. Job titles include Operations Coordinators, Supervisors, Operations Managers, Project Managers, Program Managers, and more. The salary for these roles varies widely from industry to industry, with the average around $80K/year.
Technical
With your specialized technical training, any technical role would be well suited for Technical NCOs looking for a civilian career. Job titles include Manufacturing Technicians, Electronics Technicians, Field Service Technicians, Support Technicians, Equipment Maintenance Technicians, and more. Salary ranges from $53K-$90K/year for these roles.
Sales
A career in sales can be a challenging but very rewarding field for former Technical NCOs. Typically, a top performing individual in sales can make more than his or her counterpart in the Operations or Management fields. The qualities that made you a great NCO are exactly what make a good sales representative: your intelligence, drive, your goal-oriented and competitive nature, great communication skills, strong interpersonal skills, a desire to be the best, and a desire to be challenged. Job titles include Account Managers, Account Executives, Technical Sales Representatives, and more. Compensation ranges from $65K-$100K+/year, with many opportunities offering uncapped commissions.
Career Placements for Technical NCOs
Here are a few of our recent job placements for Technical NCOs post-military:
USMC Avionics Technician, E-4 - Senior Manufacturing Technician, Veeco Instruments

Navy Nuclear Electronics Technician, E-5 - Electrical Lead, Cyxtera Technologies

Air Force Aircraft Technician, E-5 - Maintenance Supervisor, ConAgra Foods

Navy Nuclear Electrician's Mate, E-5 - Installations Coordinator, ASML

Navy Aviation Electrician, E-5 - Electronics Technician, Patterson-UTI Energy

Navy Gas Turbine Mechanic, E-5 - Field Service Technician, FirstElement Fuel
Work with Orion Talent
For Technical NCOs looking for guidance in their career search, Orion Talent is an excellent partner. From job opportunities to networking events and expert career guidance, we offer insightful recruiting resources to military and veteran job seekers. Technical NCOs that have utilized Orion's services earn $74K+ average salary, before overtime!
Orion works with Technical NCOs with backgrounds such as Navy Nuclear Trained Technicians (Nuke ETs, Nuke EMs, Nuke MMs) and those with Electronics, Electrical, and Mechanical backgrounds from all branches of service.
We are here to help you build your resume, provide you with career counseling and transition assistance, prepare you for interviews, and arrange interviews for positions that are a match with your background, qualifications and desires. In addition, our transition guide is a comprehensive resource for Technical NCOs looking to get the most out of their civilian transition.
If you're ready to get started finding your civilian career, learn more about post-military careers for transitioning and former Technical NCOs, and register with us today.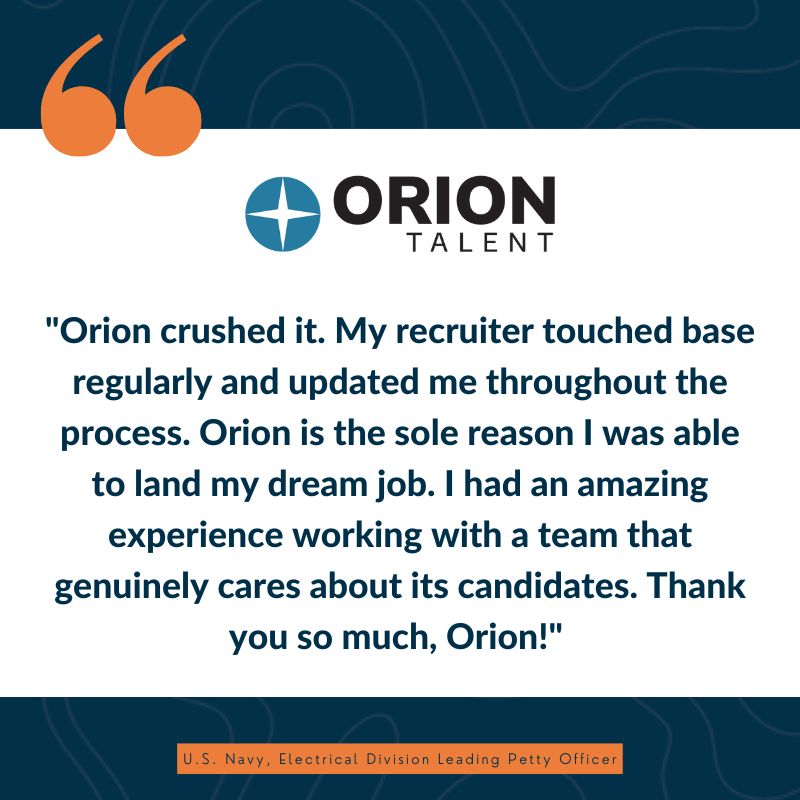 RSS Feed
Subscribe to Orion's Blog