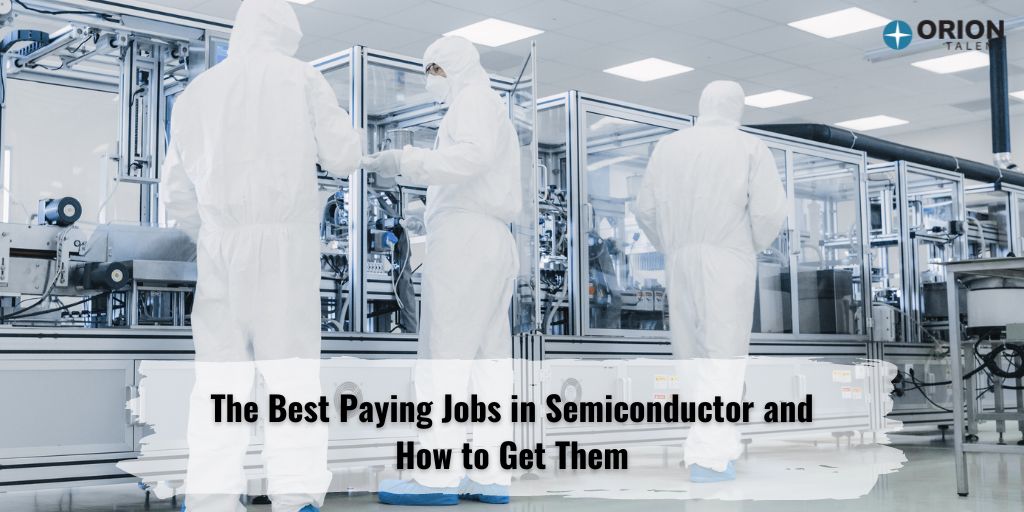 Semiconductors - the tiny chips powering modern technologies - are vital to America's economy, national security, and continued global leadership in research, design, and manufacturing. They are in all facets of daily life and are an essential component of electronic devices, enabling advances in communications, computing, healthcare, military systems, transportation, clean energy, and countless other applications.
The semiconductor industry has seen massive growth in recent years and is expected to continue to grow. The industry is projected to become a trillion-dollar industry by 2030, due to technological innovation and the rapidly growing use of AI.
The U.S. semiconductor industry is facing an unprecedented talent shortage. To meet the capacity needs for only critical semiconductor applications, the U.S. needs to add about 5.5 percent of the global production. Rising to this challenge requires the U.S. to increase its workforce by about 50%.
The Best Paying Jobs in Semiconductors
The top five in-demand semiconductor jobs are Field Service Engineer, Facilities Maintenance Technician, Preventative Maintenance (PM) Technician, Technical Specialist, and Entry-Level Technician.
Field Service Engineer
Field Service Engineers are responsible for understanding customer processes and ensuring customer satisfaction. With advanced knowledge of processes and equipment, Field Service Engineers are the link between clients and service providers and they often provide in-depth advice on equipment management and operation. Average salary: $74K/yr
Facility Maintenance Technician
Facility Maintenance Technicians are involved in the strategic planning and day-to-day maintenance operations on-site. They ensure that the building meets or exceeds the legally required standards of health, safety, and the environment. Average salary: $72K/yr
Preventative Maintenance (PM) Technician
Preventative Maintenance Technicians conduct frequent performance check-ups and planned upgrades to equipment in peak operating condition and contribute to the streamlined production schedule of the fab. Average salary: $71K/yr
Technical Specialist
Technical Specialists are the dynamic knowledge-houses of the semiconductor world. Working to troubleshoot, analyze, and monitor fab operations and equipment processes, they use their specialist knowledge to make recommendations to resolve complicated problems and complaints. Average salary: $83K/yr
Entry-Level Technician
Entry-Level Technicians are involved in tool and parts cleaning and maintaining the cleanliness of a fab production area. Common tasks for Entry-Level Technicians can include documenting part cleaning steps and making sure that tool parts are stored safely and correctly. They also manage neutralization, containment, and removal of leaks and spills. Average salary: $70K/yr
Additional semiconductor jobs include:
Equipment Technician

Test Technician

Technical Trainer

Product Support Engineer

Integration Engineer

Project Coordinator
Semiconductor Engineers have the highest earning potential, with the average salary starting at $96K/yr. They design, fabricate, test, assemble and package semiconductor devices. Semiconductor Engineers mostly work with silicon, a main feature in semiconductors, with a lot of emphasis on wafer bonding and etching.
The Top Regions for Semiconductor Jobs
The U.S. is quickly becoming a key market in the semiconductor industry, and there are currently over 90,000 new job openings to meet capacity needs for critical semiconductor applications nationwide. There are several key regions for semiconductor growth in the U.S.
Silicon Valley and "Silicon Forest"
Silicon Valley and Silicon Forest, the nickname for high-tech companies located in the San Francisco Bay area and the Portland, OR, metropolitan area, remains one of the top regions for the semiconductor industry, with companies residing there such as Intel, Micron Technology, Lam Research, Applied Materials, GCT Semiconductor, and more.
Upstate New York
Upstate New York is a major semiconductor hub, with companies such as GLOBALFOUNDRIES, ASML, and Applied Materials having semiconductor fab plants there - in fact, GLOBALFOUNDRIES has announced that they will begin construction on a second chip factory in the coming years.
Chandler, AZ
Chandler, AZ has been a major region for semiconductor jobs for many years. In 2021, Forbes Magazine called Arizona the "U.S. Semiconductor Central," due to the growth of the semiconductor industry there. Large high-tech manufacturers have been drawn to Arizona due to its lower taxes, lower restrictions, local incentives, skilled workforce, and amount of available land. Companies such as Intel, TSMC, and NXP Semiconductors all have fabs in the city.
Austin, TX
The newest regional hub for the semiconductor industry is Austin, TX. It is quickly becoming a semiconductor hot-spot, with major companies such as Samsung and Tesla looking to establish fabs in the city.
What Qualities Make Up a Great Semiconductor Industry Job Candidate?
To be successful in the semiconductor industry, "soft skills" like communication, critical thinking, detail oriented, and precision are important. Computer skills and scientific knowledge are also important, and many semiconductor positions require a degree or knowledge in chemistry or physics.
Transitioning military and veterans are well-suited for semiconductor roles. Military occupations that do well in this industry include:
Electronics Repair

Nuclear Machinist's Mate

Operations

Nuclear Electronics Technician

Low Voltage Electrician's Mate
Upskill Your Semiconductor Industry Experience with HireSkills
™
Experience in the semiconductor field or adjacent knowledge is not required to start a career in the semiconductor industry. Orion's HireSkills™ program will upskill you for the semiconductor industry through a SkillBridge internship best suited for your long-term career goals.
Through our HireSkills™ program, you can upskill into rising career paths within the semiconductor industry, learning critical applications and programs like Matlab, Python, JMP, Solidworks, and more to rapidly advance your career.
This program is designed for active military with less than 180 days of service. Learn more about Orion's HireSkills program, and see how you can learn vital semiconductor industry experience while still on active duty to transition seamlessly into a post-military career within the semiconductor industry.
Learn more about Semiconductor Careers through Orion Talent
Orion has placed more than 6,300 industry-experienced professionals, transitioning military, and veterans into various roles within the semiconductor industry. Learn more about the types of jobs in semiconductor or about the semiconductor industry.

RSS Feed
Subscribe to Orion's Blog