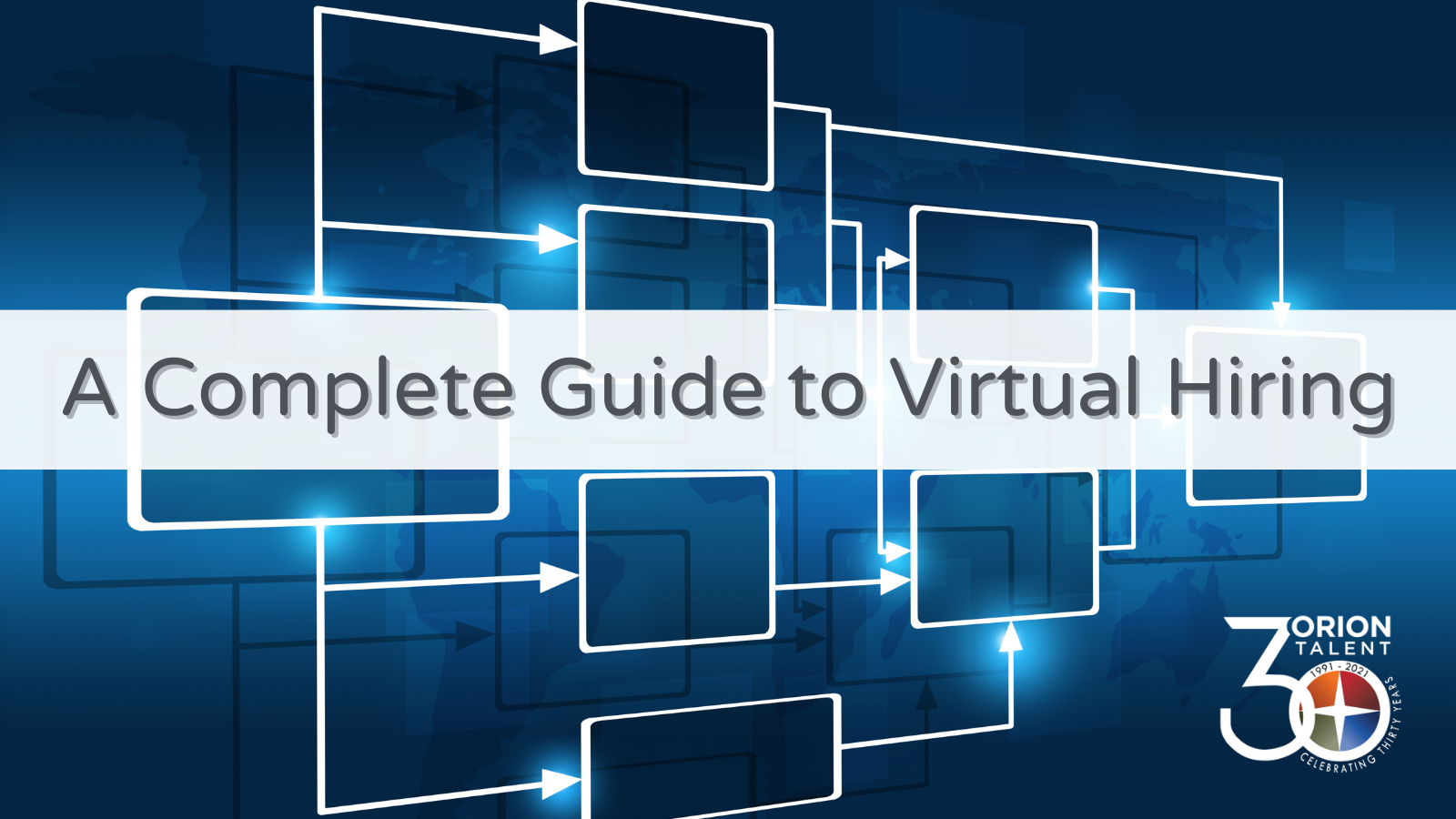 What is the Virtual Hiring Process?
In a world where face-to-face interaction has dwindled and many interactions have gone virtual for the foreseeable future, companies still need to hire good people. And that often requires a personal touch. You may be left wondering how to best hire virtually.
From virtual interviews to virtual hiring to virtual onboarding, Orion Talent has virtual hiring process resources for you that run the gamut. Read on for a comprehensive guide to all of our virtual hiring resources.
Virtual Interviews
Writing for Recruiting Daily, Orion Talent CEO Mike Starich explores tips to make virtual recruiting functions more personable. You can also read a synopsis of this article here.
Ready to put these tips into action? Check out Orion's guide to virtual interviews.
If you are seeking top JMO talent for Sales, Leadership, Manufacturing and Operations Management, or Engineering positions, this resource will show you just how you can do that through an Orion Talent National Virtual Distinguished Candidate Conference.
Check out this resource for information on scheduling an On-Demand Virtual Hiring Event. These events are catered to your scheduling, recruiting, and compliance needs, enabling you to overcome travel and social distancing restrictions, all while meeting your ongoing recruiting needs.
Virtual Onboarding
Virtual hiring doesn't just end with an interview. Check out this blog post for four tips on successfully navigating the virtual hiring process through to the end.
There is plenty of information out there right now on how to successfully conduct virtual interviews. But what happens after you hire the candidate? How do you mirror in-person onboarding in a virtual environment? Check out this article from Orion Talent CEO Mike Starich on the topic here or click here for a synopsis.
Longboarding means going beyond onboarding to keep top talent motivated for the long term. Learn more about how to retain top talent virtually in this blog post.
Virtual Hiring Best Practices
If you are looking for ways to incentivize an increasingly remote workforce, check out the seven tips in this blog post.
Put These Tips into Action
In a recent article, HR Technologist introduces the term 'remote totality' to mean attracting, screening, recruiting, and onboarding, all in a remote environment. We hope that these resources will help talent acquisition leaders as they continue to establish best practices for this 'remote totality'. You can also contact us for help in tackling your hiring challenges and accomplishing your recruiting goals.

RSS Feed
Subscribe to Orion's Blog