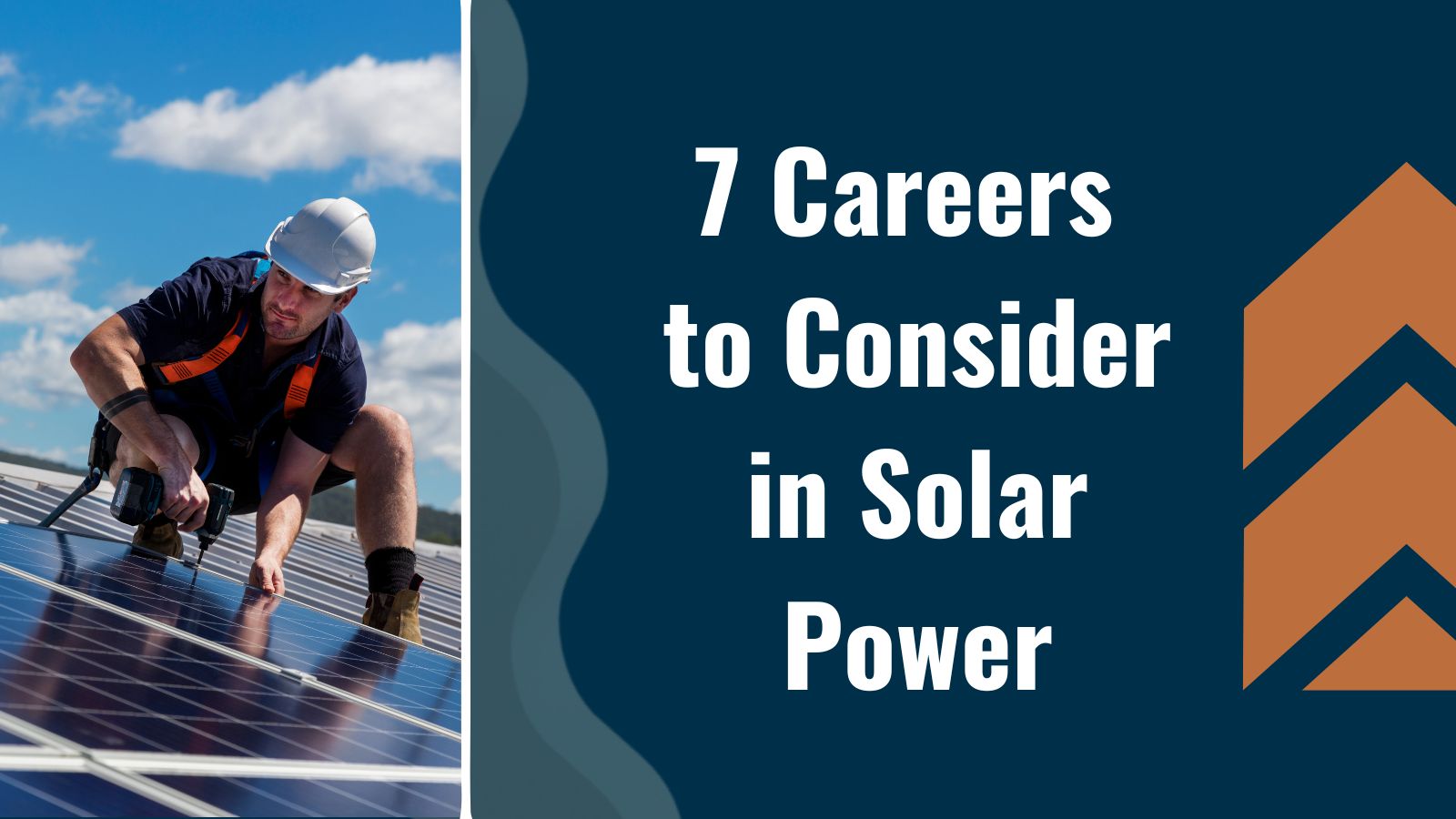 As the world shifts towards cleaner and more sustainable energy sources, the solar power industry is booming. The U.S. solar industry is expected to nearly triple in size over the next five years and become the leading technology of the clean energy transition. If you're considering a new career path, this industry should be on your radar. Not only is there exponential growth potential, but the pay is decent too. In addition, you'll be making a positive impact on the planet.
There are numerous occupations within the solar power industry, including research and development, installation and maintenance of solar power equipment, manufacturing solar power materials, solar power plant construction, solar power plant operations, sales and marketing, and so much more. No matter your interests, education level, experience, or goals, there's something for you in this industry.
Here are 7 Careers to Consider in Solar Power:
1. Solar Panel Installer
Solar panel installers are the backbone of the solar industry. They are responsible for placing solar panels on residential and commercial rooftops, as well as on the ground. The job requires physical fitness, technical skills, and a strong understanding of solar panel systems. Solar panel installers enjoy job security and can often work as independent contractors, earning a competitive income.
The U.S. Bureau of Labor Statistics (BLS) estimates a faster-than-average (22%) growth rate for solar photovoltaic installers through 2031. Median pay is $21.75/hr or $45,230/year and a high school diploma or equivalent is typically required. Check out the U.S. Bureau of Labor Statistics' Occupational Outlook Handbook for more information about how to get started.
2. Solar Sales Representative
For those with excellent communication and persuasion skills, a career as a solar sales representative can be highly rewarding. Solar sales reps educate potential customers about the benefits of solar energy, assess their energy needs, and offer tailored solar solutions. This role often comes with commission-based earnings, making it a financially appealing choice.
As the solar industry grows, so will the demand for solar sales representatives. Educational requirements vary based on the company, but the barrier to entry is low with most workers having a high school diploma or some college. Salary also depends upon location, but median wages were $46.97/hr or $97,710 in 2022. With commission, this total can be significantly higher. This Solar Career Map offers some information to get you started.
3. Solar System Designer
Solar system designers play a crucial role in creating efficient and effective solar energy solutions. They use software and mathematical modeling to design solar panel arrays that maximize energy production while considering factors such as location, shading, and climate. This career requires a strong background in engineering or architecture and a passion for sustainable design.
The demand for solar system designers is projected to grow faster than average over the next decade, with a median pay of $45.31/hr, or $94,240/year. This is dependent on the company, as well as education level and years of experience. A bachelor's degree in science or engineering may be required, with a master's degree required in other instances. Learn more here.
4. Solar Project Manager
Project managers are essential in overseeing the planning, execution, and completion of solar projects. They coordinate various aspects, including budgeting, permitting, logistics, and installation. A solar project manager needs strong organizational and leadership skills, making it an ideal career choice for individuals with a background in project management or construction.
This career field generally requires a bachelor's degree or higher and 5+ years of experience. Median Annual Salary is $39.66/hr, or $82,500/year, with top earners making $58.65/hr or $122,000/annually. The field is expected to grow faster than average over the next decade. This Solar Career Map offers great info to get started.
5. Solar Researcher/Engineer
For those with a deep interest in technology and innovation, a career as a solar researcher or engineer could be ideal. These professionals work on developing new solar technologies, improving existing systems, and conducting research to enhance solar energy efficiency. Solar engineers often work for research institutions, manufacturers, or renewable energy companies.
Physicists, chemists, and materials scientists are just a few scientific research occupations at work in the solar energy industry, with median annual wages of $106,370, $68,320, and $84,720 respectively. Engineers are highly sought after in the industry as well, with 53% of manufacturing firms reporting difficulties in hiring qualified engineers. Some types of engineers in demand within the solar industry include materials engineers, chemical engineers, electrical engineers, industrial engineers, mechanical engineers, computer software developers, and engineering technicians. Learn more about each field, education requirements, and wages on this US Bureau of Labor Statistics page.
6. Solar Service Technician
Solar service technicians install, repair, monitor, diagnose, optimize, and maintain solar panels to ensure that solar systems continue to function efficiently over their lifespan. They conduct routine inspections, perform repairs, and troubleshoot issues as they arise. This role offers job stability and the opportunity to work independently and as part of a team. Problem-solving and excellent communication skills will come in handy, and experience as an electrician is highly beneficial.
The annual median pay for a residential solar service technician is $25.51/hr, or $53,070/ year. Read more here about educational requirements and career paths. Here's an interesting article about the difference between solar technicians and installers to help you decide which path might be ideal for you.
7. Wind Turbine Service Technician
Wind turbine service technicians are responsible for maintaining and repairing wind turbines. With a much faster-than-average job growth outlook of 45% through 2032, this is an in-demand career field to consider as wind energy continues to dominate renewable energy. This job can be physically taxing, and you must be comfortable working outside, in tight spaces, with heights, and strong enough to climb ladder systems with tools and equipment. Strong mechanical and troubleshooting skills are also a must. Check out this Career Map from the US Office of Energy Efficiency & Renewable Energy to learn more.
The annual median pay for a wind turbine technician in 2022 was $27.56/hr, or $57,320/year. A high school diploma or equivalent is required, and most wind technicians learn their trade at a technical school. In addition, employers provide on-the-job training.
Find Your Next Opportunity Here
The solar power industry is brimming with opportunities for career growth and financial stability. Whether you're a recent graduate looking to start your career, a seasoned professional seeking a change, or a transitioning military member considering your next step, the solar power sector offers diverse roles that cater to a wide range of skills and interests.
As the world continues to embrace clean energy solutions, a career in solar power may be your ticket to a brighter and more sustainable future. Learn more about jobs within the energy industry here, and search for open positions with Orion Talent partner companies.

RSS Feed
Subscribe to Orion's Blog