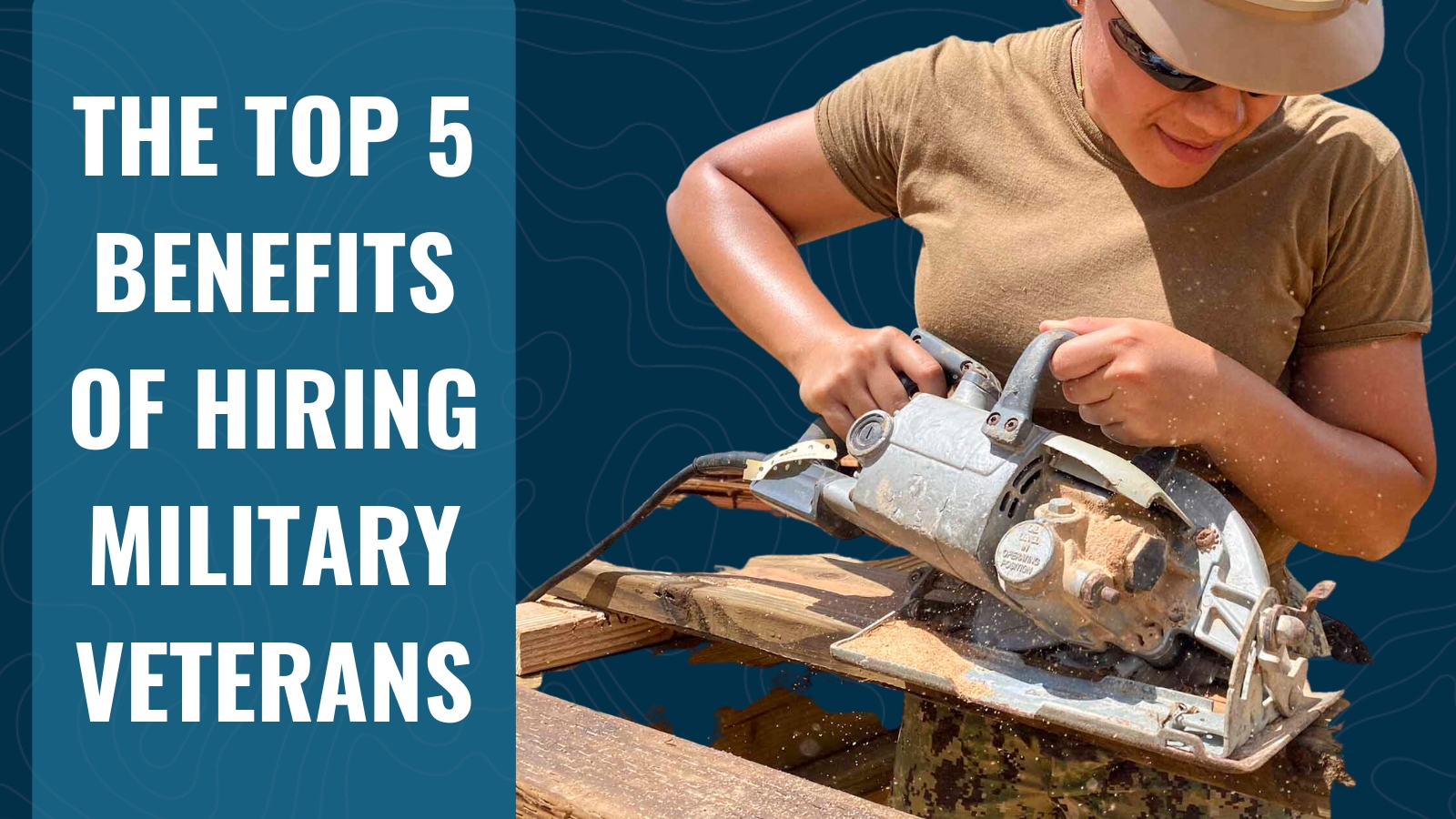 In today's competitive job market, finding top-tier talent is a constant challenge for employers across industries. As the workforce landscape evolves, more organizations are recognizing the immense value that military veterans bring to the table.
Connecting transitioning military members, veterans, and spouses with meaningful careers is at the heart of all we do at Orion Talent, and we love to watch our talent succeed in rewarding careers. For organizations large and small, the benefits of hiring military veterans are countless. In this blog post, we'll narrow down the top five benefits of hiring military candidates and highlight how these qualities drive success.
Top 5 Benefits of Hiring Military Veterans
1. Exceptional Leadership Aptitude
One of the most remarkable traits military veterans possess is their exceptional leadership ability. Veterans are trained to work seamlessly within diverse teams, adapt to dynamic environments, and lead with purpose. Their experience in high-pressure situations fosters a sense of camaraderie and a commitment to achieving common goals, making them natural leaders who can guide your teams to success. Veterans often make strong leaders due to their confidence, decisiveness, discipline, and ability to make decisions. Check out this blog post to learn more about leadership qualities and why veterans outscore their civilian peers in leadership.
2. Strong Problem-Solving Abilities and Other Soft Skills
The military equips veterans with the ability to think critically and solve complex problems efficiently. Through their military service, veterans learn how to handle challenges, which makes them valuable assets when it comes to tackling difficult business situations. Their resourcefulness, adaptability, and strategic thinking can drive innovative solutions.
In addition to problem-solving, veterans possess many other soft skills like teamwork, motivation, and critical thinking skills that make them stand out from the crowd. This blog post is a great place to learn more.
3. Powerful Work Ethic and Discipline
Veterans are renowned for their strong work ethic and disciplined approach to tasks. The rigor of military training instills a strong sense of responsibility, punctuality, and dedication. Veterans are agile leaders who can adapt and overcome any hurdle. These qualities translate seamlessly into the corporate world, where their commitment to excellence and willingness to go the extra mile can significantly contribute to your organization's productivity and success.
"In my current role, and for the past decade-plus, I've been in a leadership role of some sort," says Todd Philips, who joined Orion Talent in 2005 directly out of the Army and is now an SVP of Search at Orion, "Leadership is all about team building, relationships, communication, setting expectations, and holding people accountable—all things I learned in the Army." Read more about his experiences in this U.S. Veterans Magazine article.
4. Adaptable Learning and Training
In today's rapidly evolving business landscape, the ability to learn and adapt quickly is crucial. In the military, service members receive rigorous training that's put to work in important situations. As a result, military veterans are adept at acquiring new skills and knowledge in diverse environments. Their experience with continuous learning and training translates well into corporate settings, where they can readily embrace new technologies, processes, and industry trends. By hiring veterans, you infuse your workforce with a culture of adaptability and growth.
Read more about what Orion CEO Sarah Peiker has to say about military veterans' devotion to learning and training in this Forbes article: Five Assets Military Veterans Bring to the Business Leadership Team.
5. Diversity and Inclusion Catalysts
Promoting diversity and inclusion within your organization is not just a matter of ethics; it's a strategic advantage. Military veterans bring a diverse range of backgrounds, experiences, and perspectives. Military talent equals diverse talent. Embracing their unique viewpoints enriches your company culture and enhances creativity and innovation. Moreover, veterans often excel at fostering a sense of unity and respect among team members, fostering an inclusive environment where everyone can thrive.
"If companies want to authentically diversify, it is time to take action and widen candidate pools to include more talent from different experiences, demographics, and socioeconomic backgrounds," says Orion CEO Sarah Peiker in this HRO Today article, "In order to hire military talent at scale, employers must equally value all enlisted and officer experiences, technical or not. We must move beyond the assumption that a four-year degree is required to achieve excellence in the workforce. Our military veterans are an incredibly diverse population with so much to offer."
Orion Talent Military Hiring Solutions
Incorporating military veterans into your workforce is a strategic move that offers a multitude of benefits. Their leadership prowess, problem-solving capabilities, strong work ethic, adaptability, and role as diversity and inclusion catalysts can drive your organization's success to new heights.
At Orion Talent, the military is in our DNA. Founded by military veterans, we've been connecting transitioning military members with meaningful careers for 32+ years. We offer the richest proprietary military database of leadership and technical talent within the industry. Check out our Military Hiring Solutions or HirePurpose™ Military Veteran Sourcing and Talent Attraction Solution to connect with military veterans today.

RSS Feed
Subscribe to Orion's Blog