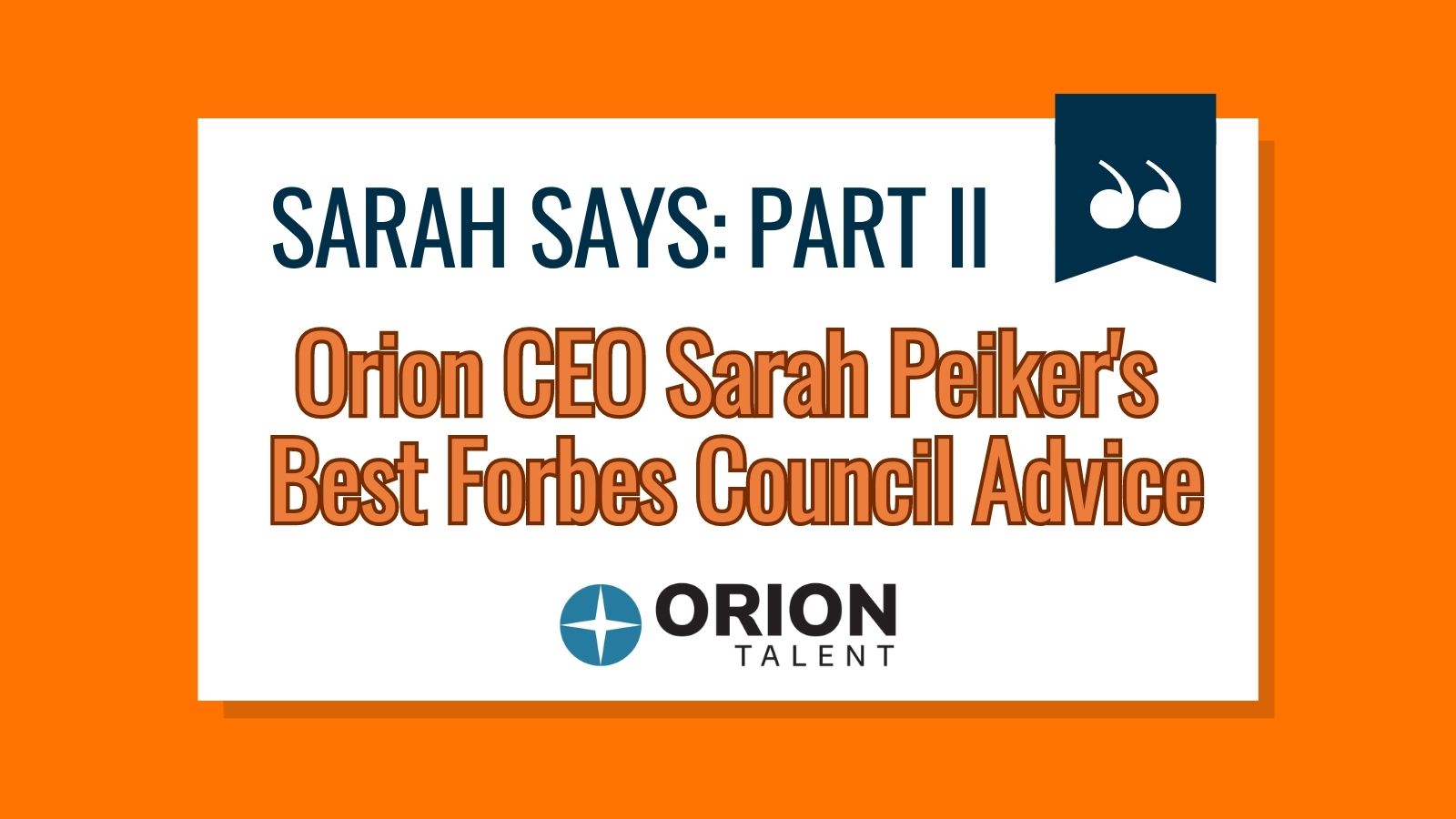 To succeed in business, today's leaders must not only be exceptional in their field but also be recognized as thought leaders by sharing their insights and expertise. Sarah Peiker, CEO of Orion Talent and a distinguished member of the Forbes Human Resources Council, a prestigious organization for high-level executives, does this well. In this second installment of "Sarah Says," we'll explore three more Forbes articles highlighting her valuable insights.
DEI is more important than ever, and candidates understand that a company's DEI commitment is best reflected in its culture. How can companies align their DEI promises with effective DEI action and also share that journey with an outside audience? "When DEI starts with culture, it radiates out into the world organically to the people who matter most: the employees and clients you support," Sarah says. This article explores the importance of company culture and suggests steps businesses can take to build a successful foundation for their DEI journey.
Elevating and Expanding HR's Role
It's important to provide HR teams with the reach, resources, and respect required to meet the varying people and culture needs of your organization. Read more for ideas to implement.
Rethink Onboarding
Onboarding is the first opportunity for new employees to dive into company culture and the ideal time to establish an inclusive mindset and underscore DEI opportunities and expectations. Consider making onboarding an ongoing, interactive learning process spanning several months so that diverse employees receive a full welcome and understanding of your organization's DEI resources.
Strengthening Leadership Commitment and Diversity
Leadership must be on board if DEI efforts are to succeed. Engaged managers who passionately explain why DEI matters and are open to outreach on diversity issues are vital to creating a more welcoming company culture and solidifying the DEI mindset into new talent.
Increase Employee Feedback
From employee surveys and focus groups to town halls, direct employee feedback is critical when it comes to understanding how company culture is advancing or harming DEI progress. Read more to learn why this matters when it comes to authentic DEI change.

In a competitive labor market, it's vital to look for new sources of talent. A study by Accenture and Harvard Business school estimated that there are 27 million "hidden workers" who are eager to find work or to work more, but are stymied in their efforts. This includes people with disabilities or mental health diagnoses, veterans with disabilities, economically disadvantaged individuals, caregivers, younger people, older people, the neurodivergent, recent graduates, immigrants, and military spouses. In this article, Sarah discusses what's holding these workers back and offers employers helpful tips for tapping into this workforce:
What's Holding Hidden Workers Back?
Several common elements of the modern recruitment process may unintentionally prevent hidden workers from fulfilling their career goals. Read more to learn how recruitment technology, requirement overload, hiring manager limitations, and interview processes contribute to the problem.
Tips for Tapping into Untapped Talent
Sarah lays out steps businesses can take to attract, hire, and retain diverse talent, including making inclusivity part of your employee value proposition (EVP), refreshing your job descriptions, getting off your computer and out of the office, adapting interviews to candidates, and showcasing remote possibilities.

Despite billions of dollars allocated to DEI initiatives, many businesses are still missing the mark. Even if they have a strong DEI statement or recruiting campaign, a lack of inclusion efforts or accountability will hinder progress. Embracing and cultivating diversity is a choice for businesses, and the contrast between check-the-box initiatives and all-encompassing commitments couldn't be clearer. Sarah discusses common missteps companies make that limit diversity growth and success, and offers tips for making diversity a company pillar rather than merely a talking point.
Mistake No. 1: Forgetting the People-Driven Purpose of DEI
Companies with successful DEI programs are deeply connected to their purpose as a business while those that struggle implement DEI efforts as tactical moves rather than purposeful workforce evolutions. Learn more about how to bridge company purpose and diversity efforts by getting genuine commitment from the top, bringing DEI efforts and stories to life, and setting representation goals.
Mistake No. 2: Concentrating Only on the Talent Pipeline Versus Inside Talent
Focusing diversity efforts only on incoming talent while forgetting about employee experience is a mistake. Listening to employees through surveys, town halls, and one-on-one meetings will help build a strong diversity foundation.
Mistake No. 3: Thinking Every Effort Needs to Directly Connect to Revenue or Recruiting
If you try to link every DEI effort to revenue or recruiting targets, you'll miss out on opportunities to establish business practices that deliver true, long-term DEI value, including offering paid holidays of choice, spending with diversity in mind, and sponsor outreach.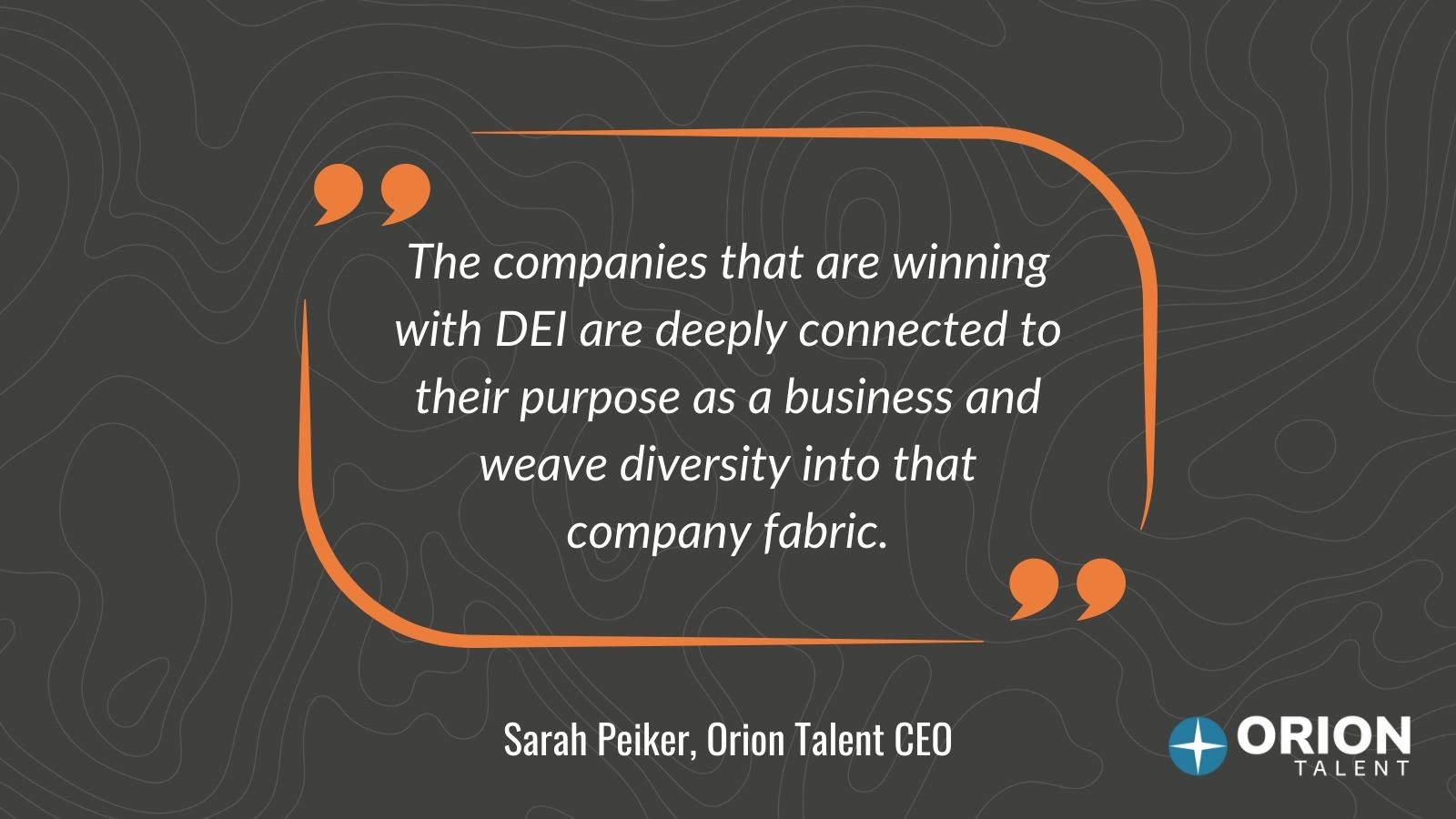 Sarah Says: Words of Wisdom
We hope you have enjoyed Sarah's thought leadership pieces. You can read all her Forbes Council articles here. Stay tuned for future articles this year- there's some great advice in the pipeline! Which has been your favorite article so far? If you'd like to learn more about employer diversity solutions, check out what DEI looks like at Orion Talent or find out how our HirePurpose® Diversity Sourcing and Talent Attraction solution can help your organization attract qualified candidates and exceed your high volume, talent community, and DEI goals while building a corporate culture where all employees can bring their authentic selves to work each day.

RSS Feed
Subscribe to Orion's Blog