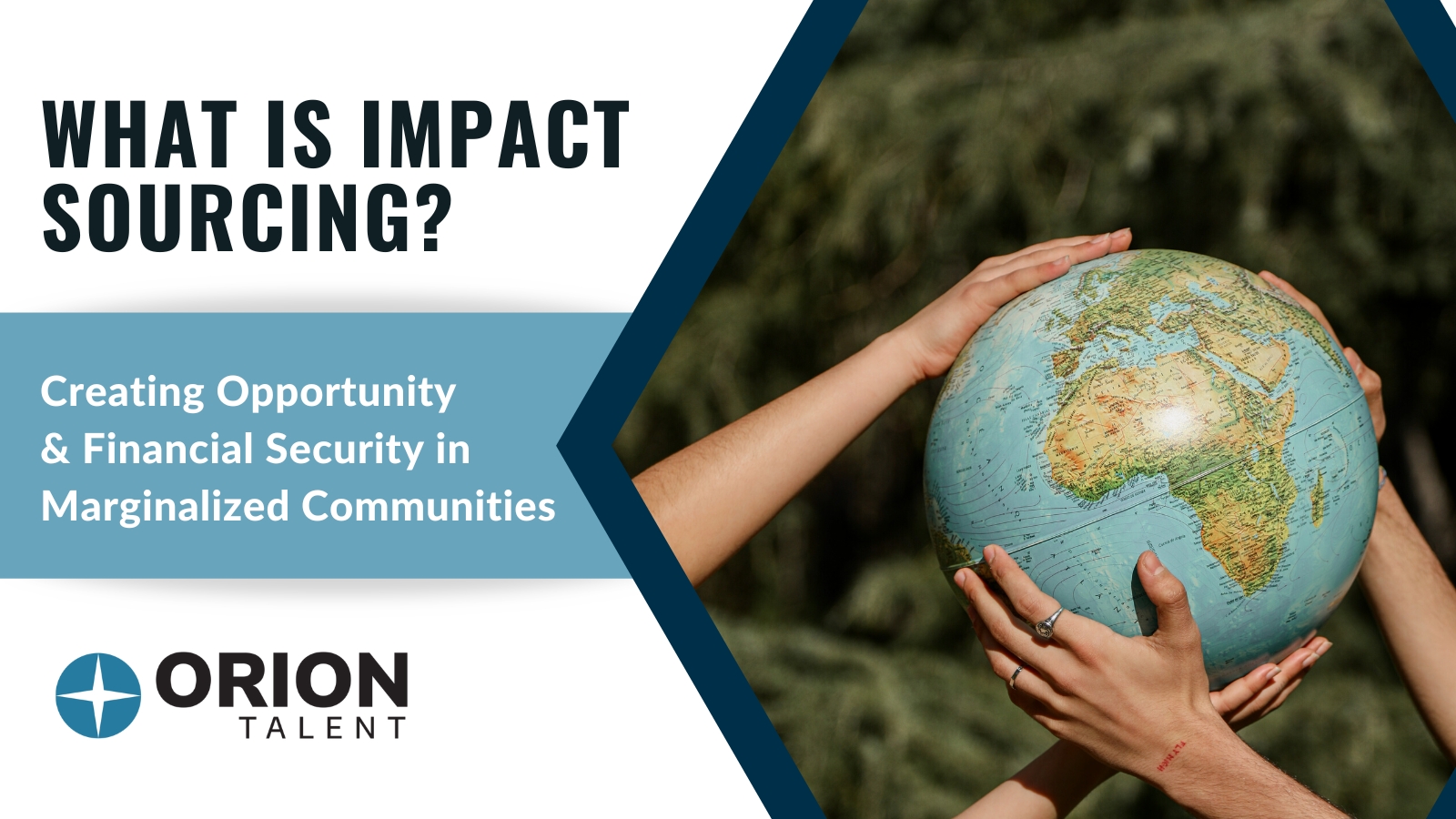 Orion Talent Joins Everest Group's Impact Sourcing Pledge
When we learned about our industry partner Everest Group's mission to reduce global unemployment through impact sourcing, we jumped at the chance to get involved. After all, building a diverse workforce that drive winning outcomes for both workers and employers is core to our mission. In April, Orion Talent joined Everest Group's Impact Sourcing Pledge, furthering our commitment to helping businesses hire, train, and retain a more stable workforce by hiring traditionally marginalized workers including women, young people, and economically and socially disadvantaged individuals.
But what exactly is impact sourcing? This blog post aims to define it briefly, provide an overview of its benefits, and consider what impact sourcing looks like in action, how to get involved, and how we envision utilizing impact sourcing to create new opportunities and financial security for underserved talent right here in the United States.
What is Impact Sourcing?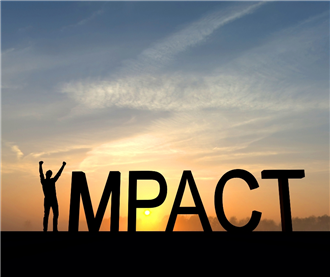 Impact sourcing is the process of hiring and providing career development opportunities to people from marginalized communities with limited employment opportunities. It's an effective, market-based solution to alleviate poverty that has the potential to create millions of jobs.
"Over the next three years, Everest Group is helping industry partners grow the impact sourcing workforce from 350,000 to 500,000 full-time equivalent workers," said Former President Bill Clinton, recognizing Everest Group's Impact Sourcing Pledge at the September 2022 Clinton Global Initiative meeting. "To do this, Everest will work within the impact sourcing ecosystem to develop job readiness programs and encourage incentive programs and hiring mandates that expand opportunities for both employees and employers."
According to the International Labor Organization (ILO)'s World Employment and Social Outlook: Trends 2023, global unemployment is estimated to be around 208 million individuals this year (a global unemployment rate of 5.8%). The global economic slowdown coupled with a rising cost of living threatens job quality, forcing more workers to accept lower quality, poorly paid jobs offering little job security. Impact sourcing is a way for businesses to intentionally combat these trends while also meeting their business objectives.
What are the Benefits of Impact Sourcing?
Impact sourcing touches every aspect of community life, lifting families out of financial hardship by empowering workers with the skills and opportunity to earn a meaningful wage. The benefits reach beyond individuals and families, positively affecting communities and regions at large. Impact sourcing is changing the Business Process Outsourcing (BPO) industry by shifting the focus from cost-cutting to creating shared value, increasing the focus on employee empowerment, measuring and communicating impact, and using technology to improve efficiency and effectiveness. It offers new, innovative solutions to clients in search of innovation and sustainability.
Here are a few more benefits:
Lower Cost- According to the Rockefeller Foundation, organizations utilizing impact sourcing in India have experienced a 35-40% reduction in expenses. Impact sourcing equals savings for your business.
Reliability- The performance you'll receive is comparable to traditional Business Process Outsourcing.
Untapped Talent Pool- Impact sourcing is a new avenue to take on your DEI journey, connecting businesses with qualified, trained, and untapped talent pools from diverse backgrounds and perspectives. Those with disabilities, first-time workers, and at-risk groups like refugees offer a rich talent pool while contributing greatly to their economic sustainability.
Engaged employees- Impact sourcing organizations report lower attrition rates and higher corresponding levels of employee engagement. This lower turnover rate means your business will save a considerable amount of money not having to recruit and train new talent.
Social responsibility- Impact sourcing offers opportunities to fulfill corporate social responsibility and diversity objectives while making a sincere difference in people's lives. It's a win-win situation.
What are Some Examples of Impact Sourcing in Action?
Impact sourcing can look like many different things and often involves tasks like customer service, data entry work, data verification and cleaning, video tagging, IT support, data annotation, data validation, content moderation, and more. A few companies that are doing an incredible job of using impact sourcing to create local opportunities around the globe are RuralShores, Samasource (Sama AI), and Teleperformance.
RuralShores is a social enterprise dedicated to creating employment opportunities for rural youth in India by providing integrated IT and Business Process Outsourcing solutions to clients worldwide. Since its establishment in 2008, RuralShores has established 14 centers through 8 states in India, employs 2300 people, and provides business support to 20+ blue chip clients. Their services include content moderation, social media monitoring, data annotation, software support services, robotic process automation, data management and validation, document digitization, finance and accounting, and voice processes (inbound & outbound).
Samasource (Sama AI) is a technology company that uses impact sourcing to employ people from disadvantaged backgrounds and lift them out of poverty, serving as an intermediary between corporations and delivery centers in developing nations including India, Pakistan, Kenya, South Africa, and Uganda. The company was founded on the concept that talent is equally distributed, but opportunity is not. In addition to teaching them skills to earn a living, Samasource offers mentorship programs and workshops in financial literacy, nutrition, and health and wellness. By hiring and training youth and other disadvantaged individuals, the program provides them with a way to earn a sustainable income and help their local economy. The company considers itself an onramp to the global economy- while some workers stay on at Sama AI after training, the goal is to provide talent with the skills and experience to move on and be successful in the business world.
Teleperformance is a business services company with an admirable impact sourcing strategy. They proudly recruit unemployed and underemployed workers, including those with disabilities, first-time workers, and at-risk groups like refugees, and provide them with meaningful employment opportunities. In 2022 alone, they recruited 7,200 individuals with physical or mental disabilities worldwide. 20% of their 410K global employees are Impact Workers and this number continues to grow. Workers receive a fair income, workplace security, and career growth opportunities.
How Can I Get Involved in Impact Sourcing?
The simplest way for North American companies to get involved in the impact-sourcing movement is by partnering with companies that currently provide impact-sourcing services.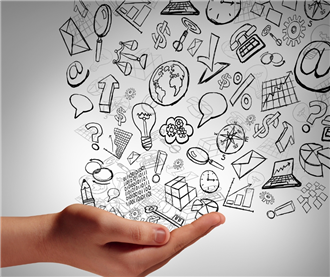 Developing the right Corporate Social Responsibility (CSR) initiative for your business starts with considering the social impact your business wishes to make and getting executive buy-in. How does this initiative make a difference? How does it meet business needs? If impact sourcing is the CSR you'd like to pursue, consider how you'll connect with and hire impact-sourced talent. Our HirePurpose® Diversity Sourcing and Talent Attraction solution, which is tailored around diversity candidates, including minorities, women, people with disabilities, individuals from the LGBTQIA+ community, and members of other underrepresented groups, can help you get started.
Orion's Commitment to Impact Sourcing – Impacting Underserved Communities in North America
"We are excited to join Everest Group's Commitment to Action and bring job opportunities to under-represented communities throughout North America," says Laura Schmiegel, Senior Vice President, Strategic Partnerships at Orion Talent. "Impact sourcing is a powerful way of reaching segments of the labor force that have historically been left out. Orion is committed to diversity hiring and sustainable workforce development to bring opportunity to everyone."
While we are passionate about global communities and are looking for ways to further our reach beyond our valued teams in India and Mexico in the coming years, our biggest focus is closer to home. Orion Talent's North American impact sourcing strategy starts with military families. With an unemployment rate of 22%, military spouses are one of the highest unemployed demographics in the United States. Military spouse unemployment is a top issue impacting the economic security of active-duty families. Many military families struggle to make ends meet. According to the Center for Strategic & International Studies, too many active-duty families experience food insecurity and families with unemployed or underemployed spouses are more likely to be food insecure. 41% of active duty families reporting financial stress name spouse unemployment or underemployment as a top contributing factor.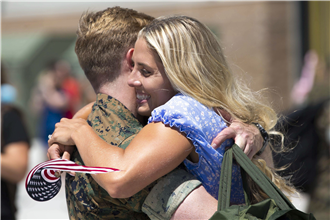 This must change. "Remote and flexible work opportunities are increasing, which is great news for military spouses who can work from home, Schmiegel, who was an active-duty spouse for 20 years, says, "But as long as the military remains a highly mobile lifestyle and childcare is a challenge globally, military spouses and companies are going to have to find creative ways to connect and create careers for our spouses."
Hiring military spouses and providing them with flexible career paths that can move with them may require out-of-the-box thinking, but it's well worth the effort. Military spouses are an often-overlooked talent pool. Their work histories may not follow a linear path and may contain gaps due to military moves, but this doesn't mean they aren't qualified. They're educated, highly adaptable, loyal, resilient, and able to handle stressful situations well.
Impact sourcing is demonstrated when businesses intentionally hire and provide career development opportunities to those who otherwise have limited prospects for sustainable employment. Through our work within the military community, Orion's Military Talent Solutions, and via the HirePurpose® Diversity Jobs Network, Orion Talent is matching job seekers from underrepresented communities with employers looking to hire. Please contact us to learn more.
Let's Change the World Through Our Business Practices
Read more about Orion Talent's commitment to Everest Group's Impact Sourcing Pledge and perhaps consider getting involved too. Together, we can make a significant impact by providing employment opportunities to marginalized communities through our business practices.
If you're not sure where to start or could use a little help building a diverse workforce, be sure to check out Orion Talent's HirePurpose™ Diversity Sourcing and Talent Attraction Solution. We connect industry-leading companies with diverse job seekers desiring an inclusive workplace while helping our clients build a culture where all employees can bring their authentic selves to work each day.

RSS Feed
Subscribe to Orion's Blog