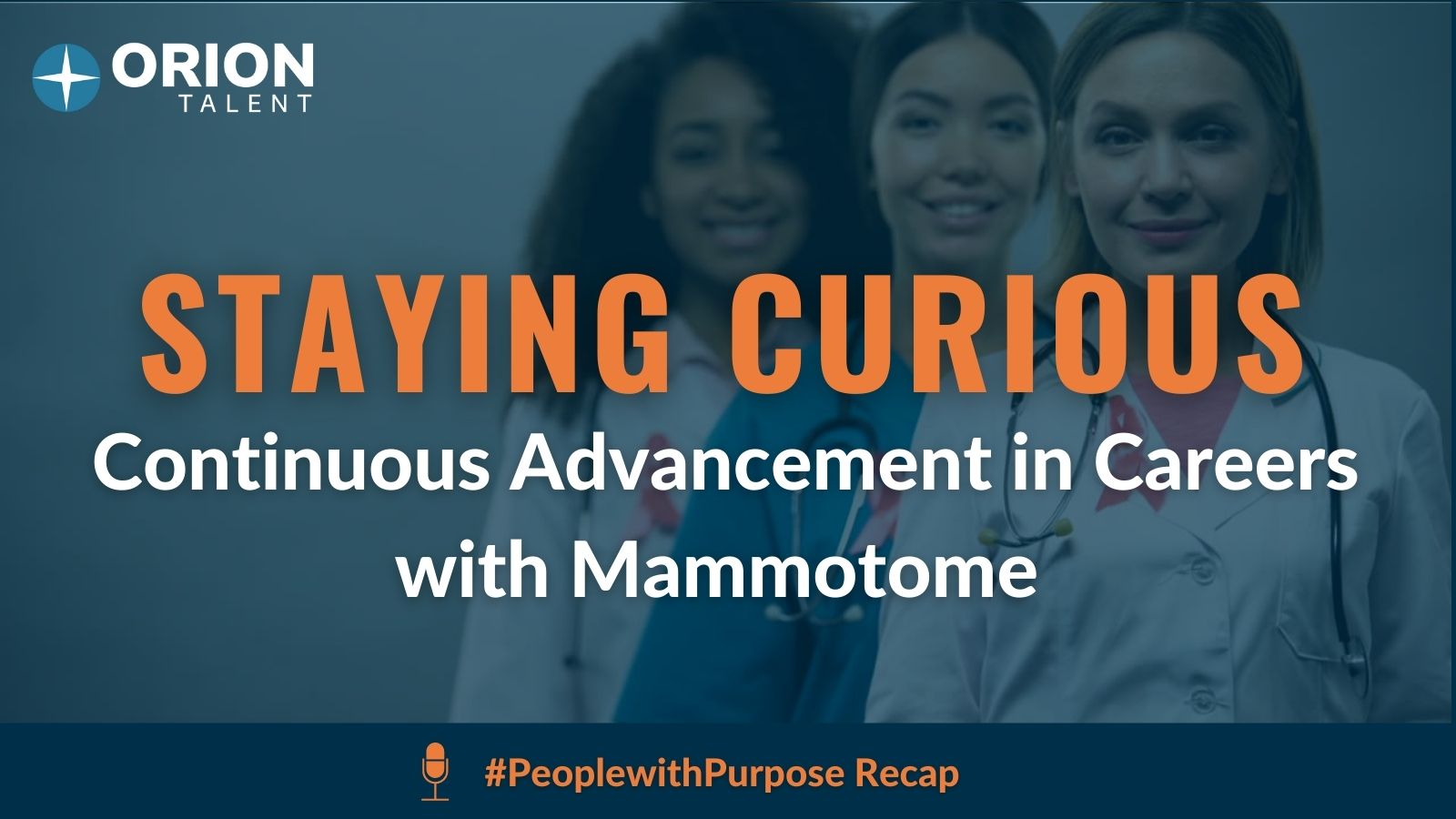 Mammotome is the definition of a purpose-driven company. Their global team is committed to developing and distributing innovative technologies that create better outcomes in breast care. #PeoplewithPurpose Podcast host Steve Amsden sits down with Ben Sandefur, VP of Marketing & Business Development, Suzanne Smith, VP of Sales, and Ed Aguilar, Senior Director of Strategic Accounts & Latin America, to discuss Mammotome's culture of continuous advancement and innovation through talent and team development, career pathing, and a focus on diverse talent, including veterans.
Tune in to the full episode to hear about why Mammotome, an operating company of Danaher Corporation, is a great place to work and how their purpose-driven mission improves patients' lives.
Personal Journeys to the Medical Device Industry
This episode features Orion military placement connections, and each guest illustrates how career paths are often not linear journeys. Ben Sandefur kicks off the discussion. He got to know Orion Talent as an Army officer when he was looking for post-military job opportunities. Though he specialized in logistics in the military and began a civilian career in a similar role, Ben has worked in the medical devices and pharmaceutical industry for over 20 years, most recently at Mammotome.
Suzanne Smith has also worked in the medical device industry for over 20 years. She began her career in sales before getting her MBA, starting at a medical device company, and working her way through a variety of marketing and market development roles. She's been with Mammotome and Danaher for four-and-a-half years and says it's been a fantastic experience.
Marine Corps Veteran Ed Aguilar says, "Orion actually played a pivotal role in my transition out of the Marines and ultimate placement into the medical industry. From there, I advanced through some great startup organizations and early organizations that were disruptive in the marketplace." He earned a finance degree and has now worked in the medical devices industry for 21 years. Since joining Mammotome six-and-a-half years ago, he's experienced plenty of career development and has enjoyed the positive impact the company has on patients.
Finding a Culture and Purpose That Matters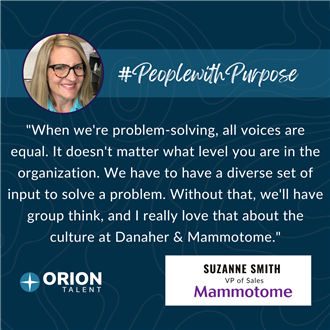 Early talent is seeking a company culture they can support and work that gives them a sense of purpose. Steve leads the podcast guests through a discussion about the culture at Mammotome, teamwork, and how there's a common mission no matter what job you have.
"Danaher promotes diversity, inclusion, and a culture of continuous advancement or progress in everything that we do," Ed says. He appreciates the diversity across the organization and knows that the work they do every day impacts lives.
"It is a business, but what you're really focused on is products that make a difference in patients' lives," Ben adds, "That's what we do here at Mammotome. When people come in, we're very clear that we're a purpose-driven organization. We're very clear that we're trying to get a diverse set of skills depending on the function or the team. But ultimately people who really care about the mission."
Suzanne appreciates Danaher/ Mammotome's metric-driven culture where all voices are equal. "It doesn't matter what level you are in the organization," she says, "It doesn't matter how long you've worked here or what your title is. We have to have diverse input to come up with a solution to a problem. Without that, we'll have group think or we'll have the same problem over again."
"That's the true brilliance of diversity," Steve adds. "It's really about people's experience, thoughts, and perspectives…It's almost like a puzzle bringing all these thoughts together."
Educating Veterans and Diverse Talent About Careers in the Medical Device Industry
Each guest discusses what a "day in the life" looks like at Mammotome. While their jobs differ, the guests discuss how much they enjoy the variety of tasks and challenges they encounter daily. "If you like to solve challenging problems, it's a great company to be with," Suzanne says.
Ben points out that career planning/ pathing is something Mammotome takes very seriously. He talks about how mentors helped him along the way. "Be very clear with what your career goals are," he says, "Be very clear with what your strengths are and where your opportunities to improve are. I think you'll find a lot of leaders willing to help you along in your career."
Don't be afraid to try new things, get out of your comfort zone, and pivot. Suzanne offers advice for anyone starting at a new company or industry, "Understand expectations, especially if it's a new environment for you…. Be curious and ask questions. There might be cultural things within a company that aren't found within an employee handbook. Find a buddy. Ask questions. Be patient with yourself and with your manager."
"Every day is different. Every day presents a new challenge," Ed says, "We're leveraging the strengths of our… members. All of it's about collaboration, and I think that's the beauty of what we try to do at Mammotome. Everybody's a partner. Everybody's focused. And that's why every day is different."
The discussion concludes with the best advice for transitioning or retiring military personnel, interview advice, the need for a short- and long-term plan, and the willingness to pivot in one's career.
Advice for Young Talent- High School or College Grads
Each episode of the #PeoplewithPurpose podcast ends with the same question- What advice would you give to a new high school or college graduate about finding a career with purpose and meaning? Ben dives right in. "I really encourage people to think about not just their work, but how they picture their life," explains Ben. He also recommends speaking to multiple people in your "dream job" and asking how they got there. Their paths are probably all different, but their journey will provide insight.
Suzanne's advice is to find an industry you're passionate about and pursue a company you care about even if the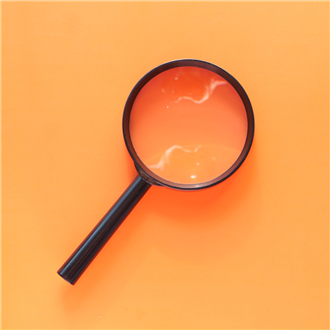 job title isn't perfect. "It's not your last job," she tells new grads, "It's a great time in your life to explore different things."
The importance of finding your passion and what drives you should be top of mind. "Where do you see yourself in 10 years and what is the roadmap to help you get there?" Ed asks. In addition, realize that a journey takes time. "You have to put in the work as it's not instantaneous… In this third of your life, you've got to put in the work to get yourself to the next level," he says, "It takes time."
Listen Now
Be sure to catch the entirety of Episode 11: Staying Curious: Continuous Advancement in Careers with Mammotome for much more of this discussion. If you haven't followed us already, be sure to subscribe to #PeoplewithPurpose wherever you get your podcasts.

RSS Feed
Subscribe to Orion's Blog