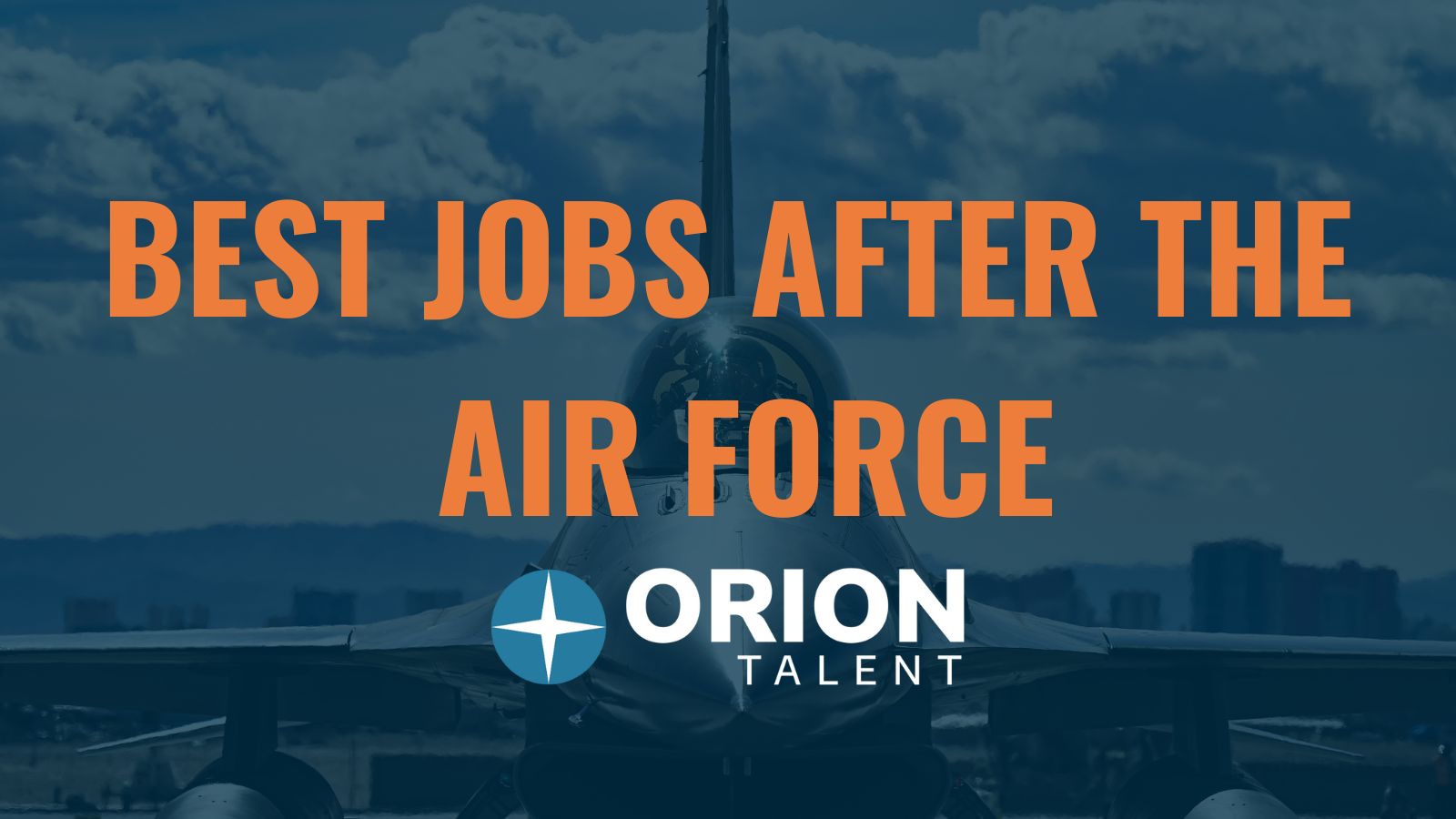 With around 3 million personnel, the U.S. Department of Defense (DoD) is the nation's largest employer. The Air Force has the third-largest active duty population at around 329,614 members. Each year, approximately 200,000 service members leave military service across all branches– Air Force, Army, Coast Guard, Marine Corps, Navy, and Space Force- and transition to civilian life. For those experiencing the military-to-civilian transition, finding a new career is a top priority.
While aviation career paths are often associated with the Air Force, service members also work in healthcare, maintenance & repair, science & technology, logistics & administration, intelligence, combat & warfare, law & order, and more. Whether you're considering exiting the Air Force years from now or you are in the midst of that transition now, you may be wondering what jobs best suit a candidate with your experience. The good news is that civilian career possibilities are endless and your skillset is in demand. Read on to learn more about a few career paths to consider after the Air Force.
1. Air Traffic Controllers
If a federal job with a healthy benefits package and an annual median salary of $138,556 appeals to you, a career as an air traffic control specialist may be the perfect fit. Federal Aviation Administration (FAA) Air Traffic Controllers guide pilots, their planes, and 2.7 million daily passengers safely through taxi, takeoff, air travel, and landing.
If you worked in Air Traffic Control in the Air Force, this well-paying civilian role is a natural transition. Yet, you don't have to have direct experience to apply. The FAA offers opportunities for individuals with previous air traffic control experience as well as entry-level trainee air traffic control specialists. You must meet the FAA's requirements and pass qualifying tests for an FAA training program. Candidates who complete an Air Traffic Collegiate Training Initiative (AT-CTI) program and Veterans with aviation experience stand out from the crowd. Be sure to check out the FAA Level Up Your Career webpage for requirements, FAQs, and details about the next application window.
2. Cybersecurity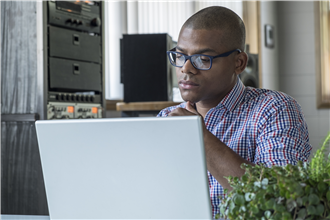 Cybersecurity is an in-demand field with career opportunities across a wide range of industries. The median annual salary for Information Security Analysts is $102,600. According to the U.S. Bureau of Labor Statistics, jobs in cybersecurity are expected to grow by 33% from 2020-2023. In addition, Cybercrime Magazine projects 3.5 million job openings in the field by 2025. There's so much opportunity here.
Whether you worked in cybersecurity in the Air Force or have a passion for computer science and information security, this field may be a good fit. There are free training and certification programs available for military Vets. Check out this ebook from the Department of Homeland Security (DHS) aimed at helping Veterans join the nation's cybersecurity workforce. It'll walk you through cybersecurity roles, finding training opportunities, locating education opportunities and scholarships, and navigating a career path in cybersecurity. The National Initiative for Cybersecurity Careers and Studies (NICCS) also offers helpful resources assisting Veterans and military personnel to launch a new cybersecurity career.
3. Air Operations Center or Control & Operation Center jobs
If you have experience working in Air Operations Centers and would like to continue doing so in the civilian world, there's a great-paying job waiting for you. Keep yours eyes open for contractors hiring experienced Military Air Operations Planners and Air Operations Training Analyst SMEs, AOC Weapon System Requirement Managers, and more. The specific role you qualify for largely depends on the training and background you received in the Air Force. The sky's the limit!
4. Commercial Pilot
Do you love to fly? Becoming a commercial pilot is a natural next step for Air Force pilots. North American airlines will face a shortage of nearly 30,000 pilots by 2032, and the government estimates that there will be about 18,000 openings annually for airline and commercial pilots this decade. This still isn't enough to offset pilot retirements; demand far outpaces supply. If you have the flight hours necessary, your dream of becoming a commercial pilot awaits. Military pilots who pass military competency tests can apply for a commercial pilot certificate and/ or flight instructor certificate.
Check out the Air Line Pilot's Association's helpful ebook Military-to-Airline Transition Guide for step-by-step instructions to meeting your career goals. Also, don't be afraid to reach out to your favorite airline directly. United Airlines encourages qualified military pilots to apply directly. Delta Airlines now interviews and extends conditional job offers to retiring active duty and guard reserve pilots as well. In addition to excellent job prospects, the Bureau of Labor Statistics reports that in 2021, the median salary for airline captains, first officers, second officers, and flight engineers in the U.S. was $203,010.
5. Space Symptoms Operations
The Air Force operates the largest space program in the world, tracking oceanic missile launches, tracking satellites, and assisting in rocket operations. If you have experience in this field, there's demand for your skillset in the civilian world. Space Systems Operations professionals earn an average of $102,223 annually and popular job titles include Space Systems Engineers, Facility Space Planner, Space Intelligence, Space Planning Assistant, Systems Engineer, and Communications System Engineer.
6. Avionics Engineer or Avionics Engineering Technician
Avionics engineers design, develop, program, test, produce, and sustain avionics systems for aircraft and aerospace vehicles. With a projected job outlook of 6% growth from 2021 and 2031, avionics engineers earn a median salary of $116,500. To become an avionics engineer, you'll likely need to earn a bachelor's degree in aviation engineering, electrical engineering, or a related field. Aircraft and aerospace manufacturers, airlines, NASA, and other government agencies hire avionics engineers.
Avionics Technicians install, inspect, test, adjust, and repair avionics equipment and earn an average of $69,260/ year. If you have specialized skills or knowledge in this field, you can expect to earn even more. A high school degree is required. You may want to consider a 2 or 4-year degree program in aviation electronics. If you're a transitioning Air Force Avionics Technician, be sure to check out our free placement services. We are particularly proud of the high caliber opportunities we have available for our nation's Enlisted Air Force personnel, and have found careers for nearly 1,000 Avionics Technicians so far.
7. Department of Defense Positions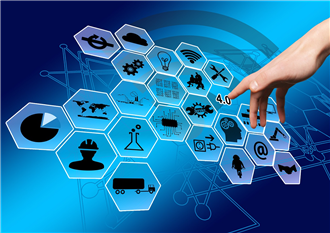 The Department of Defense (DoD) is a common destination for Air Force Veterans upon leaving military service, allowing you to remain connected to the military world while providing you with a rewarding civilian career. Nearly 1M civilian workers are employed by the DoD and they work around the globe. No matter your background, there's likely a DoD career path for you.
With over 675 different civilian occupations in fields as varied as Acquisition & Contracting, Administrative Management & Support, Business Industry, Program Management, & Analysis, Cyber & Information Technology, Education, Engineering, Environmental Management, Facilities Engineering, Financial Management, Foreign Affairs, Human Resources, Intelligence, Law Enforcement & Security, Legal, Logistics, Medical, Health, & Wellness, Public Affairs, and so much more, you'll find opportunity no matter what you did in the Air Force. Not sure where to start? This quiz can help you find a DoD career path for you.
8. Medical Industry Careers
Healthcare is always in need, so if you worked in the medical field in the Air Force your civilian transition should be straightforward. According to the U.S. Bureau of Labor Statistics, employment in healthcare occupations is projected to increase by 13% between 2021-2031. There will be around 1.9M job openings each year due to growth needs and to replace retiring medical industry professionals. Salary varies widely across healthcare practitioners and technical medical industry occupations. Check out the U.S. Bureau of Labor Statistics Occupational Outlook Handbook for median pay and entry-level education requirements based on occupation.
Demand outpaces supply in the healthcare field and your medical experience in the Air Force will appeal to prospective employers. This ebook by the University of Washington Center for Health Workforce Studies- Pathways for Military Veterans to Enter Healthcare Careers- is full of useful information to assist you on your journey.
Good Luck With Your Military-to-Civilian Transition!
Your career in the Air Force provided you with the skills and knowledge you need for a successful civilian career. Keep in mind there's nothing wrong with changing course and trying something new if you prefer. This is an opportunity for a fresh start, or to dig deeper into a career path you love. The choice is yours.
Be sure to visit our Transition Resources Guide, a free and comprehensive tool designed to walk you through the hiring process from resume writing, interview basics and prep, tips for after the interview, and more. If you'd like to register for Orion Talent's free career placement services for military job seekers, create a profile here.

RSS Feed
Subscribe to Orion's Blog