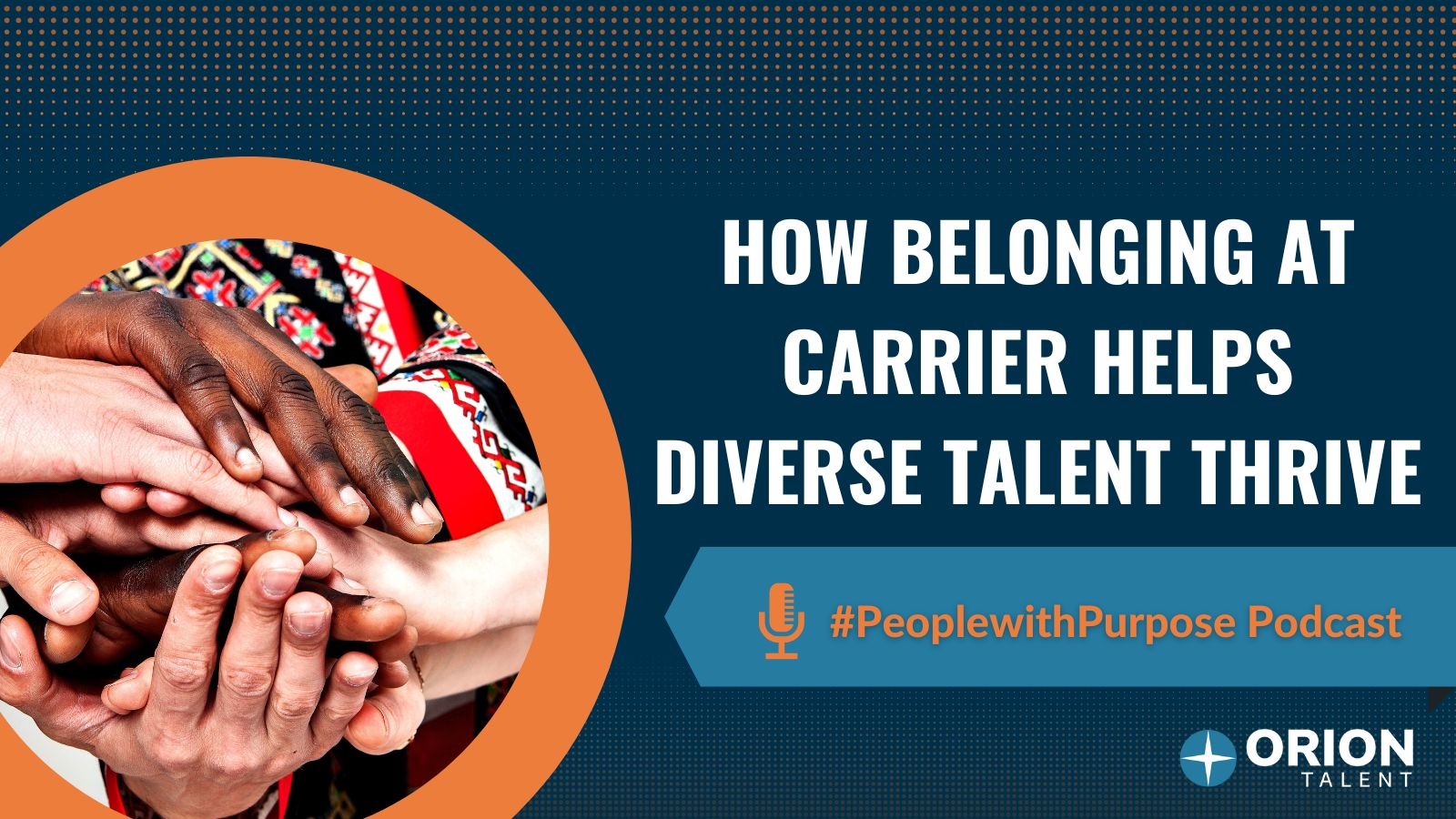 Carrier's Diversity & Inclusion Brand _belong™ certainly catches the eye—The underscore in front of belong represents a blank space where anyone and everyone fits in. The goal is to make every Carrier employee feel like they belong: I belong. We belong. You belong. In Episode 10 of the #PeoplewithPurpose podcast, Steve Amsden discusses Carrier's inclusive culture with Shondi Muir, Global Head, Inclusion & Diversity Recruitment, Bill McDonough, Vice President Human Resources, Commercial HVAC, and Rich Simpson, Commercial General Manager, from Carrier Global Corporation. Tune in to learn how their personal stories exemplify Carrier's mission and why diversity and inclusion are so much more than a catchphrase.
Growing Diverse Talent at Carrier
For a multinational corporation like Carrier, diversity and inclusion are especially multi-faceted. "For me personally, as I think about diversity and inclusion, you can't have one without the other," says Bill McDonough, "Diversity is a strong focus of ours, whether it's U.S. diversity or [diversity abroad]. What does diversity mean in India? What does it mean in France? We have global D&I Councils that really work on those strategies within the region." Inclusivity is what will keep top talent at your organization—when everyone feels like they belong, have a voice, and matter, your business will be more innovative than ever.
As Bill points out in the episode, a key element of Carrier's growth strategy is a focus on aftermarket and service units, which means growing and retaining a strong HVAC technician workforce. For the team at Carrier, this all begins with people, culture, and the inclusion they represent.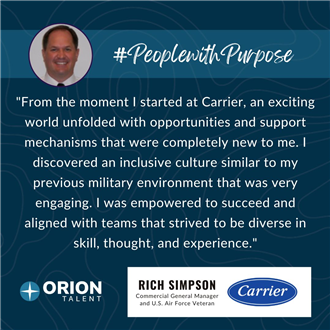 Rich Simpson's journey from aircraft maintenance in the U.S. Air Force to Commercial General Manager at Carrier illustrates this well. He's seen firsthand how Carrier's inclusive culture fosters career growth, innovation, brand power, and brand integrity. "It all begins with people and culture really for me," Rich says, "Our culture here at Carrier aligns with our core value sets of doing the right thing, something I've very much appreciated here during my time at Carrier. It's an environment I truly take great pride in leading and cultivating. This is truly a people business, both internally and externally. And I strongly believe that creating an inclusive, respectful, engaging culture really creates energy and power to innovate and it brings brand passion and brand integrity forward."
Opportunities for Growth and Advancement
Rich ran a private HVAC company for six years before joining Carrier and rose from a technician to the executive level. He's impressed with the training and advancement opportunities the company offers. "It really created and opened up so many career possibilities." The Employee Scholarship Program allowed him to continue his education and earn a master's degree in business. "If you have the desire and discipline to enhance your personal, professional, and technical skillset, Carrier provides the ultimate cultural environment and growth opportunities for you to achieve whatever personal success you desire to succeed."
Commitment to Inclusion
Steve points out that early career talent is now self-identifying in over 90 different ways. In addition, they want to feel they're making a difference and can be themselves. The job market is competitive, and young job seekers have more choices than ever. They're seeking more than pay and promotions. Purpose is one of the top three things young talent looks for when job searching. They also want work-life balance, the ability to dress and express themselves authentically, and the opportunity to celebrate holidays and recognitions that are important to them. "The best companies know there's a long way to go, but the reward is there," he says.
As a diverse employee with a son on the autism spectrum, Shondi Muir is passionate about D&I. She spent many years working in underserved communities and understands how being able to be one's authentic self is pivotal to doing one's best work. "I love the work we're doing at Carrier," she says, "It really energizes me every day."
Shondi explains that Carrier's commitment to developing diverse talent from the beginning to the end of their career is evident in its Diversity and Inclusion Brand: _belong ™. "It isn't just our branding. It's literally a way of life. I like to position the Belong philosophy as I Belong, You Belong, We Belong, not in spite of our differences, but because of our differences. We live and breathe it every single day. It isn't there to be our tagline on social media. It's not there as a way to attract employees- it does that, but it's not the why behind it and the why is so important." Carrier understands that only by leading with inclusion and diversity is it possible to attract the best talent.
Advice for Early Career Talent and New Graduates
Each episode of the #PeoplewithPurpose podcast ends with the same theme—what advice would you give to a new high school or college graduate about finding a career with purpose and meaning? The answers are insightful. Bill recommends researching and familiarizing oneself with a company's culture before you apply for a position.
What are they doing to give back to the community? What type of experience can you expect when you work there? In addition, get out and network. Meet people in different organizations. Find a mentor and when you find a good one, stick with them. Do what you can to get internships or co-ops with companies while in college. "Ultimately, the decision is yours," he says, "Know yourself and what your aspirations are… Do what makes you feel proud at the end of the day and know you're allowed to make changes along the way."
"The advice that I would give is, I understand it's more about purpose than technical acumen," Rich adds, "If you're looking for an associated community that truly engages in the right, purposeful value sets that are encouraged today, Carrier is a wonderful place to be. From a technician aspect for a young person wanting to find a wonderful opportunity, it's a great training medium alongside local apprenticeship programs."
Shondi rounds out the conversation, "I think it's really important for young people to find a company whose values align with their own—first they need to settle on what those are." Don't be afraid to take challenging roles. It's scary at first, but those are the ones that stretch you. Also, don't be afraid to pivot. Changing your mind is okay. All your experiences fit together like a puzzle. It doesn't feel like it at the moment, but you'll see it in the rearview mirror.
Listen Now
Be sure to listen to #PeoplewithPurpose Episode 10- How Belonging at Carrier Helps Diverse Talent Thrive for more of this conversation. If you haven't followed us already, be sure to subscribe to #PeoplewithPurpose wherever you get your podcasts.
If you're not sure where to start or could use a little help along the way developing a more diverse workforce, creating diversity hiring goals, or connecting with diverse candidates, be sure to check out Orion Talent's HirePurpose™ Diversity Sourcing and Talent Attraction Solution. We connect industry-leading companies with diverse job seekers desiring an inclusive workplace while helping our clients build a culture where all employees can bring their authentic selves to work each day.

RSS Feed
Subscribe to Orion's Blog