Manufacturing is in a pinch. As industry demands grow, so does the need for skilled technical talent, especially to replace those lost to retirement or the Great Resignation. But manufacturers are having a hard time finding the talent they need to drive innovation. Statistics uncovered in the 2022 Marcum National Manufacturing Survey reflect exactly that.
77% plan to increase headcount in the next 12 months, with 86% raising wages.
83% list securing and retaining skilled labor as one of their greatest challenges, with 21% listing workforce training.
The top three priorities for the immediate future are increasing productivity, leveraging technology to drive innovation and improve quality, and expanding product and service offerings.
"It is not surprising that more than 75% of respondents view their workforce as critical to the success of their businesses, and that the ongoing tight labor market—especially for skilled workers—remains a major concern," explains Marcum Office Managing Partner Jonathan Shoop.
Veterans are the Answer
Critical manufacturing jobs don't have to go unfilled. Many manufacturers are turning to military candidates to fill these roles and haven't looked back. Former service members are innovative and productive, addressing top priorities in the industry. These men and women possess unmatched technical training and expertise, proven leadership skills, and understand the relationship between quality, quantity, maintenance, safety, and the people they supervise. Having previously operated in a wide variety of military environments, veterans excel in any manufacturing setting.
From energy to medical and food & beverage to semiconductor, veterans make an instant impact. Military talent should be among the first considered for roles such as:
Operations Leadership
Maintenance Technicians
Quality Engineering and Improvement
Logistics and Transportation
Leadership Development Programs
Sales Professionals
Electricians
Production Supervisors
Project Managers
Field Service
Veteran Hiring in Action
One company that is a vocal proponent of veteran hiring in manufacturing is Siemens. This technology powerhouse is a long-time partner of Orion Talent for veteran recruitment and has recruited more than 2,500 veterans, with over 60% working in STEM roles. Specifically, many veterans at Siemens work in field service, a ubiquitous role in manufacturing.
"Our Veterans possess exactly what's needed in this moment of digital transformation. Not only do they have strong technical skills and leadership experience, but they know what it's like to advance a mission bigger than themselves," explains Barbara Humpton, Siemens USA CEO, "At Siemens, our mission is to serve society. And so, we're thankful for the Veterans who've joined our team."
The Benefits of Upskilling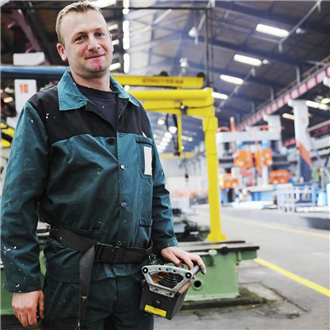 Many companies recruit veterans for the hard skills they already possess, but there is a growing number of companies that are realizing that the soft skills these men and women possess are just as, if not more, valuable. Between the leadership, dedication, problem solving, and work ethic these veterans bring to the table, they represent an excellent talent pool from which to recruit.
Upskilling enables companies to expand their access to this military talent who may not be technically trained in a specific specialty. In doing so, manufacturing companies can train on the specific traits necessary to best perform their job. This allows a company to gain a competitive edge and stay ahead of the growing manufacturing skills gap. There are many types of government, veteran, and channel partnerships, including Department of Defense SkillBridge and Department of Labor apprenticeships, as well as other veteran resource groups training and upskilling programs, that can help you achieve an effective veteran upskilling program.
A Way Forward for Manufacturers
According to Sarah Peiker, CEO of Orion Talent, "The solution is right in front of us– we simply must connect employers with this military talent. They can be deployed quickly and at scale to fill critical skills gaps in America's skilled manufacturing, semiconductor, cybersecurity, and infrastructure sectors."
With over 31 years' experience in veteran recruiting, Orion Talent can help manufacturers achieve their military hiring goals. Our proprietary military database of leadership and technical talent and deep-rooted networks within the military mean we can deliver the veteran talent you need to close the skills gap and revitalize the industry. Learn more about our recruiting services for manufacturers here and visit our HireSkills Consulting page to find out how we can help you upskill and build a robust pipeline of military talent.

RSS Feed
Subscribe to Orion's Blog