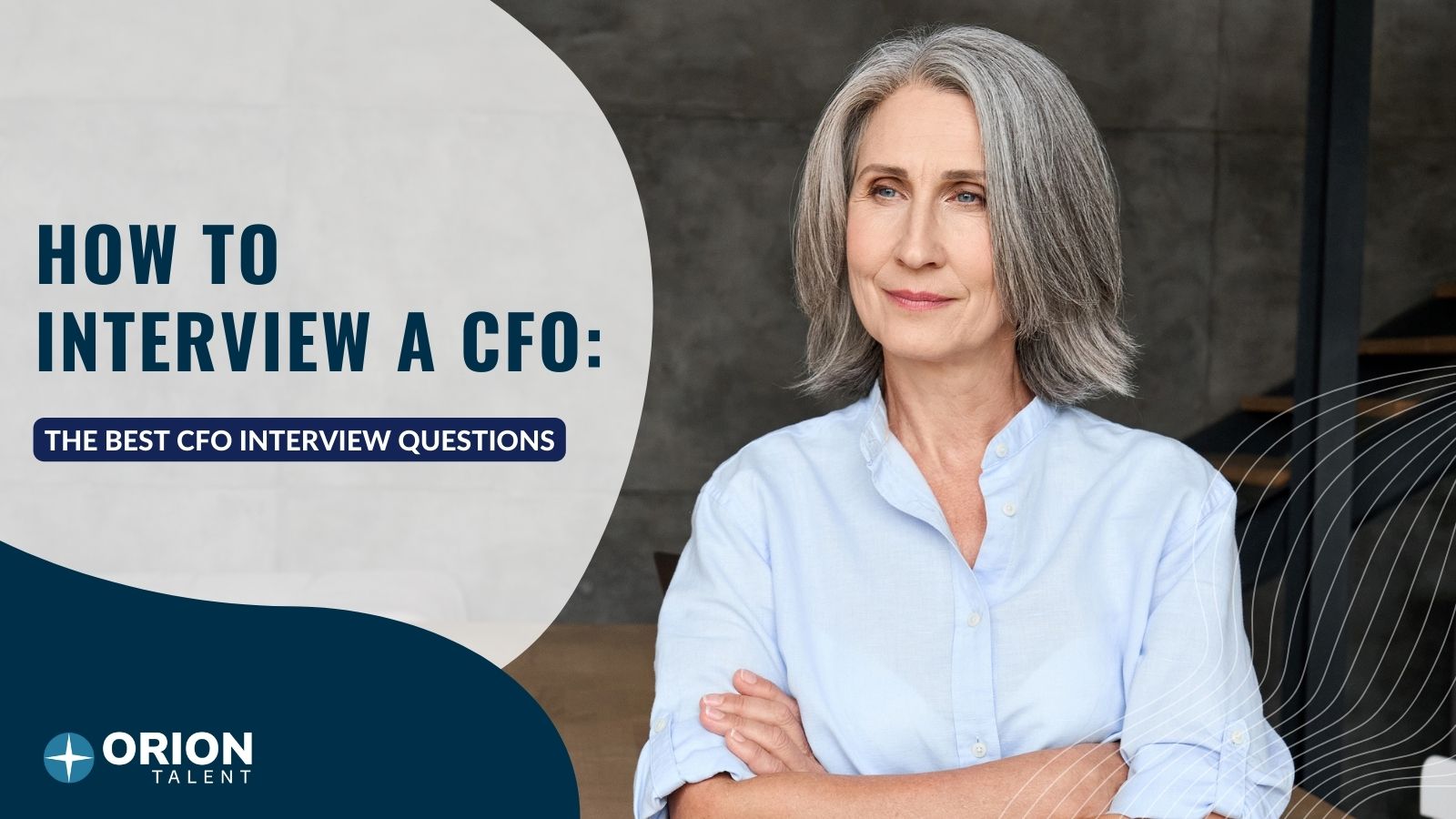 When searching for your new CFO, asking the proper interview questions is imperative. These questions can help tease out the information you need to decide if this is the right candidate to optimize the financial performance of your company.
Orion Talent Account Executive Tiasha Bowie explains, "Finding the right CFO means everything for the business. The CFO is the driving force behind the profitability of an organization and can set the business up for success or failure. Allocation of financial resources, strategy and understanding how external factors such as the economy, supply chain, etc. affect growth is how the organization will position itself to be a leader and ahead of the game."
So what questions should you be asking? Read on for a comprehensive guide to CFO interview questions.
How to Interview a CFO: Tips for Hiring Managers
When beginning the search for a CFO, it is important to look for candidates with the right mix of hard skills, leadership, and vision. CFOs need to be strong leaders that understand the entirety of the business and its model. They should lean forward into change and work to make processes efficient. Your top candidates should also have an understanding of technology and the impact it has on the success or failure of an organization. Overall, a strategic mindset and the ability to address potential problems before they begin are must-haves.
The Best Types of CFO Job Interview Questions to Ask
Hard Skills Questions
These types of questions can help pinpoint a candidate's technical knowledge and abilities. Answers should illustrate that the candidate is in touch with relevant economic, industry, and marketplace trends.
High level financial strategy
Budgeting and forecasting
Navigating mergers and acquisitions
Growth strategy
Leadership Questions
Ask questions that tease out not just how they operate as an individual, but also as a leader. And remember that the leadership skills needed for a CFO are very similar to a CEO.
Leadership style
Communication
People management, hiring and firing, and talent acquisition
Behavioral & Culture Fit Questions
A CFO candidate that fits with your culture and shares the company's goals is more likely to be successful in their role. Determine what those goals are and what type of personality is a match.
Hard Skills Questions for CFOs
High level financial strategy
How do you view strategic finance and the way you can impact/drive growth within an organization?
What are your 3 most important initiatives when building the foundation of a strong financial platform?
How do you apply financial strategies to solve business problems?
Budgeting and financial forecasting
If you noticed the annual forecast projects a revenue decrease, how would you solve this problem?
What are the most important elements of developing an annual budget?
Do you believe there are benefits to using a zero-base budgeting system?
Growth strategies
What have you done in the past to help a company like ours grow and/or scale?
What is your experience with risk management?
Walk me through your process of how you might grow a company like ours from $x million to $xx million.
Technical finance proficiency
How do you determine the profitability of an investment?
What metrics would you monitor regularly?
Tell me about a time you simplified or streamlined an accounting process.
Mergers and acquisitions
Why are deferred tax liabilities created during merger and acquisition deals?
Tell me about a time when you navigated a merger and acquisition event for a company.
What major factors drive mergers and acquisitions?
Leadership Questions
Leadership style
What is your leadership style and perspective on change management?
What are the most difficult decisions for a CFO to make?
How do you mentor your team?
Communication
How would you communicate bad news to the board of directors?
How would you overcome communication challenges on a remote team?
How would you describe your communication style?
People management & talent acquisition
How do you approach strategic workforce planning?
How do you foster ethical behavior in your team?
How do you handle conflict in a group?
Behavioral & Culture Fit Questions
Behavior & personality
If you weren't a CFO, what do you think you would do to earn a living?
How would you describe your professional CFO demeanor, especially when dealing with challenging situations?
What do you do for fun?
Culture fit
Tell me about the best CEO you've ever worked with.
What are your career goals and aspirations?
In what ways do you align with our company culture?
Questions You Can Answer for Your CFO Candidates
Good CFO candidates will come to the interview with a few questions of their own. Be prepared to answer questions like:
If I were to start today, what would be my top priority?
May I have an organizational chart to better understand the company?
Tell me more about the company's debt tolerance, forecasting, cash flow, budgeting, and expense control.
CFO Recruiting
"A CFO is not just a finance person, they are the glue that holds everything together and the mind behind expansion/growth. They lay the foundation and then stack the building blocks," says Tiasha. CFOs improve business performance, turn risk and compliance into opportunities, develop strategic initiatives, and accelerate growth. When it comes time to hire your next CFO, leveraging the interview questions listed above can help you find the right leader who can inspire trust and drive value.
Orion Talent is here to connect you with the top talent and industry leaders you need for your open CFO position. Visit us online to learn more. And for more CFO recruiting advice, check out How Much Industry Experience Does Your New CFO Need? by Orion Talent Director of Recruiting Yasmine O'Brien.

RSS Feed
Subscribe to Orion's Blog