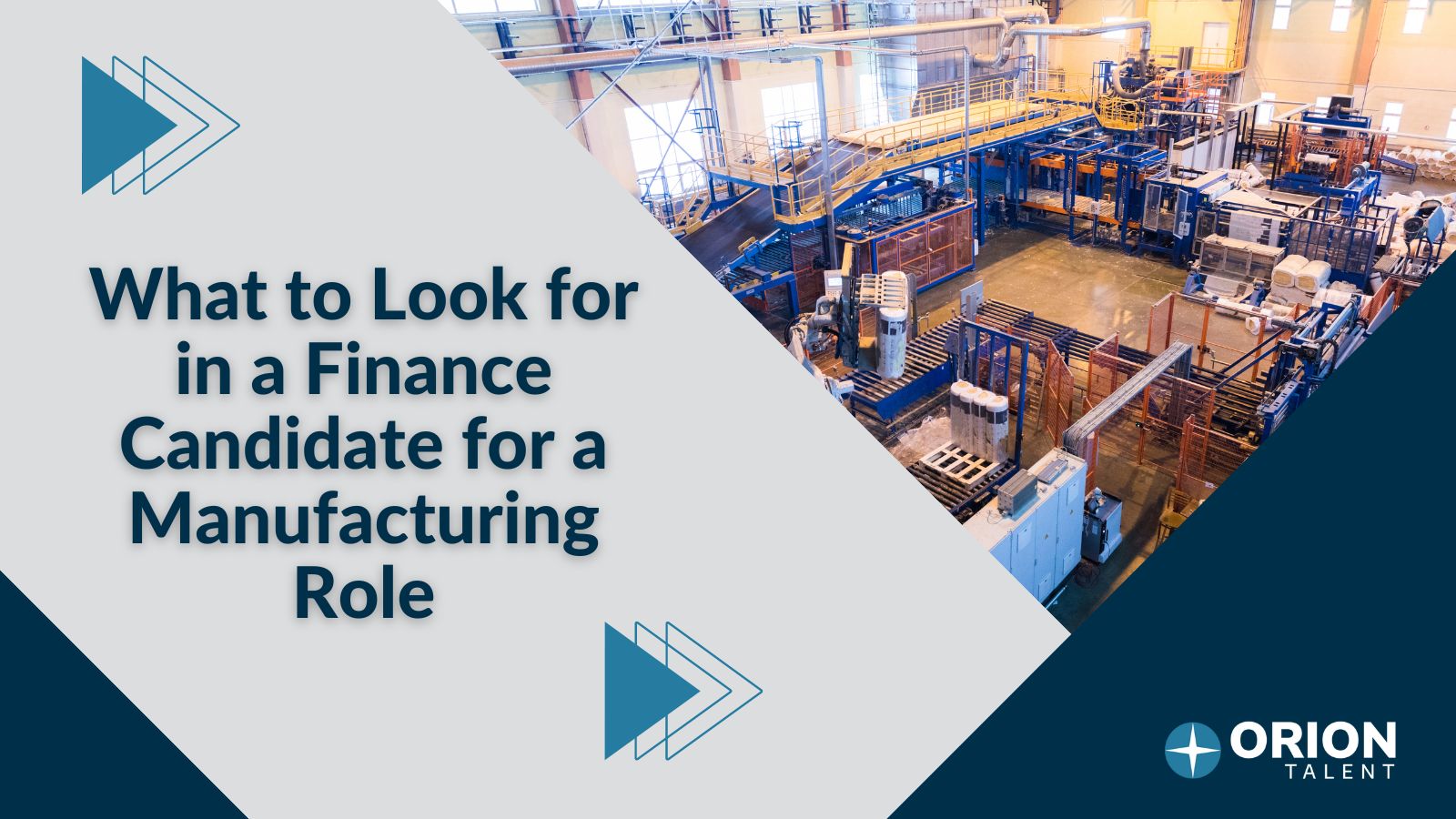 The role of CFO is changing, especially as it pertains to manufacturing. While CFOs should always be focused on the finances of the company, today's market trends demand an eye for innovation, security, regulations, and compliance. Strategy is the name of the game - technological, investment, or performance.
When hiring for executive finance in manufacturing, what are the benefits and negatives of hiring someone from within industry versus coming from another area?
The benefits of hiring a CFO from within the manufacturing industry are that the candidates will understand the manufacturing "language", making the transition easier. CFOs with manufacturing experience will have utilized similar SAP/ ERP systems and be more familiar with AP/AR and reporting and analysis of plant performance and inventory controls. They will also most likely have more experience with cost accounting and capital spending.
In her article for CFO magazine, Yasmine O'Brien, Orion Talent Director of Professional Search, points out "an industry-experienced CFO can quickly serve as a strategic partner to both the C-level team and non-financial areas of the business such as marketing and operations."
However, Director of Finance Recruiting Karen Ellis explains, "Hiring a candidate from outside of manufacturing can bring fresh insight to the table. In a tight labor market, while the transition into the role of CFO may take a bit longer, I would suggest giving candidates outside the manufacturing sector consideration." It is also important to consider that many industries are related, so crossover makes sense.
Example Job Description for a Chief Financial Officer or VP of Finance in Manufacturing
If you are recruiting a CFO for your manufacturing company, you can find a sample job description below:
The CFO manages financial planning by ensuring accuracy, monitoring, making recommendations on, and processing financial reports, expenses, budget goals, financial loss and revenues, tax obligations, and financial disputes. You will also oversee and manage lower-level financial managers. The ideal CFO will manage risk and invest in technology with an eye for strategy.
What Qualifications should a CFO or VP of Finance have for a role in Manufacturing?
Typical CFO / VP of Finance qualifications include:
Excellent leadership, organizational, and decision-making skills.
In-depth knowledge:
financial industry
current market trends
data analysis and forecasting methods
corporate financial law and risk management practices
SAP/ ERP systems
Proficient in the use of MS Office and financial management software
Proven record of strategic thinking and problem-solving.
Superb communication and people skills
CPA is a plus
BSc/BA in Accounting, Finance or relevant field; MSc/MBA is a plus
Example Duties / Responsibilities of a CFO or VP of Finance in Manufacturing?
Below are example CFO / VP of Finance responsibilities:
Report on and analyze of plant performance and inventory controls
Perform risk management
Choose on investment strategies
Evaluate fundraising plans and capital structure
Ensure appropriate cash flow
Supervise all finance-related departments and employees
Manage vendor relationships
Prepare current and forecasting reports
Oversee the company's finance IT system
Ensure compliance with the law and company's policies
Find your next CFO with Orion Talent
An efficient way to connect with top CFO candidates is through a finance recruiting firm like Orion Talent. The war for talent doesn't stop at the C-suite, so it is always a good idea to have an experienced partner by your side who can help vet and recruit your company's next finance leader. Visit us online to learn how we can connect you with top talent and industry leaders with 10+ years of leadership experience.

RSS Feed
Subscribe to Orion's Blog