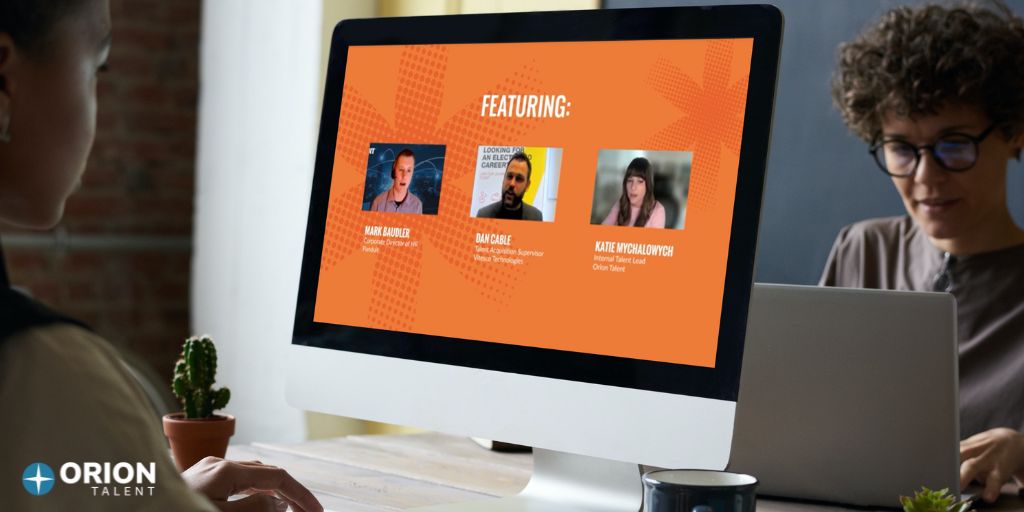 Breaking the Rules
Earlier this month, we gathered talent acquisition leaders from Panduit, Vitesco Technologies, and Orion Talent to discuss common recruiting practices that no longer work in Recruiting Rules to Break: Outdated Talent Acquisition Strategies to Leave Behind. During this talent shortage, coming to the interview table with tired and outdated recruiting strategies will not win companies the best candidates and could even hurt their efforts!
Talee Brock, Vice President, Business Development, Orion Talent moderated, and was joined by guests Mark Baudler, Corporate Director of Human Resources, at Panduit; Dan Cable, Talent Acquisition Supervisor, at Vitesco Technologies; and Katie Mychalowych, Internal Talent Lead, here at Orion Talent. Mark, Dan, and Katie provide insight into new recruiting avenues, challenging norms, and leaving behind gut-instinct hiring.
"To break the convention, we are making sure we look at big picture hiring goals. For [Orion Talent], it's specifically our company's commitment to diversity and inclusion. We hold ourselves accountable to these objectives, and I like to remind our managers that we are building the future of their team and the future of Orion," explains Katie, "Are we doing a good job in reflecting our leaders' vision of being a diverse, well-rounded organization or are we simply defaulting to filling the role?"
Webinar Highlights
Why should we be breaking these recruiting rules?
Which rules should we break?
What recruiting strategies should replace those bad habits?
Key Takeaways
Check out our short (two-minute) video below featuring Key Takeaways, including:
Think outside the box - Get creative
Switch culture fit for EVP excellence - Make the likability choice theirs.
Never say "never." - Be open to non-traditional candidates
Download the Webinar
You can watch the full webinar for more insight into developing the recruiting strategies needed to attract and retain top talent in today's tough market. Get even more insight into other talent acquisition topics focused on DEI, like the Great Female Resignation, addressing unconscious bias, and building an inclusive culture in our Diversity, Equity, & Inclusion Webinar Series. These webinars share practical advice and takeaways you can implement right away.

RSS Feed
Subscribe to Orion's Blog