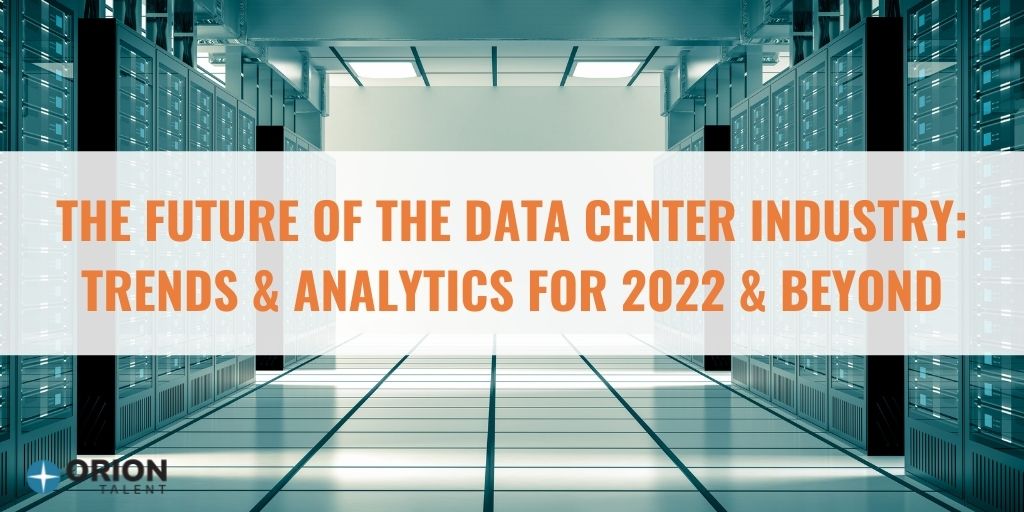 What is a Data Center
Data centers contain physical or virtual servers that are connected internally and externally through networking and communication equipment to store, transfer, and access digital information. Each server has a processor, storage space and memory, similar to a personal computer but with more power.
Data centers are designed to centralize shared IT operations and equipment. In recent years, data centers have shifted from just servers to enabling digital infrastructures. Data centers are vital to the continuity of daily operations, whether it be an individual, business, city, or country.
Data Center Industry Growth Projections
The data center industry is growing at a record rate. The global data center market is projected to grow by 10 percent from 2021 to 2030, and jobs in the field are expected to increase steadily through 2025. Data center construction is currently among the hottest real estate investment sectors in the U.S., due to the increased demand in the industry. If you are seeking a high growth career in the technology field, a career in the data center industry is a great opportunity.
New data centers are being constructed at an ever-increasing rate
Data center construction has seen a surge in recent years, fueled by a huge growth in e-commerce. According to a recent data center report, 95% of real estate and infrastructure consultant experts predict a high construction demand in 2022 and beyond. Data center facilities are expanding in places like Phoenix, Dallas, and Austin.
The data center construction market is expected to grow 5.9 percent through 2027. Major companies such as Google, Facebook, Microsoft, Oracle, Amazon Web Services, and Apple are involved in development and operations of these data centers and are responsible for the growth in construction.
Data Center Job Growth is at an All Time High
Data center jobs are expected to continue to grow, with an increase of 2 percent annually through 2023, and 3 percent by 2025. High demand positions in the data center industry include:
Data Center Technicians: Data Center Technicians operate, monitor, maintain, and respond to abnormal conditions in facilities systems, such as electrical, mechanical, and building monitoring and control.

Facility Engineers: Facility Engineers oversee and monitor critical data center building operations including adjustments to Heating Ventilation & Air Conditioning systems, electrical systems, Building Management Systems (BMS), and/or water systems. Electricians: In this role, Electricians troubleshoot and locate electrical problems in a variety of electrical equipment, controls, and electrical systems.

Production Leaders: Production Leaders are responsible for managing Data Center Technicians in the maintenance of data center environment and ensuring all customer server environments are secure, operational, and highly available.

Engineers: Engineers build and support secure computing environments that will be used operationally to support customers.

Project Managers: Project Managers prepare commissioning plans, perform prefunctional checklists and test procedures, perform construction inspections, test equipment systems, and write reports.

Maintenance Technician: Maintenance Technicians perform complex preventive maintenance and corrective repair of buildings, industrial systems, vehicles, equipment and grounds.
Transitioning military and military veterans are well suited for data center industry roles. Military occupations that do well in this industry include:
Navy Nukes

Navy Conventional Machinist's Mate

Navy Submarine Auxiliary Machinist's Mates

Army Prime Power

Conventional Electricians

Gas Turbine Electricians (GSE)

Air Force Air Ground Equipment Technicians

Air Force Red Horse Prime Power Electricians
Key Growth Drivers in the Data Center Industry
Growing digitalization owing to COVID-19, adoption of cloud and advanced technologies such as AI, IoT, big data, and the deployment of 5G are some major factors driving the data center market. Reliance on technology platforms is at an all time high, creating a demand for more data centers across the country.
Internet of Things
The "Internet of Things," or IoT, refers to the network of physical objects, or "things" that are embedded with sensors, software, and other technologies for the purpose of connecting and exchanging data with other devices and systems over the internet.
The number of connected IoT devices is expected to reach 14.5 billion globally by the end of this year, and the market size is expected to increase by $695 billion between 2020 and 2025. This increased number is due to expanding urbanization, with a surge in the number of smart city projects and an increase in government investment in the digital network.
Cloud Storage
Cloud storage is a cloud computing model that stores data on the internet through a cloud computing provider who manages and operates data storage as a service. It's delivered on demand and eliminates buying and managing your own data storage infrastructure.
Cloud storage is expected to grow to $137 billion by 2025, a 21% increase from the previous years. The surge in demand of low-cost data, faster accessibility, and the adoption of cloud storage by various industries are some of the factors fueling the cloud storage market growth trends.
Submarine Cable Projects
A submarine cable system consists of a communication cable laid on the sea bed between cable landing stations on land that carry telecommunication signals across stretches of ocean. Submarine cable systems generally use optical fiber cables to carry international traffic. There are approximately 400 subsea cables in operation, reaching up to 10,000 miles in length.
The submarine cable system market is expected to grow 12 percent by the end of this year, from $14 billion to $16 billion. While in the past most submarine cable projects have been owned and operated by telecommunications companies, large internet companies such as Google, Microsoft, and Facebook have entered the area, as well, and are responsible for the growth in projects.
New Tax Incentives
Many states are offering tax incentives to data center companies who choose to build data centers in qualifying states. While data center companies will individually lobby taxing authorities, many states have specific programs already in place. Most states offer qualifying data centers a sales tax exemption for equipment, based on stipulations such as an investment or employment threshold or building a data center in certain rural or developing areas in the state.
Data Center Industry Trends: What's Shaping the Industry in 2022
The future of the data center industry is focused on dealing with the challenges of growth and the data center industry's vital role in a digital society, supply chain challenges, and the urgent need for progress on climate change.
How Climate Change Affects Data Centers
Data centers have a huge impact on the world, so it's important that the industry takes steps to become more sustainable. Data centers contribute 2 percent of the total green gas emissions. Environmentally friendly data centers are becoming more prominent, and the industry is taking steps to reduce their carbon footprint by recycling and reusing data center equipment.
In addition, climate change plays a major role in data center site selection for new construction. Data center locales that are prone to natural disasters, such as hurricanes, flooding, earthquakes, etc., are not ideal as a data center construction site, since many people rely on the stability of data centers to keep technology running smoothly.
Uptime & Resiliency: Preventing Large Scale Cloud Outages
There have been many cloud outages in recent years that have halted services, impacting businesses on a massive level. Apple, Microsoft, IBM, and Google all experienced major cloud outages, resulting in significant downtime for other major sites.
These cloud outages have spurred a movement toward optimizing systems and architectures to avoid this problem in the future. Contingency plans such as designing, building, and maintaining multiple levels of redundancy across all key points of failure in a system have been proposed and put in place. Hiring and maintaining qualified talent also helps to ensure these cloud outages do not become a hindrance to the industry in the future.
Supply Chain Challenges
It's no secret that the pandemic has hit the supply chain especially hard, which has impacted the data center industry, as well. Data center equipment has experienced shortages and long lead times. The industry has had to develop a set of strategies to navigate these pressures, including holding more inventory, ordering equipment ahead of time, and working ahead on forecasting future trends for next year and beyond, to ensure that the industry continues to deliver.
These supply chain shortages have served as a catalyst for mergers and acquisitions. Big names in the industry are aggressively expanding their operations and taking advantage of the growing industry.
Investment in smaller regional markets
Another rising trend in the data center industry is investment in smaller, regional markets. Due to the reliance of the Internet, there is a need for data centers in regions of the country that would not normally be considered major technology hubs. Boise is on track to become the next Silicon Valley, on par with major technology cities such as Austin, Seattle, and San Francisco.
In addition, Detroit, Pittsburgh, and Sun Belt cities such as Orlando and Dallas are experiencing an inflow of technology in their respective regions. This distributed architecture across the country is beneficial for the industry, allowing for a more robust data center infrastructure and providing major growth.
Liquid Cooling Technology
Liquid cooling technology is a rising trend in the data center industry. Liquid cooling technology is a more efficient, cost-effective, and quieter cooling technique to help lower the temperature of data center equipment. It can be up to 3,000 times more effective than using just air to cool equipment. By utilizing a more effective cooling technique, data centers can continue to operate at a higher level of efficiency.
Conclusion
From submarine cables to liquid cooling to data center construction, career opportunities in the data center industry have never been better. If you have been considering a career in the rapidly growing data center industry, now is the time!
Looking for a career in Data Center? Take a look at Orion Talent's data center jobs? Listen to our podcasts, read common types of positions we typically recruit for in the data century industry, and search our current openings here.
Are you an employer looking to improve your talent acquisition? Take a look at Orion Talent's data center recruitment solutions.

RSS Feed
Subscribe to Orion's Blog