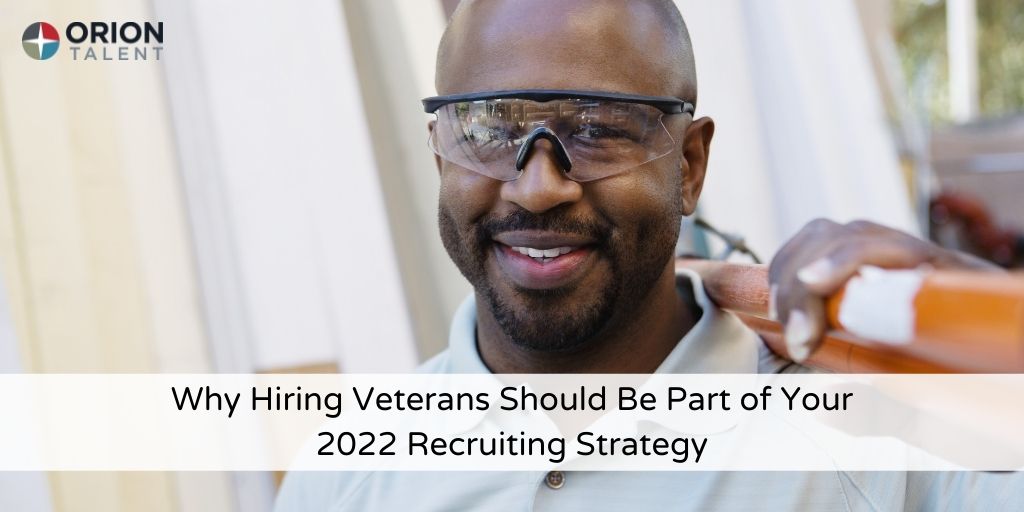 HR Morning, which provides the latest HR and employment law news for HR professionals, recently published a series of articles covering 2022 workplace trends and ideas for building a more diverse workforce. Written by Michele McGovern and featuring Orion Talent CEO Sarah Peiker, both articles point out that hiring veterans should play a large part in 2022 hiring strategies.
2022 Workplace Trends
In 2022 workplace trends: What HR needs to know – and do – now, Michele lists trends such as:
Hiring evolves
Uncertainty
Remote work leaves onsite issues
Engagement issues
Safety, health concerns
Focus on well-being
According to Michele, it will become increasingly difficult to find good talent and HR professionals will need to recruit from new places. Finding and hiring recent military veterans is one of those growing recruiting trends.
Sarah tells Michele, "The hiring and reskilling of veterans can be an extremely viable way to address the skilled talent shortage. They also have a strong sensibility about the dynamics between quality, quantity, maintenance, safety, procedural compliance and the people they work with or supervise."
Building a More Diverse Workforce
In her second article, The new push for DEI: Strategies for better recruiting and hiring, Michele lists the following five ideas to build a more diverse workforce:
Broaden your view of DEI
Stretch your search
Partner with marketing
Rethink, redo requirements
Look to veterans
She points out that veterans are an underrepresented population that bring diverse skills and insight to the workforce. Once again, she turns to Sarah for insight into this highly talented group.
"Most veterans get impressive amounts of advanced training in their area of focus, and are known to be quick learners and disciplined, dedicated team players," explains Sarah. "They're used to working autonomously in stressful environments, and know how to stay focused on deadlines and the mission, even in the most high stakes situations."
Veterans are the Solution
As evidenced by Michele's articles, veterans are an excellent talent resource for companies looking to overcome turnover, skill gaps, and broaden their DEI strategy. Orion Talent has been helping connect companies with outstanding veterans for more than 30 years and can help you if you aren't sure how to get started. Contact us today to get started.
Learn More about Hiring Veterans
Download our e-book - Military Solutions for the Business of Work: Unexpected Lessons in Getting the Job Done & Getting Ahead
Attend our webinar on January 20 - The Unexpected Workplace Advantages of Veterans: How to Leverage Military Success for Workplace Victory

RSS Feed
Subscribe to Orion's Blog