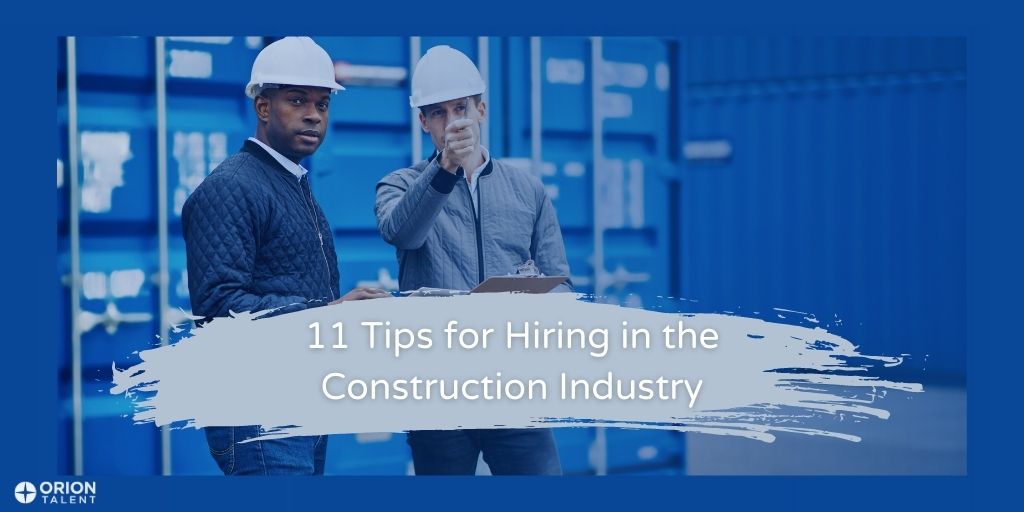 Residential, commercial, or industrial construction projects require skilled talent to run smoothly. But, with workforce challenges facing the industry, managers are left wondering how to find the candidates they need to ensure the seamless operation of their construction project. The first thing construction companies should do is examine why hiring can be difficult. Armed with this information, they can better develop strategies to attract the talent they need to stay competitive in a tight labor market.
Why can hiring and staffing in the construction industry be difficult?
The construction industry is consistently encountering workforce challenges, such as an aging workforce, an absence of college graduates interested in the field, or a lack of candidates with the hard skills the industry requires. This is especially true in a post-COVID world where construction is gearing up, and the labor market is tight.
Virgil Medeiros, Director of Construction Recruitment at Orion Talent, provides more insight into how these obstacles affect talent acquisition in the industry. "Companies have gone years without attracting new talent and are now running into a shortage of industry experience nationally due to retirements," he explains.
"Additionally, another mistake I see is when companies ignore intangible skills like interest, drive, intelligence, leadership, acumen, level-headedness in stressful situations, and personality which can't be taught, but instead focus only on tangible skills, which can be taught," Virgil says. Another important factor is how efficient the interview process is. When interviews are drawn out, even the strongest candidates lose interest and can be lost to a competitor.
How can you recruit construction workers?
Recruiting construction talent in today's market requires a new approach. Business as usual won't cut it as companies work to entice candidates in a seller's market. Here are Virgil's top four tips for recruiting top talent for construction positions:
1. Adapt to the market by opening up required qualifications to reduce required industry experience.
2. Create a quick and efficient hiring process, which includes no more than two interviews and has a decision back to the candidate within 7-10 business days from application.
3. Partner with an organization that has market data on the hires you need to make, so that they can provide insight on what is necessary to attract, hire, and retain a good candidate.
4. If your growth, turnover, or other staffing needs exceed your team's ability to fill positions efficiently, consider partnering with a recruiting firm like Orion Talent.
How can an employer's brand improve finding great talent?
An employer brand communicates to candidates who you are as a company, what your culture is like, and what they can expect as part of the team. Your employer brand is best stated through an Employer Value Proposition. In it, you have to clearly illustrate what makes your company different and consider the type of employee you want to attract to accomplish this.
But, getting the candidate in the door and hired is not enough. Onboarding is key, as turnover is costly and can negatively affect your employer brand. Consider ways to continually engage your new construction talent, whether it be through learning and development opportunities, affinity groups, and mentorship programs. Cory Kruse, President of Orion Talent, RPO Solutions, offers his retention tips specifically for the construction industry in this ProBuilder article.
Where are good places to post job listings for construction workers?
There are plenty of websites where construction companies can post job listings. And while they may gather a fair amount of resumes, there is no guarantee that the candidates are qualified. This is often a good point at which to consider if your recruiting strategy is targeted enough. If your goal is quality over quantity, it may be time to consider calling in a recruiting firm that will present you with pre-screened, assessed, and qualified candidates at whatever scale you need.
More Tips
In addition to Virgil's tips above, it is important to make sure you are approaching your overall recruiting process in an orderly way. You can do so by following these tips:
Forecast talent needs.
Analyze your current workforce.
Implement strategies to close talent gaps.
Update recruitment technology as needed.
Source and recruit talent.
Manage talent.
Analyze and fine-tune.
Gain a Competitive Edge
A well-thought-out yet flexible recruiting strategy is necessary in today's talent acquisition environment. For construction companies seeking to hire the best talent, it is important to keep the interview process short, look beyond tangible skills, and develop a reputation as an excellent employer. If you need assistance with any of these steps, Architecture, Engineering, and Construction Professional Search from Orion Talent can support your needs. Learn more about our construction recruiting solutions.

RSS Feed
Subscribe to Orion's Blog