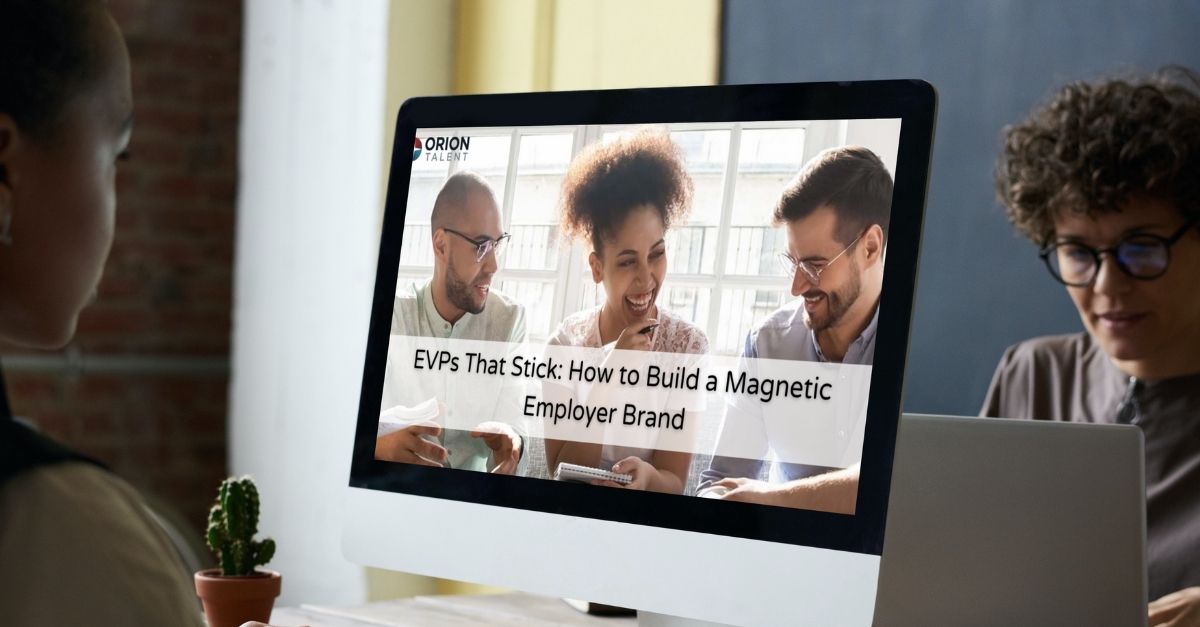 Orion Talent recently presented "EVPs That Stick: How to Build a Magnetic Employer Brand," a webinar featuring three business and talent acquisition leaders who discuss their employer brand strategies.
Moderated by Steve Amsden, VP Corporate Partnerships at Hirepurpose, the webinar shared insight from Kevin Kopa, President and COO at JDog Junk Removal & Hauling; Terri Lawless, Senior Staffing Manager at Stop & Shop; and Elly Zemetra. Senior Director Talent Management at BrightView Landscapes.
What is an Employer Value Proposition?
An Employee Value Proposition (EVP) is part of an employer's branding strategy and is a statement of the value current and future employees gain from working in your organization. More than a mission statement, a well-thought-out and employee-tested EVP is critical in the war for top talent.
Some of the questions our experts answered in this webinar are:
How do you define an authentic Employer Value proposition?
How do you use your brand & EVP to attract top talent?
How do you reach diverse candidates with your EVP & recruitment practices?
Key Takeaways
Check out our short (less than 90 seconds) video below featuring Key Takeaways, including:
Understand What Matters to Your Team
Speak to Values and Purpose
Monitor and Measure Success
Give Employees a Big Voice
Download the Webinar
You can also watch the full webinar to see how you can put these EVP best practices at work in your workplace. You can get even more insight into other talent acquisition topics focused on DEI in our Diversity, Equity & Inclusion Webinar Series. These webinars share practical advice and takeaways you can immediately implement.

RSS Feed
Subscribe to Orion's Blog