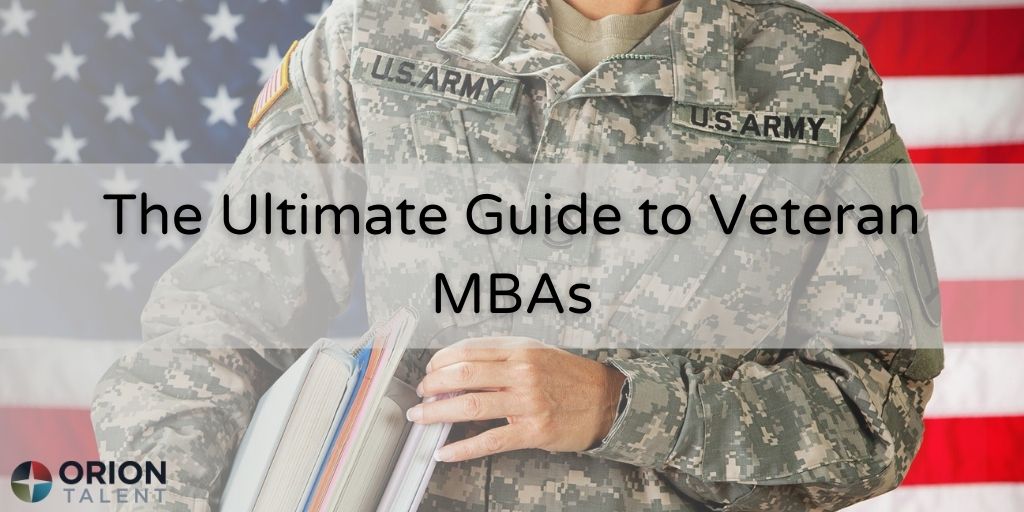 In recent years, more and more veterans have made the decision to enroll in MBA programs, mostly to help with transitioning to a civilian career. Many veterans also want to take advantage of the GI Bill and other programs that are in place to help active duty servicemembers and veterans achieve a higher education.
For many veterans, the decision to pursue an MBA is a no-brainer, especially because veterans make great candidates for MBA programs. The soft skills that they have learned in the military - discipline, communication, ambition, etc. align for a successful MBA candidate.
However, with so many MBA programs out there, it's hard to know which one is the best fit, especially for veterans. Read below to learn more about:
a) Why veterans should consider an MBA?
b) What veterans should look for in an MBA program?
c) What are the best online MBA programs for veterans in the U.S.?
d) What are the best In-Person MBA Programs for Veterans in the U.S.?
Why Veterans Should Pursue an MBA
This section is authored by Jericho Urmenita, an Orion Talent Recruiter, USMC Officer and USNA graduate. In this section, Jericho discusses the determining factors that transitioning military should consider when pursuing an MBA.
Define your purpose. Why do you want an MBA?
Many folks that go to get an MBA are attempting some sort of progression. More pay? Higher level position? Status Points? You need to be honest with what it is you want, and I encourage people to get down two or three layers beyond their initial want.
Are you seeking to get into the business world, manage profitability and perhaps own your own business someday? An MBA may be a solid goal to help get you down that path. Many MBA programs even offer branch outs and specialty courses in entrepreneurship.
Think hard about why you want an MBA and make sure it can indeed get you there.
Timing. If I want to get one, should I get it straight out of the military or work first?
Timing is everything in many aspects of our lives, MBAs to be included. There is no wrong answer here if you know what you are going for.
Straight out Path: The most common pathway I see for those getting an MBA straight out of the military is a networked path into the business world or through what is commonly referred to as a Business Development or Leadership Development role.
Orion has great partnerships with companies like Quidel and Ecolab that run these types of development programs. They typically consist of a significant training period on the order of months to a year or slightly more, then you would be assigned your own territory to manage. You would then be fully in charge of the profitably of that territory leading a team that could include salespeople, service technicians or admin staff. Something to keep in mind is that after training, you usually must relocate to a territory that is available which may or may not be in a preference area of yours. On the other hand, operationally focused roles that require an MBA will typically also require three to five years in that industry along with the MBA to make it work.
Work First Path: As I briefly stated above, working first gives you a few more pathways to leverage an MBA. I rarely, if ever, open a position that lists an MBA with some leadership background as the sole requirement. These roles may be positions like Branch Manager or Regional Manager and often carry with them a flavor of Profit and Loss (P&L) management. Here again we see that if you want to use that MBA, managing money typically comes with it.
Remember, you got a degree in business administration, not operations administration. That means managing profitability at the end of the day.
The need for industry experience will go for engineering leadership roles as well although it is less common to see high level engineer roles seeking an MBA. Higher level sales roles are among the most common we see that require an MBA after a couple years of selling.
Do I know what jobs require an MBA? Are those the jobs I want?
There are many jobs which will require an MBA and many that do not. A quick scan of our position database and my own open positions over the past two years yields the following data:
Operations job titles requiring and MBA: Accounting Manager, District Manager, Branch Manager, Finance Manager, Global Supply Chain Manager, Director of Manufacturing Operations
Sales job titles requiring an MBA: Regional Sales Manager, Account Executive, Account Manager, Business Development Executive, Director of Business Development
There are 30% to 40% more sales focused positions than ops positions on average where you could seek to leverage an MBA. Keep in mind also that again, many of these operations roles require three to five years of experience for you to leverage your MBA. Do you want the job now? Then you are likely looking at a sales role. Are you not seeking to be in sales or really deal with profitability at all? Then perhaps you will not need an MBA. Are you willing to put some time in the operations leadership world before getting the MBA to leverage it down the road? Then maybe higher-level operations roles will be available to you a few years from now.
What should a Veteran look for in their MBA program?
This section is authored by Abigail Khushf, a US Navy Aviator and recent graduate of Johns Hopkins University - Carey Business School. In this section, Abigail discusses what a veteran should look for in their MBA program.
First, check that the college or university has Yellow Ribbon Status. Yellow Ribbon schools ensure that Veterans with 100% of their Post-911 GI Bill benefits receive 100% of the tuition. If you don't have 100% of your benefits, you will get tuition covered in accordance with the percentage of the benefit that you have earned. Also, most Yellow Ribbon Schools have a limit on how many students they can offer Yellow Ribbon Status per academic year. I recommend reaching out to the University's Veterans Assistance Office, even before you are accepted so that they know that you intend to use your benefits upon enrollment.
Second, look for programs with hands-on learning or practical experiences. As a Naval Aviator, I learned best when I came to briefs with a baseline understanding of the material and then applied my knowledge to the task at hand. Most Veterans can fearlessly critique their own performance and perform exponentially better on a second iteration. This is a unique skillset. It makes practical coursework engaging, enjoyable, and an opportunity for excellent performance
Finally, I looked for programs that would vastly expand my network. In my opinion, 50% of the program's value is the networking opportunities. I add or follow every classmate and professor on LinkedIn. Except for two residencies in Baltimore, my entire program was designed to be remote, so I researched and selected a program that prioritized online networking opportunities. "Handshake" is the online platform that my school, Johns Hopkins Carey Business School, uses to connect business school students with alumni. In normal times, Carey hosts multiple internship symposiums and seasonal networking events to connect diverse communities. Despite COVID and the subsequent preference for virtual networking events, Johns Hopkins has continued to prioritize this aspect of the program.
In short, MBA programs assist veterans in understanding how to apply military skills in civilian environments. It's important to find a program that helps you cover costs, suits your learning style, and pushes you to branch out and network beyond your comfort zone. With all three, you will quickly uncover and explore new opportunities.
What are some of the best MBA programs for Veterans in the US?
Below are some of the best online MBA programs for veterans, and the best value MBA programs for veterans
Best Online MBA Programs for Veterans
Indiana University - Bloomington, Kelley School of Business
About: Kelley Direct, IU's online MBA program, allows high-caliber working professionals to earn the world-renowned Kelley MBA while enjoying the ultimate in customization through 50% elective coursework. In addition to the flexibility inherent in an online program, students have 2-4 years to complete the program and learn from the same Kelley faculty that teach in their highly-ranked full-time and part-time MBA programs.
Cost: $1,380/per credit
Number of Veteran Graduates: 150,000

University of Florida, Warrington College of Business
About: UF MBA offers a host of benefits for current or former military members. In addition to the ability to apply the Post-9/11 GI Bill® to any of our programs and UF MBA's commitment to accommodating our servicemen and servicewomen with their military obligations through locked fees and enrollment positions, frequent program start options, set program lengths and flexible schedules, UF also has a dedicated Office of Veterans Services to serve as a resource for veterans.
Cost: $1,208/per credit
Number of Veteran Graduates: 9,000

University of Southern California, Marshall School of Business
About: The Master of Business for Veterans (MBV) degree is a fully accredited 1-year graduate degree that was created specifically for military veterans, active duty, and reserve personnel. The program is designed to leverage the management and leadership experience already gained during military service. The MBV provides formal business knowledge and develops critical thinking skills. Participants will discover the transferability of their military experience and skill sets to the business environment, as well as the ability to launch, manage, and grow a new business.
Cost: $2,050/per credit
Number of Veteran Graduates: 500
Arizona State University, W.P. Carey School of Business
About: With two core courses at a time, students are immersed in two topics for 7 ½ weeks, culminating with final exams or final projects. A variety of elective courses, or optional concurrent degree offerings, complement and augment the MBA core curriculum. Multiple start dates (January and August) provide greater flexibility for working professionals.
Cost: $1,247/per credit

Pennsylvania State University, World Campus
About: Penn State's Online MBA is AACSB accredited and designed for working professionals seeking career advancement or change. The program is designed with customization and flexibility in mind. Students can choose the pace which is best for them and also choose from a vast selection of over 20 concentration options. Our focus on integration, collaboration and engagement allows us to combine asynchronous and synchronous learning opportunities for a holistic educational experience. Defining components of our program include the residency experience at the start of the program, our optional Global Immersion experience (on hold for 2021), and the ability to simultaneously pursue select professional graduate certificates and concurrent degree options. Led by The Smeal College of Business, the Penn State Online MBA leverages the expertise of faculty who are world renown subject matter experts from across the commonwealth. The program connects students to the expansive and global Penn State alumni network, and gives students access to a plethora of resources across one of the most recognized universities in the world
Cost: $1,236/per credit
Number of Veteran Graduates: 700,00
Best MBA Programs for Veterans
Dartmouth College, Tuck School of Business
About: The Tuck School of Business at Dartmouth College offers an extensive list of departments of concentrations, ranging from accounting to technology. It touts an intimate campus community, which graduate students are immediately immersed in. Students are grouped into small study teams when they begin at Tuck, and more than half of the student body chooses to live on campus.
Cost: $77,520/year
Number of Veteran Graduates: 30-35 per year
University of Michigan - Ann Arbor, Ross School of Business
About: The University of Michigan's Ross School of Business stresses action-based learning, a concept designed to teach students to ask pertinent questions, identify important problems and become effective leaders. Students can complete a full-time, part-time, global or executive MBA. Part-time degrees can be completed in the evenings or on weekends, and the EMBA courses meet only one weekend a month.
Cost: $66,048/year
The University of Notre Dame, Mendoza College of Business
About: Integrity is the theme of the University of Notre Dame's Mendoza College of Business. The school asks each student to emphasize integrity in each and every business decision made. Students that enroll in the full-time MBA program enter a program that is flexible, rigorous, and focused on values-based learning. Many of the students in the program are "career changers," and only approximately one third of the students enter the school with an undergraduate business degree. Students with business degrees can take advantage of the school's one-year accelerated MBA program that begins with a 10-week summer session and commences with Year Two MBA courses beginning in the fall.
Cost: $58,030/year
The University of Chicago, Booth School of Business
About: Founded in 1898, Booth School of Business is the second-oldest business school in the U.S. and is associated with 9 Nobel laureates in the Economic Sciences, more than any other business school in the world. Booth School of Business offers full-time, part-time (evening and weekend) and executive MBA programs.
Cost: $73,440/year
Number of Veteran Graduates: 90
Duke University, Fuqua School of Business
About: In its relatively short history, The Fuqua School of Business at Duke University in Durham, NC, has established itself as one of the leading business schools in the world. With #1 ranked faculty according to Bloomberg Businessweek and renowned research centers, the school sits among top-ranked U.S. business schools. Fuqua is a proud supporter and active participant in the Yellow Ribbon Program, and has been named by Military M.B.A. as one of the top five Best Value MBA Schools for Veterans
Cost: $70,000/year
Number of Veteran Graduates: 23.2 students within the last 5 years
Regardless of how long you have until graduation, it's never too early to begin working with Orion. We can help put your hard-earned degree to work. With our industry leading preparation program, we will work with you to build your resume, provide you with career counseling and transition assistance, prepare you for interviews, and arrange interviews for positions that are a match with your background, qualifications and desires. All of our Recruiters are former Military who understand exactly what you are going through.
Register now to start working with Orion's Recruiting Team, and we can begin to plan to help you through your transition.

RSS Feed
Subscribe to Orion's Blog