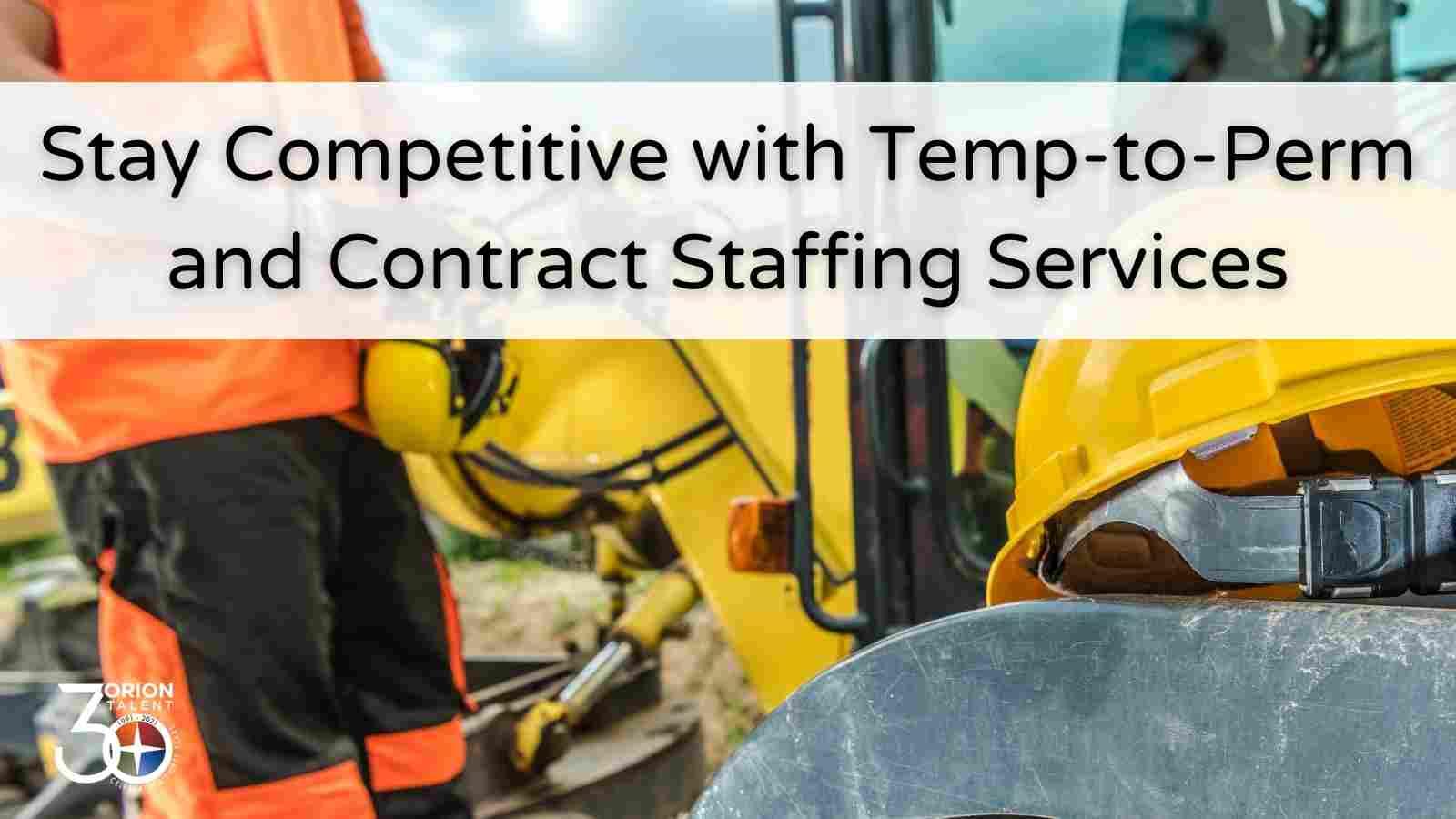 Why use temp-to-perm recruiting services?
The recent market surge has created a candidate's job market in which good talent has never been harder to find. This, coupled with continued uncertainty has many companies considering contingent workforce solutions including contract, temp, and temp-to-perm employees.
Keith Garrett, VP of Talent Solutions at Orion Talent wrote for SupplyChainBrain, on the topic of how utilizing contract, temporary and temp-to-perm workers has become an effective solution. Keith writes that sustaining a pipeline of quality talent over the long term requires employers to make temp-to-perm an important part of their overall hiring plan.
With what types of positions can temp-to-perm and contract staffing help?
- Manufacturing Technicians
- Field Service Technicians
- Field Service Engineers
- Construction / Project Managers
- Quality Technicians
- Installation Technicians
- Warehouse Material Handlers
- Maintenance
- Welders
- Customer Service

In particular, temp-to-perm is well-suited for Field Service positions. The world's leading supplier of top drive drilling systems for oil and gas exploration is among our customers for these roles and explains, "We have been using Orion for the past eight years and have hired numerous candidates for Field Service positions across the company. The quality of employees that we receive from Orion is exceptional. They are motivated, experienced, and have the work ethic that we look for. Orion is the first place I look when hiring a new employee."
What services are included with Orion Talent Staffing Solutions?
- Recruitment of top military Operators, Technicians, Supervisors and
- Engineers
- Background checks, drug testing, and employment verification
- EEO Compliance
- Smooth and efficient payroll/benefits administration
- Liability / Workers Compensation coverage
- Legal & HR Compliance Assurance
How can temp-to-perm recruiting services help with variable staffing needs?
A global leader in packaging production was fighting high attrition, an inefficient interview process, along with decentralized onboarding. So when they needed to hire Machine Operators, Machine Technicians, and Production Leads, they turned to Orion's Temp-to-Perm and Contract Staffing Services. Check out this Case Study for a closer look at how Orion provided them with top-tier candidates for multiple temp-to-perm positions.
Get started with Temp-to-Perm and Contract Staffing Services
Orion Talent Temp-to-Perm and Contract Staffing Services help companies keep pace with increasing demand, stay competitive, and deliver first-class customer service. Contact us today to see how we can help overcome any hiring challenges you may be facing.

RSS Feed
Subscribe to Orion's Blog