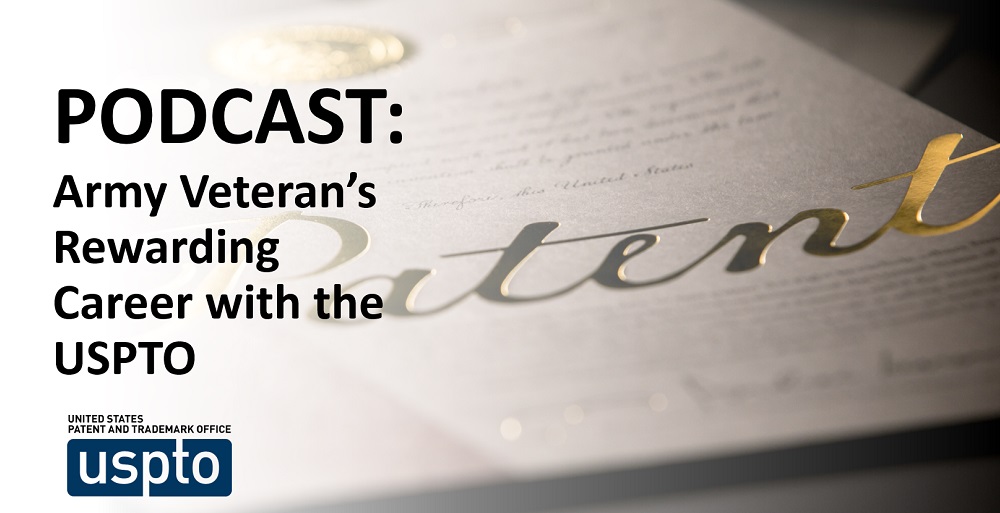 Orion has proudly partnered with The United States Patent and Trademark Office (USPTO), the federal agency responsible for granting U.S. intellectual property rights for patents and trademarks. Consistently ranked as one of the best places to work in the federal government, the USPTO aims to be the employer of choice for veterans as well. On average, the organization has hired 100 veterans each year since 2012.
USPTO's veteran employees have a proven track record of success after transitioning from the military into federal service. Raj Chakraborty, an Army Veteran hired as a Patent Examiner nearly eight years ago, is one example of veteran success at the USPTO. Raj is now a Supervisory Patent Examiner, and recently joined Orion's "From the Battlefield to the Boardroom" podcast to discuss his career progression from entry-level to leadership, the USPTO's veteran-friendly culture, and what makes it a great place to work.
One of the things Raj enjoys the most about his career with the USPTO is continuing his service to our country by protecting American ingenuity. "Intellectual property is one of the foundational pillars of the U.S. economy. To be able to contribute to the economy overall and U.S. innovation that ranges from someone working in their garage all the way to big tech companies, is an amazing way to continue serving your country after the military," he explained.
In addition to the rewarding nature of a Patent Examiner's work, the USPTO also offers an unparalleled culture and work-life balance. "The work-life balance and the collegial environment tie together here. It allows people to work while they're at work, but it's not a job that you're likely to get a call on your cell phone at 9 pm. As far as the culture, everyone supports each other and they're looking out for each other to succeed. My managers have always gone above and beyond to make sure I was successful," said Raj.
Listen to the Podcast:
The USPTO currently has Patent Examiner openings supporting each of the following disciplines:
- Design (Fine Arts/Graphic Design)
- Biomedical Engineering
- Computer Engineering
- Electrical Engineering
- Mechanical Engineering
In this role, your efforts will play a critical role in giving inventors exclusive rights over their discoveries. A Patent Examiner reviews applications to determine whether patents can be granted for inventions. Patents give inventors the right to exclude others from making or selling their inventions for a limited time. As a Patent Examiner, you will handle these basic patent examining functions:
- Search prior art to ensure that an invention is new and unique.
- Review patent applications to ensure conformity to formal requirements.
- Write legal office actions on patentability and respond to patent applications.
Visit us online to learn more and apply for a Patent Examiner career with USPTO.

RSS Feed
Subscribe to Orion's Blog