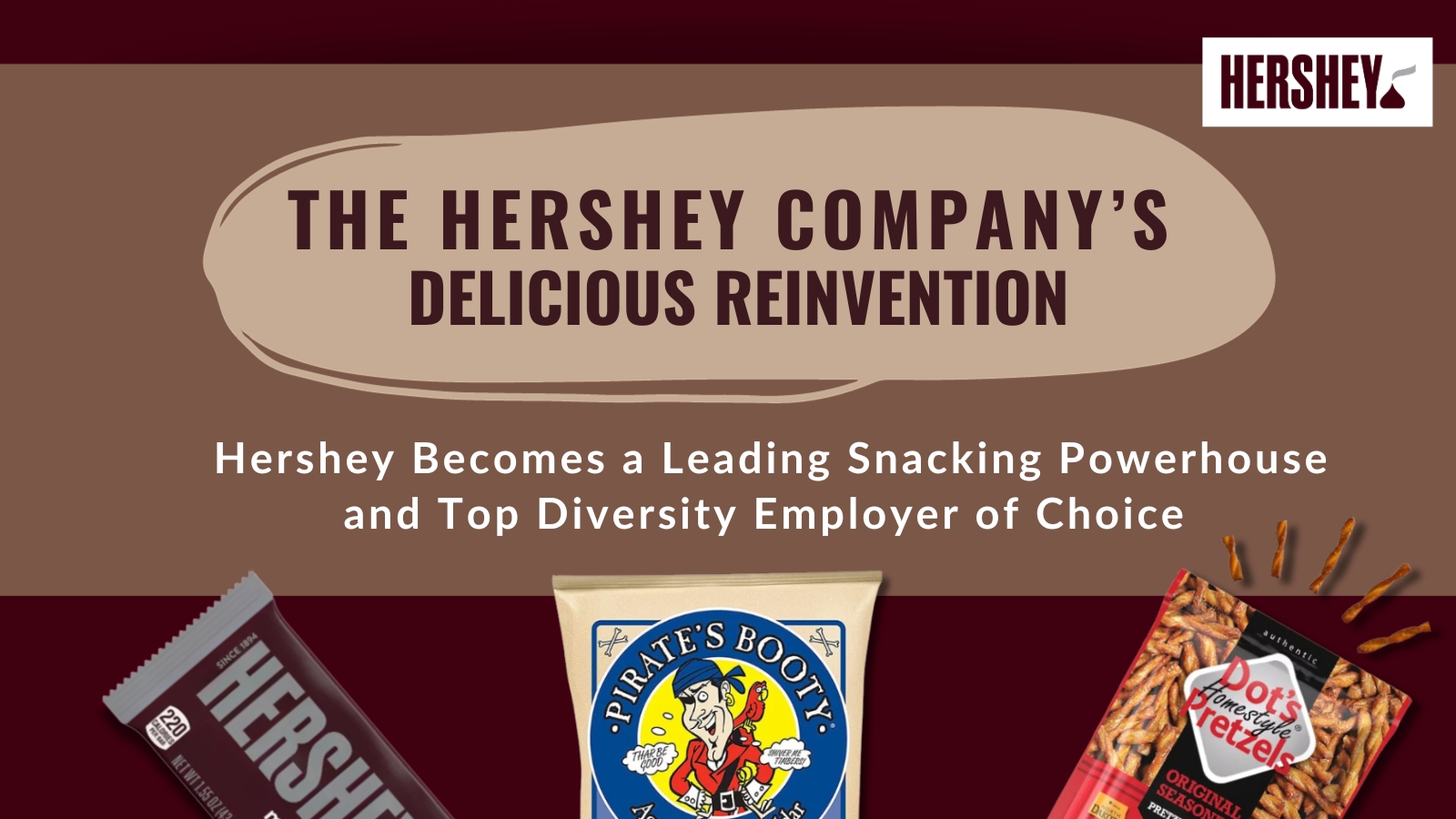 In the ever-evolving landscape of consumer preferences, even iconic brands like Hershey are not immune to the winds of change. In a strategic move that blends tradition with innovation, Hershey, a legacy chocolate company with a remarkable 130-year history, has ventured beyond its cocoa-rich comfort zone into the realm of salty snacks. The Hershey Company has taken bold moves to position itself as a Leading Snacking Powerhouse recently, while also making incredible strides in creating a more diverse, equitable, and inclusive workplace.
Diversification with a Vision
Milton Hershey's famous love for confection led him to establish a company whose name would become synonymous with chocolate bars – The Hershey Chocolate Company – in 1894. Since the very first Hershey's Milk Chocolate bar was sold in 1900, the company's portfolio of brands has expanded significantly. From indulgent treats to portion-sized and zero-sugar chocolate and snacks, Hershey continuously adapts to changing consumer snacking habits.
Hershey's decision to extend into salty snacks is rooted in a visionary goal—to become a Leading Snacking Powerhouse. The company aims to redefine the snacking experience by seamlessly integrating both sweet and salty elements into its diverse portfolio. Under the leadership of CEO Michele Buck, the company's first female CEO, Hershey has gone through a series of acquisitions in recent years and established a hefty presence in the salty snack category.
Recognizing the synergy between sweet and salty snacking, Hershey views this expansion as both complementary and incremental to its existing chocolate brands. With popcorn and pretzels emerging as the top two permissible snacking categories in the salty snacks market, Hershey is strategically positioning itself for accelerated growth. By tapping into these thriving segments, the company aims to captivate a broader audience and elevate its status in the snacking industry.
Hershey Becomes an Innovative Snacking Powerhouse
The journey towards reinvention began with Hershey's acquisition of Amplify, the parent company of SkinnyPop, in 2017, Hershey's largest deal in its history. This set the stage for a broader transformation. Hershey acquired Pirate Brands – the maker of fan-favorite Pirate's Booty – in 2018. Then, Hershey acquired Dot's Pretzels and Pretzels Inc. in 2021. This move not only brought the fastest-growing pretzel brand into Hershey's fold but also brought the pretzel-manufacturing capability in-house.
The shift from being a chocolatier to a maker of a diverse offering of snack products was a pivotal move for Hershey. Becoming a maker of brands allowed the company to deepen its presence in various snacking categories, fostering innovation and building capabilities to test, learn, and pivot swiftly. Hershey has made large strides in achieving its snacking powerhouse vision.
Hershey's Continuing Evolution
Hershey's transformation into a snacking giant exemplifies the company's ability to embrace dichotomy. As a 130-year-old company, it manages to be both a stalwart in the confectionery world and a startup venturing into uncharted territories. The "Power of &" encapsulates Hershey's ability to balance tradition with innovation.
The company adopted a builder approach to set up a new division focused on scale and growth. This approach enabled Hershey to leverage the strengths of four distinct companies, each with unique founders, cultures, and entrepreneurial spirit, combining disruptors and leaders. By bringing the disruptive lens of salty snacks together with long-standing expertise in confectionery, Hershey discovered a formula for success. This blend allows the company to lean into its established strengths while enhancing agility, vital for navigating the dynamic consumer, retailer, and competitive snacking environment.
The ability to unite diverse experiences and viewpoints creates a vibrant employee culture that encourages bigger thinking and actions. Hershey's transformation into a snacking powerhouse is not just a shift in product offerings but a testament to its commitment to fostering innovation within its workforce.
Empowered by Pathways: Embarking on an Equitable Future Together
In 2023, Hershey was honored with a #3 ranking on DiversityInc's Top 50 Companies for Diversity annual list. Ranked #35 in 2019, #21 in 2020, and #10 in 2021, this remarkable achievement reflects the incredible amount of effort the company has put into its DEI initiatives.
Hershey believes that DEI is critical to its long-term success both in its workplace and within the broader community. In 2020, the company co-created The Pathways Project alongside their employees to set DEI goals and hold themselves accountable for creating a more diverse and inclusive workplace.
Some of Hershey's DEI initiatives include increasing diversified representation and leadership, quadrupling its investments with diverse suppliers by 2030, achieving 1:1 gender pay equity (achieved in 2019) as well as 1:1 aggregate people of color pay equity for salaried employees (achieved in 2021), and the creation of more accessible and equitable work environments.
Grow with The Hershey Company
Hershey's journey from a chocolate-centric legacy to a snacking powerhouse exemplifies the resilience and adaptability of a brand deeply rooted in tradition. As the company navigates the complex and dynamic snacking landscape, it continues to learn, evolve, and redefine what it means to be a leader in the world of sweet and salty snacks.
It's an exciting time to work with Hershey. Not only are they blazing new trails, but their work culture makes for an excellent place for people to develop their careers and reach their full potential. The Hershey Company believes that enabling their employees to develop themselves for tomorrow while executing with excellence today is critical to their long-term success as a company.
With careers in Manufacturing, Sales, Supply Chain & Engineering, Marketing, Information Services, Research & Development, Strategy, Finance, Human Resources, Legal, Hershey's Chocolate World, and more, there's something for everyone. Check out Hershey's landing page to learn more, and to apply for a position.

RSS Feed
Subscribe to Orion's Blog