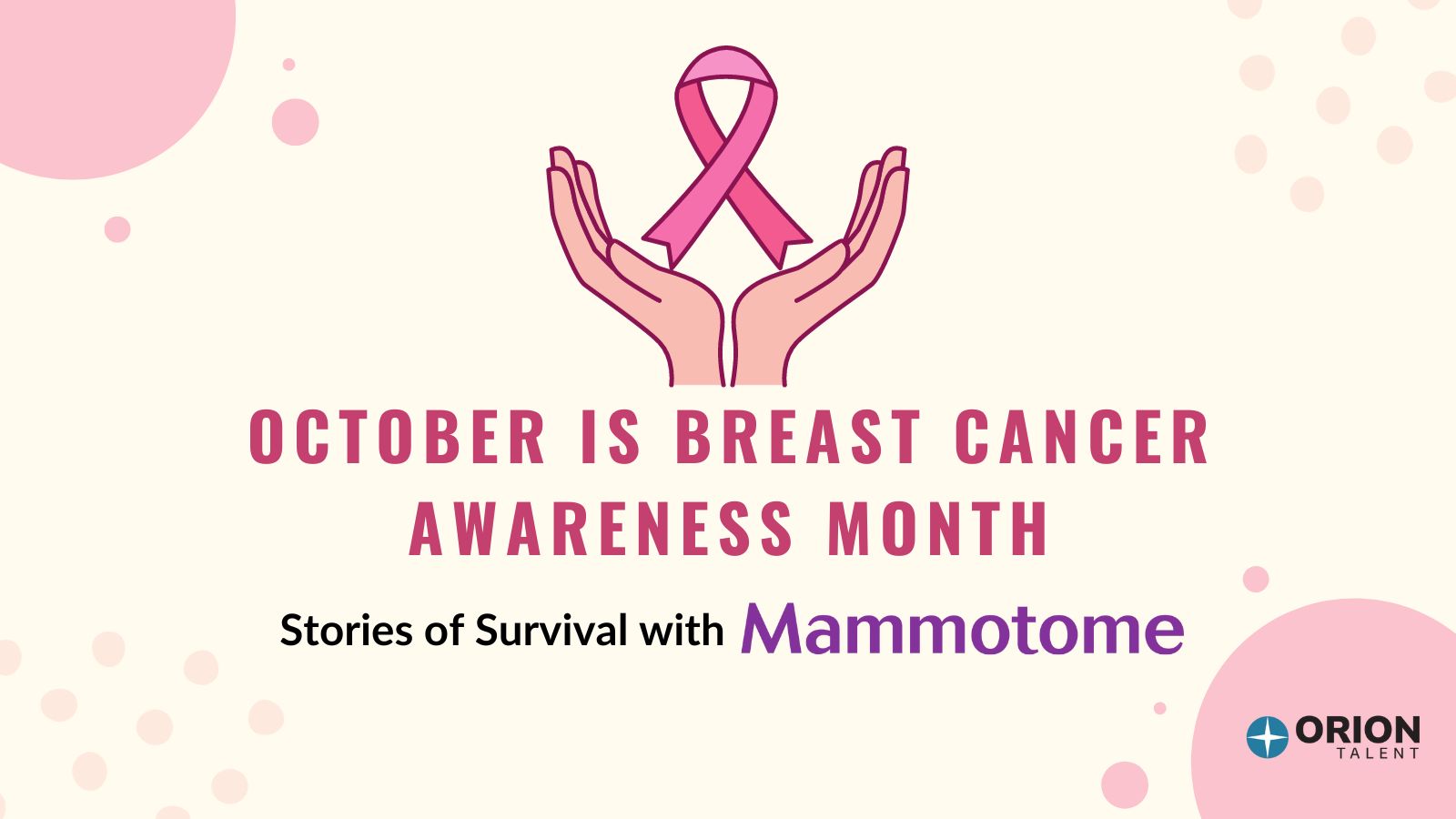 This blog post was originally published on Mammotome's website in October 2023.
At Mammotome, patients are at the center of all that we do, and our associates work hard every day to make a difference in breast care. With breast cancer impacting one in eight women, the unfortunate reality is that many of our associates and their loved ones have been impacted by this disease. Two Mammotome associates, Rebeca Ingram and Marcia Swanson, share their personal breast cancer journeys and what it means to work in the breast care industry.
Rebeca Ingram, Mammotome Senior Manager of Global Clinical Training, has many titles: Wife, mother, grandmother, former mammographer and breast center manager, and breast cancer survivor. Cincinnati is her home, and she has spent almost 40 years working in women's health care. Many years ago, while working in a breast center, she had an impromptu screening mammogram during a work break. "Within the week, I had additional screening mammography views and a biopsy. Within 24 hours of my biopsy, I found out I had early-stage breast cancer, DCIS (ductal carcinoma in situ)," Rebeca recalls. It was a high-grade cancer (meaning it was a faster-growing cancer more likely to spread), and Rebeca's doctor provided her with a very clear treatment pathway that included a lumpectomy (a breast cancer surgery in which the tumor and a small amount of surrounding tissue is removed) followed by radiation.
Rebeca's diagnosis really hit home because she was working at a breast care center at the time. "Practice what you preach. Thirty-five years as a
Mammography Technologist, I told so many people to get their screening mammograms and emphasized that early diagnosis saves lives. I feel blessed that my journey was much 'easier' than some. Sometimes, I feel guilty even to say I am a breast cancer survivor when I compare my journey to so many others, but I credit my decision to get screened for catching my cancer so early on and at a very treatable stage."
Rebeca joined Mammotome precisely one-year post-diagnosis. When she joined, she knew one thing: she wanted to continue making a difference in breast care. "Mammotome allowed me to step back from working day to day in a breast center and yet still have a positive impact on breast cancer patients," Rebeca shares. "I train our sales force and give feedback from three perspectives: mammography technologist, mammography administration and breast cancer patient. Where one audience's preference may be efficiency and productivity, another may include the experience of the procedure. I believe it is important for Mammotome to help provide solutions for all perspectives."
As a breast cancer survivor, Rebeca offers some wisdom to others going through their breast cancer journey. "Be empowered to ask questions and become knowledgeable about your treatment plan. Do what feels right for your journey. There is not a cookie-cutter pathway to a cure. Some days you may not feel brave, and that is okay. There are many support groups; reach out early. Having a supportive group that understands what you need is essential."
Rebeca feels incredibly fortunate that her breast cancer was caught at the earliest stage. "I will never begrudge that I was diagnosed with breast cancer," Rebeca shares. "Now, don't get me wrong, no woman wants to be a part of the breast cancer 'sorority,' but it truly helped me to see my career in a new light. I want to help breast cancer patients be diligent and be informed. Become empowered to know the best detection methods and treatment options. It isn't just a question of long-term survival, but a quality long-term survival."
Mammotome feels extremely lucky to have Rebeca on our team. She brings almost four decades of expertise in the breast care industry, working with radiologists, technologists and patients and is also willing to share her perspective as a breast cancer patient and survivor. At Mammotome, we believe our expertise and compassion for breast care makes us the indispensable partner to physicians, clinicians and patients. Rebeca's experience ensures our sales training program internalizes this mindset.
When Marcia Swanson started radiology school in 1981, she had no idea that her profession would lead her to where she is today as a Mammotome Clinical Applications Specialist. "After performing mammograms, along with stereotactic and ultrasound biopsies in a high-volume outpatient surgery center, I was given the opportunity to fulfill my lifelong dreams of educating others on new advancements in the breast care space and their benefits to patients and clinicians."
This passion for making a difference in the breast care space did not come to Marcia without its woes. Her maternal grandmother was diagnosed with breast cancer when she was very young. "I saw what she had to go through; the disfigurement, radiation burns and all that came along with her treatment. I said at the time that things need to be changed. Then, my mother was diagnosed with DCIS, and I saw how the treatments evolved. Better, but still not great," recalled Marcia. Marcia has made it a part of her personal mission to help make the breast cancer journey better, and it has shaped the work she does every day at Mammotome. "As a Clinical Applications Specialist, every procedure I am involved in, I see the patient as my family member, someone going through a very difficult time in their life."
As a patient advocate for breast cancer diagnosis and survival, Marcia emphasizes the need for support for all patients. "I try to remind patients to talk...to anyone. Please don't travel this path by yourself! There are many support groups and people who have been in the exact same situation that can and are willing to share their experiences and support ...you become part of a different family. It's not a family that you ever want to be a part of, but it is a tight-knit family."
To hear more perspectives from Mammotome associates who formerly worked as clinicians in breast centers, click here.
Mammotome is a valued partner of Orion Talent, and we deeply admire their commitment to breast health research as well as building a diverse and inclusive workplace. To learn more and check out open positions, please check out their career guide.

RSS Feed
Subscribe to Orion's Blog