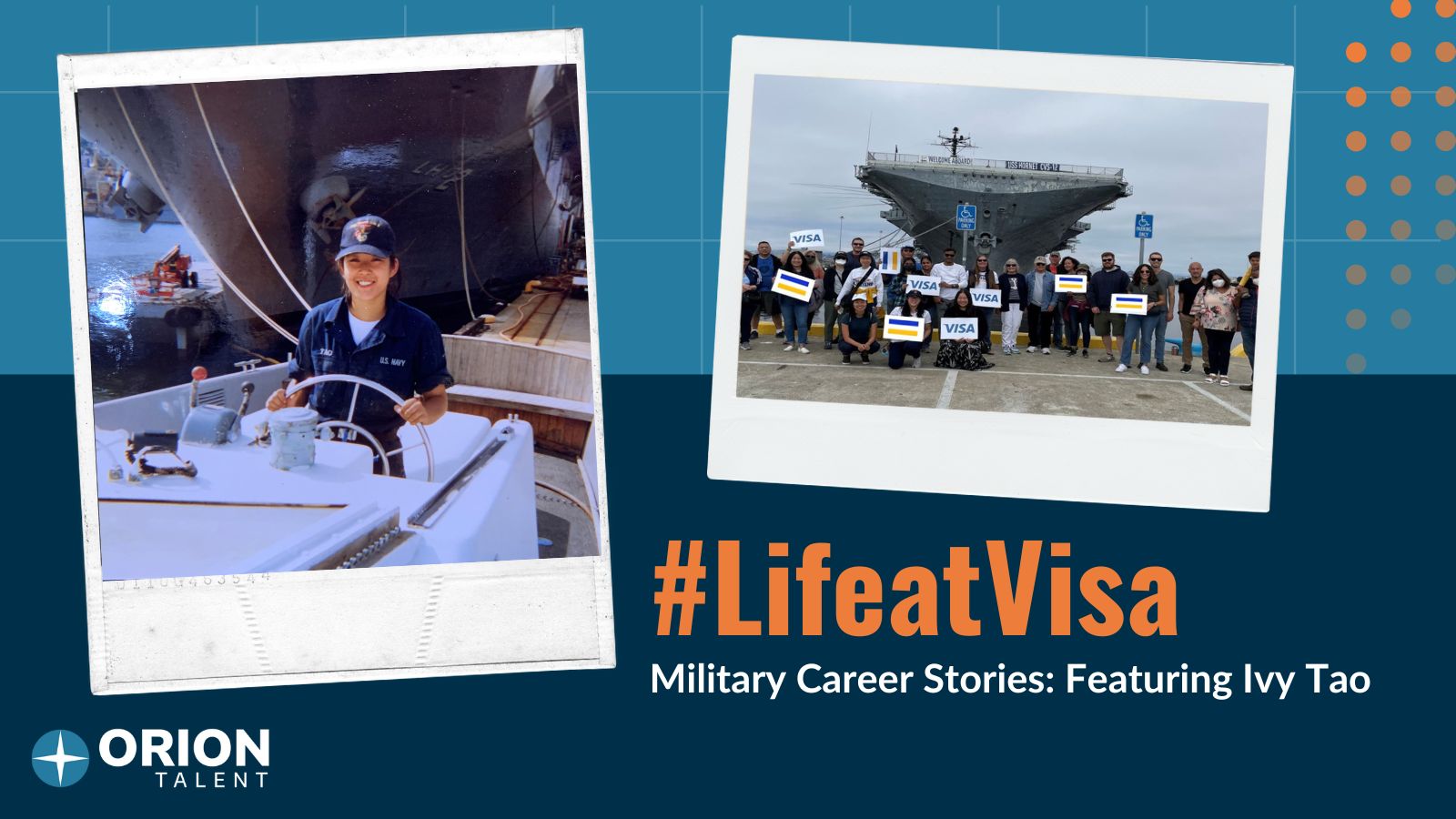 Orion Talent has partnered with Visa to offer rewarding careers for transitioning military and veterans. Visa values your military service and unique skills and relies on the military community to drive innovation and your own career growth within their organization.
One such veteran is Ivy Tao, a Navy veteran who continues to make an impact at Visa in countless ways in her career at Visa.
If you are a veteran or military spouse who would like to better understand the military employee experience at Visa, read on to learn more about Ivy's story, and how she is a passionate and visible supporter of Visa's military hiring program.
Ivy's Military Career and Role at Visa
Ivy is a former Third-Class Petty Officer – Aviation Maintenance Administration man who was stationed onboard the USS Essex in Sasebo, Japan. She is currently a Sr. Legal Assistant, Global Litigation & Competition at Visa.
How Ivy's Military Service is Valued at Visa
According to Ivy, the U.S. Navy taught her: leadership, teamwork, attention to detail, how to execute on ambiguous deliverables, train and develop others, work against critical timelines, and solve problems when plans go awry. These experiences have been useful in her role at Visa. Ivy's team works closely with Visa's business partners when responding to legal and tax requests properly issued by government agencies, law enforcement, and law firms and safeguarding Visa's data and protecting the Visa brand.
Why Veterans Should Choose Visa
At Visa, you can grow both professionally and personally, while working at a truly purpose-driven company. Ivy is the Global Co-Chair for Visa Military Employee Resource Group (MERG), where she works across the company to bring together service members, veterans, military families, first responders, and allies' side by side in a wonderful community. Together with other MERGonians, Ivy builds awareness about the benefits military-affiliated employees bring to the organization and the importance of service to the country and community.
Learn, Earn, and Return: A Career Roundtable with Visa
Ivy was also a special guest on the #PeoplewithPurpose podcast, which focuses on how industry leaders, recruiting experts, and talent acquisition leaders are building purpose-driven and inclusive cultures in the workplace, where employees can bring their authentic selves to work every day.
In this episode, Ivy discusses her unique career journey and how it led to her role supporting diversity and inclusion at Visa. From military service to the experience of a first-generation American, Ivy tells her story and discusses the importance of inclusion, while offering career advice. Listen to the full podcast.
Careers with Visa
Visa's employees are their company. Creating an inclusive and diverse workplace has been their key priority. A strong set of leadership principles ensures that Visa's collective success isn't just about driving results, but how you get there. From their network to their workforce, inclusion is at the heart of everything Visa does. To achieve their mission of connecting the world it takes more than a powerful network, robust cybersecurity, or fantastic products; it takes great people with diverse ways of thinking.
With their purpose to "uplift everyone, everywhere" as their guide, Visa is building an environment where diverse backgrounds and perspectives are celebrated and drive success inside their company and out in their communities.
Visa was named as the one of the World's Most Ethical Companies in 2022 by Ethisphere, an 11th time honoree.
Check out Visa's open positions and learn more about life at Visa.

RSS Feed
Subscribe to Orion's Blog