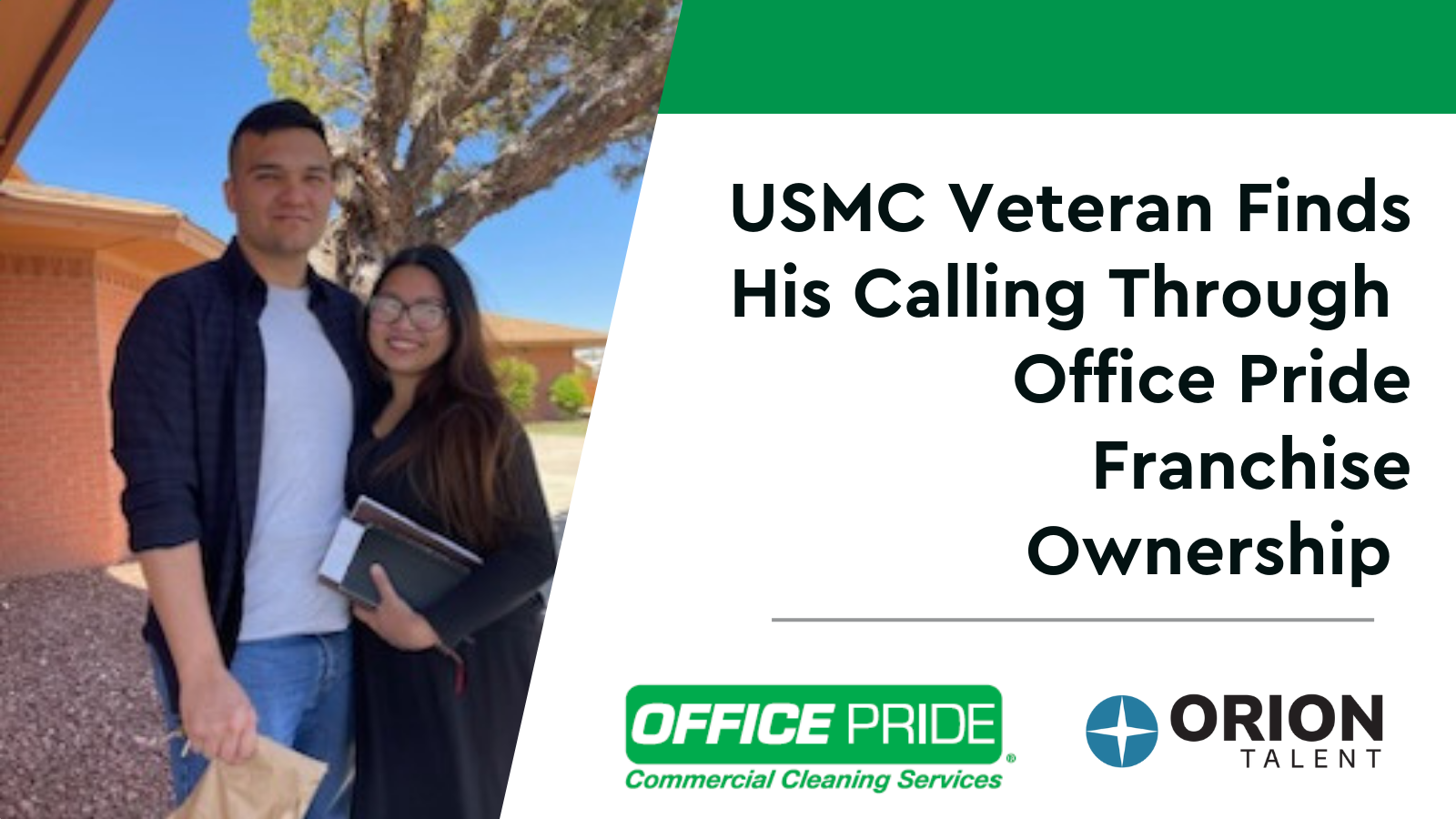 Transitioning into the civilian workforce can be a daunting prospect for military members, but there's a path that many veterans have found to be both fulfilling and rewarding: franchise ownership. One veteran who embarked on this journey is Nate Alderette, a former USMC Calibration Technician who seized the opportunity to start his franchise with Office Pride, a faith-based janitorial services business. Nate's story is a testament to how he transformed his career with the support of Orion Talent through Office Pride and became a thriving franchise business owner.
Nate's Journey
Having dedicated eight years to the USMC as a Calibration Technician Shop Supervisor, Nate was eager to transition from Active Duty to civilian life and pursue a new venture. When he received an email from Orion Talent about possibly becoming a small business owner with Office Pride, Nate's curiosity was piqued. Reflecting on his decision, Nate shared, "I had been exploring business opportunities for about a year when I discovered Office Pride. I was searching for the direction God wanted me to take, and I firmly believe this is the path He intended for me."
Starting His Office Pride Franchise
Embarking on his journey as an Office Pride franchise owner was a relatively straightforward process for Nate, albeit requiring him to adjust to the concept of running his own business, which differs significantly from a typical 9-to-5 career. "The paperwork, taxes, business licenses, LLC, and setup were all quite easy," he explained. "The challenging part is waking up in the morning and fully comprehending the level of responsibility that you are voluntarily taking on," Nate admitted. Nevertheless, his military background equipped him with invaluable traits that proved instrumental in launching his Office Pride business. "The military instilled in me the value of perseverance, the importance of never giving up," he reflected.
Living the Office Pride Life
Nate recognizes that owning a business demands more involvement and offers greater rewards compared to a conventional career. He firmly believes that this is his calling. "I do what God wants, and I believe this is what He wanted for me," Nate affirmed. Describing a typical day and week as a franchise owner, he shared his approach to achieving success. "By setting myself up for success, a typical day is quite manageable. I spend around 15 minutes organizing my contacts and emails, which I then upload into my database. Additionally, I dedicate approximately 1 to 3 hours daily to growth planning, making follow-up phone calls, tending to administrative tasks, and addressing other important matters. Towards the end of the week, I schedule appointments, which can range from 1 to 6. Each appointment typically lasts 10 to 30 minutes, depending on whether I'm presenting a proposal or conducting a walkthrough. Lastly, I spend 2 hours on the weekend cleaning the account I manage, while during weekdays, I train employees on account-specific cleaning or replenish supplies," Nate detailed.
The Office Pride Advantage
The company culture greatly influenced Nate's decision to start his business with an Office Pride franchise. "Maintaining quality in the cleaning business can be challenging, but Office Pride distinguishes itself by consistently delivering quality across all aspects, from emails and billing to conversations and, of course, cleaning," Nate emphasized. As he embarks on his journey as a business owner, Nate continues to be impressed by the quality and care that Office Pride brings. "The best thing about this business is that it affords me the freedom to choose my working hours, providing purpose and daily challenges," he added.
About Office Pride
In partnership with Office Pride, Orion supports franchisees in pursuing their dreams of business ownership. Office Pride is widely recognized as one of the nation's most respected franchises, boasting a scalable business model honed over three decades. With strong core values and extensive support systems, Office Pride offers a strong return on investment while positively impacting people and workplaces. In 2022, the Franchise Business Review bestowed Office Pride the Satisfaction Award for Top Franchises for Veterans, Top Franchises for Women, and Top Franchises - Recession Proof. The franchise also received the Satisfaction Award for Top Franchises in 2023.
Join Nate and Other Veterans in Office Pride
If you're a military veteran seeking purposeful franchise ownership, Office Pride is your gateway to a fulfilling career. Follow Nate's example and discover the rewards of joining the Office Pride family. Learn more and request more information to embark on your journey as a franchise owner with Office Pride today.

RSS Feed
Subscribe to Orion's Blog